If your dog loves the great outdoors, you should definitely consider taking him with you on adventures. Climbing might not be the most appropriate sport for dogs, but it's still better for them to be at the crag than to get bored at home all day long.
As long as you master rappelling and you have the proper equipment, you will be able to climb alongside your four-legged buddy.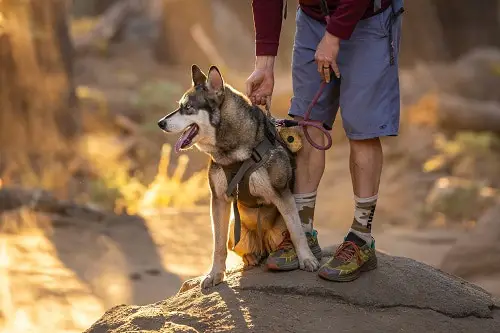 The most important dog gear for rappelling and climbing is the harness. For such risky sports, you must select an option that's designed for lifting, comfortable, well-made, and secure. Thus, my ultimate recommendation is the Ruffwear Doubleback. It's the best full-body dog harness available to climb and rappel safely.
However, I've found many other alternatives that might be more suitable for your needs. Choosing the right harness for your dog is not the only thing you should do if you want to start climbing together safely. In this article, I'll share with you everything you need to start ascending cliffs and rappelling down with your furry friend.
An Introduction To Climbing With Your Dog!
Before sharing with you some of my favorite harnesses for crag dogs, you have to know the basics of climbing. This sport can only be safe for your buddy if you are well-prepared, gear up properly, and have an appropriate game plan.
Foremost, you need to have fundamental climbing skills before taking him to the mountains. Rappelling by yourself is difficult enough to learn, so you don't need any extra distraction to get started. 
Another important consideration is the suitability of your dog for this type of extreme activity. He might be too large, not have a calm temperament, or need to improve his obedience before heading out on adventures with you. Just make sure climbing will be safe and fun for everyone.
How To Rappel With Your Dog?
With the proper equipment, going down the climbing wall with your dog is quite simple. You only have to put his harness on, attach him to you securely, and perform tandem rappel as you would normally do.
Do you want more details on how to descend a rock face with your buddy? In this case, I highly recommend you to watch the video below or read this article on the Ascentionism blog.
Top 4 Dog Harnesses For Climbing & Rappelling!
An appropriate harness is practically the only piece of equipment your dog needs to keep you company on outdoor adventures. Nonetheless, the device holding him in the air is quite important to ensure his safety while rappelling. That's why you must choose the right climbing harness for your dog carefully.
To save you some time, I've already selected the best options on the market. Considering your preferences and your dog's conditions, you will be able to find an excellent harness for your needs. Thus, here's all the information you should know about the best gear for climbing and rappelling with your buddy!
Best Full-Body Climbing Harness For Dogs → Ruffwear Doubleback
Price: $$$
Quality: *****
Design: *****
Comfort: *****
Overall Rating: 4.8/5
This Ruffwear harness is ideal for belaying your dog while climbing together. With the full-body design, two solid lift handles, and multiple hooks, it's one of the only options on the market that's suitable for rappelling. Made from strong materials, it's extremely reliable and durable to keep your dog safe on high-altitude adventures.
The belly support and leg straps provide excellent stability and weight distribution when lifted. Lightweight, adjustable, and comfortably padded, the Doubleback Harness is also convenient for your four-legged companion. To offer him the best mountaineering experience, I highly recommend you to opt for this high-performance gear. 
Unfortunately, you may not have the money to invest in an expensive dog harness just for climbing. The products made by Ruffwear are build to last, so the quality is very good, but they are not cheap.
If you are looking for the best product out there for rappelling, this lifting harness is the right option for you. On the other hand, it might not be the most appropriate choice for beginners or if you want something versatile enough to use every day. 
Best Lifting Dog Harness For: 
Climbing & Rappelling.
Optimal Load Dispersion.
High-Quality & Durability.
Pros.
Made Specifically For Lifting, Climbing & Rappelling.
Extremely Safe & Effective Design.
Superior Quality Materials.
Padding On The Chest Pad For Optimal Comfort.
Leg Loops For Better Stability & Weight Distribution. (Stowable)
7 Points Of Adjustment For Secure & Custom Fit.
Strength-Rated For Up To 2000 lbs Of Force. (8.9 kN)
Cons.
Quite Expensive.
Not The Most Versatile Dog Harness.
Price: $$
Quality: *****
Design: ****
Comfort: ****
Overall Rating: 4.6/5
Another great Ruffwear Harness for climbing and rappelling is the Webmaster Pro. Slightly less pricey and much more convenient to be used for any adventure, it's an excellent option for outdoor enthusiasts. Whether it's to assist your dog on steep sections while hiking or to belay him down the cliff, this harness has a strong and reliable handle for safe lifting.
This versatile gear is comfortable enough for everyday wear and built for physical activity. On the contrary to the Doubleback model, this harness isn't exclusively designed for climbing. With the belly strap for weight distribution and the chest padding, it's still an excellent choice for rappelling with your dog.
Even if the Webmaster Pro is not made specifically for climbers, I highly recommend it for moderate or occasional mountaineering. It's also an awesome piece of equipment for other outdoor sports with small pockets, durable construction, and an oversized handle.
If the price is still an issue, you might consider my next recommendation or the original version of the Webmaster Dog Harness! 
Best Adventure Dog Harness For:
Hiking, Climbing, Occasional Rappelling, Etc.
Professional & Versatile Gear.
Everyday Use.
Pros.
Oversized Handle For Better Stability While Rappelling.
Made From Sturdy & Durable Materials For Secure Lifting.
2 Accessory Pockets To Carry Extra Gear & Small Essentials.
Highly Adjustable For Perfect Fit On Your Dog.
Foam-Padded Straps For Optimal Comfort On Climbing Adventures.
Reflective Trim For Better Visibility In Low-Light Conditions.
Cons.
Not Designed For Extended Lifting.
Relatively Expensive.
Pro Tip: If you want to make this harness more convenient for rappelling and climbing, I highly recommend you to check out the Ruffwear Brush Guard. (On Amazon or On The Ruffwear Site)
It's a chest protection pad designed to provide comfort to your dog for extended lifting. This complementary product can be added to the Pro and Standard model of the Webmaster Harness.
Best Budget-Friendly Tactical Rappelling Dog Harness → PETAC GEAR K9 Vest
Price: $
Quality: ****
Design: ****
Comfort: *****
Overall Rating: 4.5/5
This tactical dog harness can be used for climbing as well as for K9 training. It has 3 handles for easy lifting, lowering, and rappelling. With the breathable and lightweight mesh, it's also very comfortable for your four-legged companion.
Another great aspect of this product is its excellent value for the price. Most customers are very impressed by the quality of this cheap climbing harness made from sturdy and durable materials. It's very similar to the Ray Allen Icon Air Harness but basically, 6-7 times less expensive.
With a long chest panel and two belly straps, the design is ideal for distributing your dog's weight when lifted. Whether it's to train your dog, go on outdoor adventures together, or belay him occasionally for climbing, this is an excellent investment to make.
It might not be as convenient and reliable for rappelling as the Ruffwear Doubleback, but the PETAC K9 Harness is definitely worth considering!
Best Climbing Harness For:
Working Dogs.
Great Value For The Price.
Pros.
Extremely Affordable.
Made From Good Quality Materials.
Breathable & Lightweight Meshing For Comfort.
3 Handles For Easy Lifting & Safe Rappelling.
Great Design For Load Dispersion.
Simple To Put On & Off With Buckles.
Adjustable Straps For Custom Fit.
Cons.
Not Specially Designed For Climbing.
Plastic Buckles.
Ruffwear Is More Reliable & Offers Better Quality Harnesses.
High-Quality Climbing & Rappelling Harness → Rock N Rescue Dog Lift Harness. (On Amazon or The Offical Rock N Rescue Site)
Price: $$$$
Quality: *****
Design: ****
Comfort: *****
Overall Rating: 4.9/5
The last product I've found is the ultimate dog lift harness for safe and comfortable rappelling. Originally designed for rescue, it's also extremely well-suited for climbing adventures.
Its construction distributes the weight from your companion's hips all the way up to his chest for full-body support in the air. With the four strong hooks on the top of the harness, it's also the perfect option for easy and stable lifting.
The only downsides of this product are the price and its limited functionality. Apart from belaying your dog down cliffs and rescuing him if needed, the Rock N Rescue Harness has no other utility. Thus, you may not want to pay that much for this specialized piece of equipment. 
Best Dog Harness For:
Rescue, Climbing & Rappelling.
Safe & Secure High-Altitude Lifting.
Durability & Reliability.
Pros.
Sturdy Attachment Points For Secure Rappelling.
Full Body Harness For Better Weight Distribution.
Made Especially For Extended Lifting.
Safe & Comfortable Design For Your Dog.
Crafted From Durable & High-Quality Materials.
Cons.
How To Select The Right Rappelling Harness For Your Dog?
Even if my recommendations can help you narrow down your options, you still need to select the most appropriate harness for your needs. Furthermore, you might also wonder how I've determined which products are the best for climbing. Let me share with you more information to help you find the perfect belay harness for your dog!
What Makes Good Dog Harnesses For Climbing?
In high-altitude, safety and reliability are essential to consider. The dog harness you use to ascend cliffs with your buddy must allow you to lift him securely.
That's why the handle or attachment points are important components. The quality of the materials, design, and stability can also influence how safe the harness is for rappelling and climbing.
For your four-legged adventure partner's satisfaction, the comfort aspect is another thing to keep in mind. More padding, better weight distribution, and adjustable straps are interesting to make lifting more enjoyable for your dog. 
Overall, you should select a harness that's designed for mountaineering sports. The gear you will choose must be well-made, safe, and comfortable for your companion. With the Ruffwear Doubleback or the Rock N Rescue Lift Harness, you can't go wrong.
Things To Consider For Choosing An Appropriate Rappelling Dog Harness!
Apart from selecting the best piece of equipment, there are other personal factors to consider. For instance, the type of climbing adventures you plan to do, your dog's conditions, and your preferences are also essential elements to take into account. Since we all have different situations, it's important to understand your needs to find the right harness.
Your level of expertise and the type of cliffs you want to ascend with your dog will influence what harness you should be looking for. If you need to rappel together regularly, I highly recommend selecting reliable gear such as the Ruffwear Doubleback and the Rock N Rescue Lift Harness.
On the other hand, your dog might only need some lifting assistance on your hiking or climbing adventures. In this case, the Webmaster Pro and the PETAC K9 Harness are other great options if you want something more affordable and versatile.
Another important element to consider is your dog's conditions. His size, weight, age, and many other aspects can help you find the right harness for him. For example, if your puppy is still growing, you should choose an adjustable option.
Then, you might also have an idea of what you prefer your dog to wear while climbing or rappelling. You can consider the price, special features, or anything else that's important for you as long as you still choose an appropriate harness for him.
For example, having extra space for storage is always useful for outdoor adventures. The Webmaster Pro Harness is one of the rare options that have pockets, but you shouldn't select it only for this reason.
Other Equipment To Have For Climbing With Your Dog!
The harness isn't the only gear that's necessary to climb and rappel with your four-legged companion. As with any other sport, there are many things you should have to enjoy the great outdoors safely.
Therefore, let me share with you every piece of equipment I recommend to make your mountaineering adventures more convenient, safe, and enjoyable for everyone!
Climbing Gear. (Ropes, Harness, Carabiners, Helmet, Etc.)
Water & Food.
Leash & Collar.
Portable Dog Bowl.
Canine First Aid Kit.
Paw Protection Gear. (Dog Booties or Paw Wax)
Dog Backpack.
Poop Bags.
Etc.
Fortunately, you probably don't need all that stuff for heading out to the mountains with your buddy. With an appropriate dog harness, water, and other climbing essentials, you should be alright for your first ascension together.
Nonetheless, you will have more fun and lower the number of potential problems if you're well-equipped for this type of outdoor activity.
Tips To Take Your Dog Rappelling & Climbing With You!
Before you start any new extreme sport with your pooch, you have many things to understand. Instead of learning by doing, you can also leverage the experience of other climbers.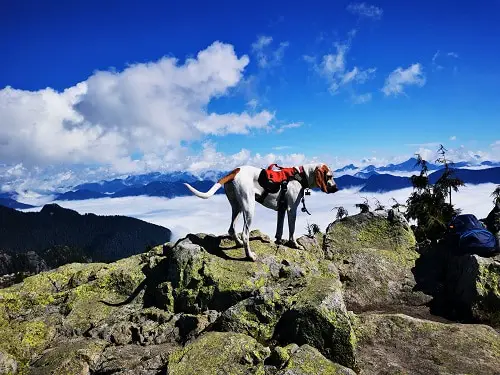 It's the best way to avoid making the same mistakes. Thus, here are some guidelines to help you ascend cliffs and rappel alongside your dog!
Know Your Dog's Conditions & Personality.
Not every four-legged companion is well-suited to keep you company on climbing adventures. If your dog is afraid of heights, not obedient, or extremely reactive, this type of activity won't be safe and pleasant for him. He should also be in good shape and health to enjoy outdoor sports.
If you want to make sure your dog is suitable to climb and rappel with you, there are two things I highly recommend you to do:
First of all, you should ask your vet for a health check to be aware of his physical and medical conditions.
Then, you should also take him on a hike to see how he reacts near cliffs and if he's suitable for mountaineering adventures.
Develop Your Climbing Skills.
If you want to start any new activity with your dog, you must master it alone. Foremost, you have to understand very well all the basic climbing and rappelling techniques.
Then, you will be able to ascend the mountains together safely. That's why I would only recommend this type of dog sport to experienced athletes.
Start Small & Gradually Improve.
Even if you are an expert at climbing and rappelling, you should still be careful for the first few times you do it with your dog. At the start, I highly recommend you to keep it as simple and easy as possible for both of you. Beginning with small cliffs and short adventures will help you to learn faster and avoid critical errors. 
Prepare Your Dog For Rappelling.
It's essential to make sure your climbing partner is ready to ascend mountains with you. To give you an idea of what it takes, he must be comfortable in his harness, relatively well-trained, and at ease with the fact of getting lifted.
With proper training, equipment, and conditioning, your dog should be all set to enjoy climbing and rappelling adventures.
Have Fun!
With all the information I've just shared with you, there's a lot of things you must know to enjoy this outdoor activity safely. However, it doesn't mean you can't have fun while climbing with your crag dog.
With some preparation and the right attitude, this sport can be extremely entertaining and amusing for both of you. Thus, don't forget to always keep your smile on and ensure your adventures are pleasant for everyone!
Last Thoughts About The Best Dog Harnesses For Climbing & Rappelling!
Finally, choosing an appropriate harness is extremely important to enjoy mountaineering with your dog safely. If you find something safe, reliable, and comfortable for him to get lifted in the air for an extended period, you will be well-equipped for climbing and rappelling.
For most people, the Ruffwear Doubleback Harness is the best option on the market.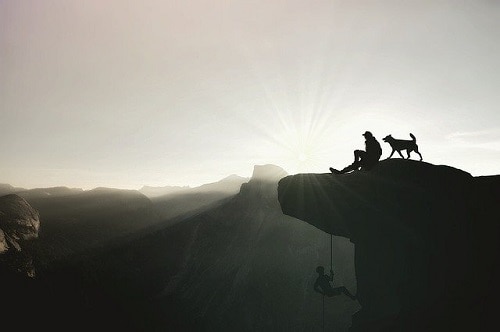 Nonetheless, your situation will help you determine what dog gear you should choose. To find the perfect harness for your needs, you should also consider the type of adventures you plan to do, your dog's conditions, and your personal preferences.
Then, you might also need to invest in optional pieces of equipment and to prepare your buddy for his first ascent. I hope my article has helped you find the right harness for him to climb and rappel safely. Now it's time for you to explore the mountains and have fun with your crag dog!
Take Care & Climb On!