Heading out on trails alongside your dog is one of the best things you can do to enjoy nature together. Climbing mountains in good company is relaxing, fun, and healthy for everyone.
However, you must have the proper gear to enjoy this outdoor activity safely. That's why investing in the right leash is essential for hiking with your dog!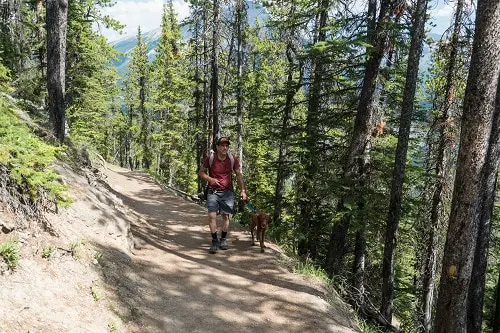 Overall, you have to look for an outdoor leash that's durable, sturdy, lightweight, and comfortable to handle. Your dog's conditions are also essential to consider if you want to find the right gear for his specific need. With one of the best leashes for hiking, your experience on trails will be much more convenient, enjoyable, and safe!
Comparison of the best dog hiking leashes!
With all the different leads out there, finding the right option for your requirements can be complicated and overwhelming. But don't worry, I was in the same situation as you are right now, not a long time ago.
In this article, I would like to share everything I've learned while searching for the best leash to hike with my Labrador. At the end of your reading, you will be able to invest in the right leash for your dog to spend quality time on trails together!
Why Should You Use An Appropriate Dog Leash For Hiking?
Even if walking with your dog in the great outdoors is extremely fun, you still have to keep control over him when it's necessary. Believe me; nothing is more unpleasant to see your companion running free to chase something because the leash came off or broke. That's why having an appropriate lead for hiking is so important for his safety!
Moreover, some products are specifically designed to enjoy long walks on uneven footpaths for several hours. Those outdoor dog leashes are more suitable on trails to keep your pup under close control. You will do yourself a huge favor by choosing the right gear for hiking!
My Top 5 Favorite Hiking Dog Leashes!
To save you time, energy, and money, I've already selected the best options available on the market. I'm not an expert in dog gear, but my recommendations are based on many factors, including quality, convenience, and portability.
I've also chosen multiple types of designs because everyone has different needs and preferences. Thus, here are the 5 leashes I would highly recommend for hiking with your dog!
Price: $$$
Quality: ****
Control: *****
Portability: *****
Convenience: *****
My Overall Rating: 4.8/5
This dog lead is my favorite option because it's extremely versatile, durable, and made for outdoor adventures. Whether you want to hook the leash on the backpack, hold it in your hand or wear it around your waist, this multi-use gear is an excellent option for you. Very lightweight and solid, it's the perfect lead for hiking, trail running, and backpacking!
The Ruffwear Flat-Out Leash has some awesome features such as the convenient Talon Clip, traffic handle to keep control over your dog, and hands-free attachment. There's also a loop that's great to carry your poop bags or any other small accessory. Overall, I highly recommend this product because it's the leash that offers the best bang for your buck!
Best Dog Leash For:
Versatility.
Portability & Lightweight.
Comfort & Convenience.
Pros:
Ideal For Everyday Use & Hands-Free Adventures.
Can Be Hold In Your Hands, Wear Around Your Waist, Or Secured To Something.
Lightweight Leash For Optimal Experience On Trails.
Padded & Adjustable Handle That's Comfortable To Hold.
Simple, But Functional Design.
Traffic Handle Near The Clip For Keep Close Control Over Your Dog When Needed.
Convenient Accessory Loop To Carry Small Items.
Versatile Gear That's Appropriate For Hiking, Running, Walking, Backpacking, Etc.
Cons:
Relatively Expensive.
The Quality Isn't As Good As It Used To Be, Especially For The Price.
Not Made With The Most Sturdy & Durable Materials.
The Second Handle Is Small & Not Padded.
Not The Best Leash For Chewers Or Strong Pullers.
Price: $
Quality: ****
Control: ****
Portability: ****
Convenience: ****
My Overall Rating: 4.5/5
Made from a real climbing rope, this leash is sturdy, durable, and well-made. It's available in a 4-foot and 6-foot length to keep an appropriate distance between you and your dog on trails. Thicker and stronger than most other rope leashes, it's an excellent option for large breeds or heavy pullers!
Budget-friendly, easy to hold, and lightweight, the ZippyPaws Climbers Dog Leash is great for outdoor adventures. Thus, this heavy-duty accessory offers great value for the money.
My biggest concern with the product is the clasp that's not ideally designed and not as durable as the rope. However, it's still one of the best hiking leashes out there, especially for the price!
Best Mountain Hiking Leash For:
An Inexpensive Alternative.
Sturdy & Durable Rope.
Large Dogs & Pullers.
Pros:
Good Quality Lead For An Affordable Price.
Strong Enough Rope For Large Breeds Or Heavy Pullers.
Comfortable Handle That's Easy To Hold.
Easily Loops The Leash Around Your Wrist For Optimal Security.
Chew-Proof Design.
Great Leash For Training, Walking & Outdoor Sports.
Cons:
Some Customers Claim It's Not Made From Real Climbing Rope.
The Metal Clip Is Poorly Designed & Not Very Sturdy.
Bulky Rope That's Not Ideal For Everyone.
The Leash Is Made Cheaper Than It Used To Be.
Pro Tip: If the clasp broke or is not solid enough, you can replace it with a durable carabiner!
Price: $$
Quality: *****
Control: ****
Portability: ****
Convenience: ****
My Overall Rating: 4.7/5
Similar to the rope lead made by ZippyPaws, the quality of this product is much better. The authentic climbing rope construction makes it extremely solid and durable. The main difference with the previous option is the sturdy carabiner for a secured connection to your dog's collar or harness!
Designed with premium materials, the Sierra Leash is ideal for large and strong dogs. The 6-foot length is great for most outdoor sports such as trekking, trail running, and backpacking.
The heavy-duty rope is also weather-resistant, so you will be able to explore mountains all-year-around regardless of temperature. Overall, it's an excellent leash that's built to last and awesome for hiking with your dog!
Best Hiking Dog Leash For:
Heavy-Duty Rope Lead Construction.
Large Breeds Or Heavy Pullers.
High-Quality & Secure Leash Carabiner Clip.
Pros:
Strong & Sturdy Climbing Grade Rope.
Good Length For Any Outdoor Adventure.
Rugged & Durable Design.
Made From High-Quality Materials.
Easy & Safe On/Off With The Heavy-Duty Metal Carabiner.
Versatile Gear Ideal For Trails Or Everyday Use.
One Year Warranty & Satisfaction Guarantee.
Cons:
Bulky Handle That Could Be Uncomfortable To Hold.
You Need To Lock The Carabiner To Ensure It Doesn't Open On Trails.
Black Rubber Wrapping Is Not Very Durable.
Video:
Price: $$$$
Quality: *****
Control: *****
Portability: *****
Convenience: *****
My Overall Rating: 4.8/5
Extremely similar to the Flat-Out Leash, this model has an adjustable length. This lead can be fully extended to 6 feet for hands-free hiking or running with your dog.
The metal slider also allows you to shorten the length to 3.5 feet if you want to keep him close to you for more control. The adjustability of this gear is very convenient to lead your buddy on any type of adventure!
The Crag Leash features a padded handle, secure clip, accessory loop, and strong webbing. Whether you keep the handle in your hands or you clip it around your waist, it's an amazing product to consider.
The main issue with this dog lead is the price. It's quite expensive, but the value it offers is worth the extra money!
Best Hiking Dog Leash For:
Hands-Free Adventures.
Multi-Use Gear.
Adjustability & Convenience.
Pros:
Hands-Free Waist Belt & Hand-Hold Leash.
Adjustable Length From 3.5 To 6 Feet.
Comfortable Handle With Padding.
High-Visibility Because Of The Reflective Trim.
Convenient Loop To Carry Small Accessories.
Swiveling Talon Clip That's Safe, Strong & Easy To Use.
Can Be Secured Around Trees Or Poles.
Cons:
Expensive Product.
Not Chew-Proof.
Materials Aren't As High-Quality As Other Ruffwear Products.
Not Ideal For Large Dogs Or Leash Pullers.
Best Dog Lead For Off-Leash Hiking → Ruffwear Quick Draw Leash
Price: $$
Quality: ****
Control: ***
Portability: *****
Convenience: *****
My Overall Rating: 4.6/5
If your dog is off-leash most of the time on outdoor adventures, you must have this gear. The Ruffwear Quick Draw is a lead that can be worn around his collar when it's safe for him to be free on trails.
The grab tab provides quick access to the leash if you need control. Lightweight, strong, and convenient, it's the ideal accessory for off-leash hiking with your dog!
We both know it's not fun to carry stuff your companion doesn't want to use. My Labrador loves to be free while we are exploring the great outdoors together.
However, I still have to keep her under close control if there's any potential danger on trails. Thus, this collar leash is an excellent solution to let our dogs enjoy off-leash time on trails without neglecting their safety!
Best Collar Leash For:
Well-Trained Dogs.
Off-Leash Adventures.
Easy Transportation.
Pros:
Lightweight & Low-Profile Hiking Dog Lead.
Simple Hook & Loop Closure For Quick On/Off.
Easy Access To The Leash With The Colored Grab Tab.
Sturdy & Swiveling Crux Clip For Secure Connection To The Collar.
Reflective Webbing For Better Visibility In Low-Light Conditions. 
Cons:
The Material Could Be Better.
Not The Most Comfortable Handle.
Only Recommended For Well-Trained Dogs With Reliable Recall.
Video:
You Want To Make Any Leash Hands-Free?
Let's be honest; having to hold the leash while climbing mountains isn't always convenient. That's why investing in a hiking belt such as the Hurtta Hiker Belt might be an excellent idea.
Another similar gear that's more affordable would be the Kurgo Hands-Free Dog Running Belt. This type of equipment is usually made for joring sports such as canicross, skijoring, or bikejoring, but it's also great for hands-free outdoor adventures!
You Need The Best Leash For Hiking With Two Dogs?
If you have more than one active buddy, you would probably go out on trails with all of them at the same time. Thus, the Dual Leash made by iYoShop is the ideal solution to run, hike, or walk with two dogs.
If you've already chosen the lead you need for your outdoor trips, you can also invest in an extension with double connections! (Check Out This One Made By Mighty Paw!) 
How To Choose The Right Dog Hiking Leash?
With all the products available on the market, it's not always easy to find the best option to head out on trails. Even if you choose from my recommendations to narrow down your choices, you still have to select the right one for your needs. Thus, let me help you understand how to find the perfect leash for hiking with your dog!
Different Types Of Outdoor Dog Leashes!
Just like any other gear, there are multiple types of leads for different purposes. Therefore, you should know your options to figure out which design is the most appropriate for hiking. Each style of dog leash has some pros and cons you must consider to pick the right one!
Standard Flat Leash.
This is the typical lead people use every day to walk their dog or go to the park. Usually 6-foot long and made out of nylon or leather, it's convenient for most sports and activities!
Pros:
Affordable.
Versatile.
Lightweight.
Easy To Carry.
Good Control.
Cons:
Not The Best Quality & Durability.
Not Chew-Proof.
Bottom Line: Recommended For Hiking!
Rope Lead. 
Much more thick than other types of leashes, the rope construction is generally very sturdy and durable. That's why it's the perfect design for large breeds, heavy pullers, or dogs who chew their lead. It's also popular for optimal comfort and security on outdoor adventures!
Pros:
Sturdy.
Durable.
Good Control.
Cons:
Bulky.
Might Not Be Comfortable To Hold
Not The Most Lightweight & Portable Type Of Leash.
Bottom Line: Awesome Gear For Hiking With Large & Strong Dogs!
Hands-Free Leash.
This is the most convenient solution to hike, run, or walk with your dog. However, hands-free leashes generally give you less control over him.
That's why I highly recommend an alternative that can be hand-held and waist-worn such as the Ruffwear Flat-Out. Another option would be to combine your top pick with a hiking belt!
Pros:
Handy.
Comfy Way To Hold The Leash.
Great For Well Behaved Dogs.
Awesome To Run, Hike, Or Walk Hands-Free.
Generally Have Pockets Or Loops On The Belt.
Pros:
Lack Of Control.
Not Ideal For Dogs That Pull.
Bottom Line: Comfortable & Convenient Type Of Leash For Outdoor Sports!
Training Leash.
Whether it's to teach your dog basic commands or proper walking manners, you might need a tether that's longer than 6 feet. Thus, training leashes are available in length up to 30 meters.
Anything over 15 feet will be too long for hiking, but a lead between 8 to 12 feet might be great to provide more freedom to your dog on trails!
Pros:
Give More Loose To Your Dog.
Cons:
Don't Provide Optimal Control.
Quite Bulky.
More Likely To Get Tangled In The Leash.
Bottom Line: Good For Hiking If Not Too Long, But Not The Best Option!
Bungee Lead.
Made from elastic cord, this type of leash is stretchy. This unique design absorbs shocks, provides more comfort, and helps with pulling issues.
Thus, it's ideal for trail running, hiking, or backpacking. However, you will have less control over your dog with the bungee feature!
Pros:
Extremely Comfortable.
Avoid Jolts On Trails.
Shock-Absorbing.
Great For Pulling.
Cons:
Offer Less Control.
Generally Slightly More Expensive.
Bottom Line: Great Design To Have On Trails!
Retractable Leash.
The adjustable length of this type of lead is not ideal for optimal control over your dog. Moreover, it's generally not as sturdy and reliable as other leashes. On the other hand, it's great to let him walk freely without being off-leash!
Pros:
Give More Freedom To Your Buddy.
Nice Design For Well-Trained Dogs.
Cons:
Less Sturdy & Durable.
Not As Safe & Reliable As Other Types Of Leashes.
Serious Lack Of Control.
Bottom Line: Suitable, But Not Ideal For Hiking!
Slip Lead.
This is an all-in-one collar and leash that's generally used for training purposes. When you or your dog pull on the rope, the loop around his neck will tighten.
Thus, this type of gear can be quite dangerous if you don't use it properly. I would not recommend choosing a slip leash for hiking unless your buddy is well-trained, you are used to this training tool, and you have no other option!
Pros:
Useful To Train Your Dog.
No Collar Needed.
Cons:
Could Hurt Or Injure Your Pup Without Proper Use.
Not Ideal For Untrained Dogs.
Designed For Training Not For Hiking.
Bottom Line: Not The Best Type Of Leash For Mountaineering Adventures.
To sum up, most types of leads available are suitable for outdoor sports. Nonetheless, some designs are more likely to be convenient on trails. Here's my list of the best and worst leashes for hiking with your dog!
Great For The Trails:
Normal Flat Leash.
Rope Lead.
Hands-Free Leash.
Bungee Cord.
Training Lead. (If Not Too Long)
Not Ideal For Hiking:
Retractable Leash.
Slip Lead.
What About The Clip Of The Leash?
Another important part of this essential hiking gear is the clasp connecting the rope to the collar. Fortunately, leash snaps are not too complicated to analyze.
As long as it's sturdy, durable, and secure, the clip should be safe to use. Otherwise, you can also replace it with a lightweight and heavy-duty carabiner!
What Is The Best Dog Leash Length For Hiking?
In general, I would highly recommend selecting a lead that's 6-foot long. It's the ideal length to give your dog enough freedom on trails while still having control over him. That's why most of my recommendations are available in this size, but a slightly longer or shorter leash can also work well for hiking!
Things To Consider For Choosing The Ideal Hiking Dog Lead!
Now it's time to make sure you understand what you should be looking for. We all have different needs, so the perfect leash for my Labrador might not be the best option for your dog.
Even if we all share a passion for hiking, it doesn't mean we should all invest in the same gear. Thus, let me share with you three elements you must consider to select the right product!
Your Dog's Conditions & Needs.
His size, breed, personality, training level, and several other conditions will influence which leash is better for him. Even if you are the buyer, keep in mind you are not the only user of this equipment. Your dog's safety, comfort, and well-being must be your priority to select the right option for his needs!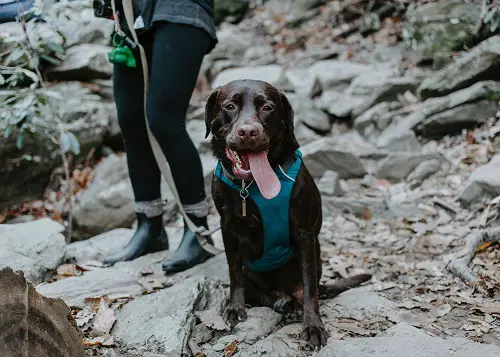 Let's say your furry adventure partner is large, strong, and has the bad habit of pulling on the leash. In this case, I would probably suggest you invest in a rope lead such as the Embark Pet Serria because it's the most sturdy and durable solution. Just make sure you consider your dog's requirements to select the perfect gear for him!
Your Personal Preferences.
Then, you will also have a say in this buying decision. Whether it's about the price, design, color, or anything else, you probably prefer some leashes to others.
It's alright to consider your preferences as long as you don't neglect your dog's needs. You should always think about both of your satisfaction to ensure everyone is happy on trails!
Your Favorite Type Of Outdoor Adventures.
Another important thing to consider is the activity you plan to do with your companion. You won't need the same leash to walk in the mountains for a few hours as you would for an overnight hiking trip.
Thus, the ideal gear for you and your dog will also depend on the intensity, duration, and other elements of your upcoming adventures!
What Makes The Best Leashes For Hiking With Your Dog?
Once you understand what you both need, you can start analyzing which product is the most appropriate for your situation. If you don't know what to look for in a good leash, you could consider the 5 main selection criteria I've used for my recommendations!
Quality.
Control.
Portability.
Convenience.
Price.
First of all, it's essential to invest in a high-quality lead to ensure your dog's safety on trails. Having the possibility to keep him close to you or to have more control over him is also important to consider for this gear. Then, you should make sure it's lightweight, easy to carry, and compact for storage!
Another thing you should analyze is the convenience of the leash for hiking. The comfort, versatility, and other extra features can make your adventures much more enjoyable, simple, and safe!
For the price and quality, you should choose an option that offers a lot of bang for your buck. However, be prepared to invest in a lead that's a little bit more expensive if you want one of the best products on the market!
You Are Ready To Invest In The Right Dog Lead For Your Needs!
With all the information I've just shared with you, you have everything you need to make your final decision. If you don't know where to start, I would highly recommend you take a look back at my top 5 leashes for hiking.
Then, it's time to analyze each product with your needs and preferences in mind to choose the best one for you and your dog!
Essential Dog Hiking Gear!
An appropriate leash isn't the only accessory you will need on trails with your buddy. Having the right equipment is a huge part of the preparation to enjoy outdoor adventures together.
Thus, here's my list of the most important gear for hiking with your dog. I've also added some of my favorite products in parentheses!
Other Useful Accessories You Might Need On Trails:
Tips To Bring Your Pup On Outdoor Adventures!
From gearing up properly to basic training, there are many things you know before heading out on trails with your dog. Therefore, let me share with you my best advice to make your hiking trips as fun and as safe as possible!
Respect Your Dog's Limits & Conditions!
Teach Him The Basic Obedience Commands!
Avoid Hiking In Extreme Heat or Cold!
Have Plenty Of Water & Food For Both Of You!
Always Keep Your Dog On-Leash For His Safety!
Enjoy Every Moment Spent Together On Trails!
Last Thought About The Best Leashes For Hiking With Your Dog!
Finally, choosing the ideal leash for outdoor sports might not be as easy as you thought. You have to consider your dog's needs, your preferences, and the type of activity you will enjoy together. Furthermore, you also need to analyze each product according to its quality, performance, and price!
My favorite lead for hiking with Marshmallow (My Lab) is the Flat-Out Leash made by Ruffwear. I hope this article has helped you figure out which of my recommendations is the best option for your needs.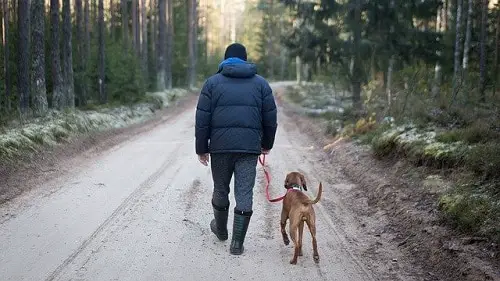 Now it's time to go out and enjoy nature with our loved companions. It would be awesome to meet you and your dog hiking on trails with your new leash!
I have another article about backpacking and hiking with your dog. I highly recommend you to read it.
Have Fun On Trails & Take Care!