Walking is fun and good for both dogs and humans. But without proper footwear, it can be much less enjoyable. If you're a dog owner, you should ideally walk your dog multiple times a day for 30 minutes or more. So you have to be ready to get your steps in.
Now, you might be wondering what shoes you should wear when walking your dog. The easy answer would be anything comfortable and appropriate for the environment where you plan to walk. However, it's a little bit more complicated than that.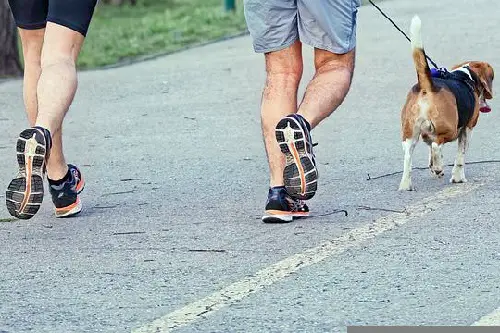 How To Choose The Right Shoes For Walking Your Dog?
The shoes you should get for walking your dog will depend on many factors. We all have different needs and preferences, so there's no one-fit-all dog walking footwear. The weather and surface where you walk will also influence what you should wear on your feet.
Weather.
First of all, you need weather-appropriate footwear. Depending on where you live and what season you're in, you might have to walk your dog in wet or snowy conditions. So choose shoes that are well-suited for your climate.
It might also mean you need multiple footwear for walking your dog in different weather. For example, I'm in Canada, where it's hot in the summer and very cold in the winter. Thus, I need shoes to walk my dog when it's sunny outside and warm boots for when it's snowy.
Walking Terrain.
The surface on which you plan to walk your dog is also essential to consider. Pavement, unpaved roads, and rocky trails won't require the same footwear. So it's always better to have appropriate shoes for the terrain on which you will be walking your dog.
Dog.
Your dog's activity level might also influence what type and quality of shoes you should wear. For example, hyperactive breeds will need to walk more often and for longer than couch potatoes. Thus, choose footwear that fits your dog's conditions and walking habits.
What To Look For In Dog Walking Shoes?
Besides your personal needs and preferences, it's also essential to understand what shoes you need to walk your dog. There are some features you should consider to improve your experience. So here are some things to look for in dog walking footwear.
Waterproof.
Rain and wet conditions aren't valid reasons not to walk your dog. That's why having waterproof shoes can be an excellent idea. It will keep your feet dry and warm regardless of the weather.
Comfort.
You should also wear comfortable shoes when walking your dog. Otherwise, you won't enjoy the time you spend on trails together as much and might even hurt your feet. Proper sizing, padding, support, breathable mesh, and a flexible sole can improve your comfort.
In my opinion, it's the most important factor to consider. Being uncomfortable while walking your dog isn't fun nor safe. It might also discourage you from doing it or make you rush through it. So make yourself the favor of selecting comfortable dog walking shoes.
Performance.
How the shoes perform on trails is another element you should consider. You might be looking for specific features such as an anti-slip sole or lightweight construction. It can make walking with your dog even more safe and more enjoyable.
Durability.
Even with the best dog walking shoes, they are useless if they don't last long. Choosing high-quality material and well-made footwear will generally increase durability. It might cost you more money, but you often get what you pay for.
Look.
You may also want to look good while walking with your dog. It shouldn't be your priority, but it's always fun to wear nice shoes when going out, even if it's just for a walk. So don't hesitate to choose a model you like as long as it meets your other criteria.
Are Hiking Boots Good For Dog Walking?
Hiking boots can make great footwear for walking your dog. It's comfortable, weather-proof, offers ankle support, and has a grip sole. So hiking boots can allow you to walk your dog safely in wet, muddy, snowy, and icy conditions. But they might not be ideal for walking on flat ground or in warm temperatures.
Best Shoes For Walking Your Dog!
Now that you have a better idea of what you should be looking for, it's time to find the right pair of shoes. With all the footwear options on the market, it can be hard to decide. So here are the best dog walking shoes I found to help you choose.
My Current Dog Walking Shoes!
Those are the shoes that I wear every day and when I walk with my Labrador. I love them. We often go in the woods, but it's also comfortable to use on practically any terrain.
The Salomon Outbound GTX Shoes are lightweight, waterproof, and durable. So I would highly recommend them for adventurous and active dog owners.
Best Overall: Merrell Moab Low Hiking Shoes
Those versatile hiking shoes are ideal for walking your dog on any terrain. Waterproof, supportive, anti-slip, lightweight, and made from high-quality leathers; it might be the only footwear you need to go on trails with your pup.
Pros.
Keep Your Feet Dry.
Comfortable Air Cushioning.
Durable Shoes.
Vibram Traction Sole.
Cons.
Maybe Too Warm To Wear In Hot Weather.
Not Totally Waterproof.
If you're more familiar with or prefer Keen products, you can take a look at their Targhee Low Hiking Shoes. (Women & Men) They are very similar to the Merrell Moab. So you can go wrong with either of those models and brands.
If you're looking for something warm enough for cold temperatures that gives you more ankle support, you can try the mid version of those hiking shoes. (Women & Men) They have all the same benefits with added protection. 
Best Dog Walking Shoes For Women!
Another great pair of shoes to walk with your dog is the Vasque Breeze Lite Low GTX. It has a Vibram sole and Gore-Tex membrane to increase traction and keep your feet dry on trails. It's a good option for everyday wear, hiking, or any other outdoor activity with your dog.
Pros.
Waterproof.
Comfortable & Breathable.
Solid Footing.
Durable.
Lightweight.
Cons.
This pair of shoes might be the perfect solution for you if you want to walk and run with your dog. They are lightweight, breathable, and look good. Although the Brooks Launch 8 Running Shoes aren't waterproof, they can still be great dog walking and jogging footwear.
Pros.
Lightweight.
Comfortable.
Breathable.
Nice Design.
Cons.
Not Waterproof.
Lack Of Support.
If you're looking for convenient and comfortable footwear, those shoes might be ideal. The Skechers Go Walk are slip-on shoes that are lightweight and flexible. So they are great for walking your dog and everyday wear.
Pros.
Highly Comfortable.
Easy & Quick To Put On/Off.
Affordable.
Cons.
Not The Best Quality.
Not Waterproof.
Best Dog Walking Shoes For Men!
Waterproof, lightweight, supportive, and breathable, this versatile pair of shoes might be perfect for hiking or walking with your dog. Its comfortable and durable construction is also appropriate for everyday wear. So it's all that you need to go on trails with your pup!
Pros.
Keep Your Feet Dry.
Comfortable & Breathable.
Good Support.
Durable.
Excellent Traction.
Cons.
Narrow.
Waterproof May Fade Away With Time.
If you're looking for shoes to walk, run, and hike with your dog, this option might be ideal. They are comfortable, durable, and offer increased traction. Stylish but practical, those trail shoes are excellent footwear for active dog owners to consider.
Pros.
Versatile.
Good Support For Comfort.
High-Quality & Durable.
Nice Looking.
Cons.
Not Waterproof.
Relatively Heavy.
Those slip-on moccasins might be an excellent option for people that want a convenient and warm pair of shoes. Comfortable and well-made, it's probably the best footwear for walking your dog in colder temperatures.
Pros.
Warm.
Flexible Support.
Comfortable.
Waterproof.
Slip-Resistant.
Durable.
Cons.
Tight Opening.
Not Versatile.
Which Dog Walking Shoes Should You Choose?
It will depend a lot on your personal needs and preferences. But the main elements I would consider are where you plan to walk with your dog, the climate, and your comfort. With these factors in mind, you should be able to select the right dog walking footwear for you.
Once you have something to keep your feet safe and comfortable on daily walks, it might be time to do the same for your dog. Yes, you heard me right. Protecting your dog's pawns is your responsibility.
Does Your Dog Need Shoes For Walking?
Not every dog will need shoes for walking, but it's better to be safe than sorry. Hot pavement, snow, ice melter, and many other surfaces can injure your dog's pawns. So wearing shoes can protect his feet. It will make daily walks much more enjoyable and safe for your dog.
Best Dog Shoes For Walking!
Last Thoughts About Dog Walking Shoes!
Finally, every dog owner should have good walking shoes. I personally use and love the Salomon Outbound, but there are many other excellent options you should consider, such as the Merrell Moab Hiking Shoes. (Women/Men)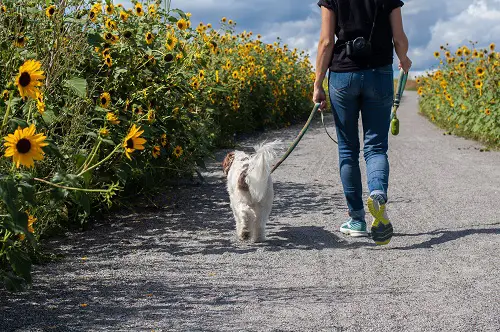 Now you should invest in proper footwear for your needs to make daily walks with your dog as enjoyable and safe as possible. Just make sure to find something comfortable and appropriate for the weather and terrain.
See You On Trails With Your Dog!