Schutzhund involves a lot of training and preparation. As for any other canine sport, gearing up is an essential step of the process. Without the right equipment, you and your dog won't go very far. So here's what you will need to work together and get started with Schutzhund training.
What Equipment Do You Need For Schutzhund Training?
You will need a lot of equipment to prepare and train your dog for Schutzhund. Handlers use many items in this canine sport, from collars to tug toys passing by tracking gear. Training your dog to pass the BH and win IGP titles requires you to have specific pieces of equipment.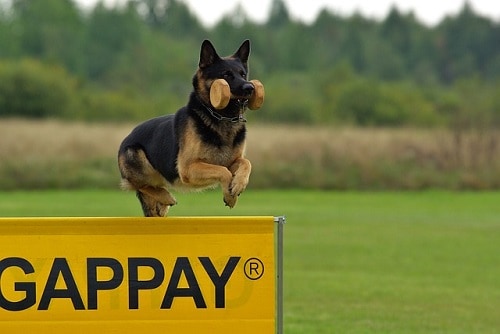 The gear you need will vary depending on the training methods used and what your club provides you. However, most handlers carry the same type of equipment. So let's figure out what you might need to train your dog for Schutzhund.
List Of All The Schutzhund Training Equipment
Now here's a list of the equipment generally used in the sport of Schutzhund. Please note that it may not be exhaustive. However, it can still give you an idea of what you will need to bring and carry on the training field.
Dog Collars.
Training Harnesses & Vests.
Dog Toys.
Leashes.
Bite Sleeves & Pillows.
Scaling Wall.
Hurdles.
Dumbbells.
Protection Blinds.
Tracking Lead.
Articles.
Flags.
Crates.
Gloves.
Muck Boots.
Rain Gear.
Convenient Accessories.
Tote Bag.
Schutzhund Equipment Starter Kit
As you can see, there are several items that handlers use to train their dogs for Schutzhund. But you might not need all the equipment mentioned above right off the bat. If you're just getting started, you can only buy the essential gear and purchase the rest along the way.
A collar, harness, leash, some dog toys, and treats should be enough to prepare your pup for Schutzhund training. As he gets older and more obedient, you can slowly and gradually get more advanced equipment. So here's a list of what you must have right from the start.
Collars.
Harnesses.
Leashes.
Toys.
Dog Treats.
With this equipment, you should be able to start working with your dog on basic obedience. If you want to get into tracking and protection work, you will need specific items for this type of training. You can also buy other accessories to avoid problems while doing Schutzhund.
For example, a crate might be convenient or necessary to travel with your dog and visit some local clubs. Besides that, rain gear could also allow you to work together regardless of the weather. So you don't have to restrict yourself to the equipment on the list above.
More Information About Each Piece Of Schutzhund Equipment
Now that you know what you might need, it's time to understand why and how to use the equipment. You will also have to find the right gear for Schutzhund training and be aware of what you need to do with it. So here are all the items mentioned above with more details.
Dog Collars.
There are many types of dog collars. In Schutzhund, the most commonly used are flat, prong/pinch, fur saver, electronic, and agitation collars. Which ones you will need mainly depend on your dog and the training method used.
Most handlers will have at least a standard flat collar and another one for training. You can visit clubs and ask members what they used and why. Then, you will have a better idea of the collar you should get for your dog.
It's also easier to start with the equipment you know and are comfortable using. Just don't opt for a head halter or any other type of collar that's not suitable for Schutzhund training.
Training Harnesses & Vests.
A harness or vest can be more appropriate than a collar in certain training situations. Most handlers will use this type of equipment for tracking and protection work. But you can also get one for obedience training and make your dog used to wearing a harness or vest.
There are specific harnesses for different purposes. Most options at a regular pet store won't be appropriate for Schutzhund training. Some models are designed specifically for tracking and protection work.
Dog Toys.
Playing with toys is one of the best ways to prepare your dog for Schutzhund training. It will build and develop his drive, motivate him, and strengthen your bond. Tug toys are also great tools to introduce a dog to bite and protection work.
However, not all toys are well-suited for Schutzhund. The most popular ones are balls with ropes and tugs. But anything that your dog likes to play with can do the job.
Leashes.
There are several types of leashes you can use for training your dog. But not all of them are appropriate for Schutzhund. You might also need one leash for every part of this canine sport. Obedience, protection, and tracking won't require the same training and equipment.
Thus, you should probably get a couple of leashes that you can use in different situations. But you can start with a standard nylon or leather lead of around 6 feet long and 1 inch wide. You should also choose one that's comfortable to hold when your dog pulls.
Bite Sleeves & Pillows.
Another item you must have for protection is a sleeve or pillow on which your dog can bite safely. The club and helper will probably have their own bite sleeves or suits. But you can still buy a bite pillow or sleeve appropriate for Schutzhund to yourself.
Scaling Wall.
In the obedience phase, some exercises involve a scaling wall. So your dog should be ready to climb over this obstacle. Your club will probably have one you can use, but you can always get one for training at home.
Hurdles.
Your dog will also need to jump over hurdles in the sport of Schutzhund. Again, you should have access to this equipment on the training field of your club. But it won't hurt to have some jumps to practice elsewhere.
Dumbbells.
Another item you will need for obedience training is dumbbells. These are the objects your dog must carry during retrieval exercises in this phase. So having appropriate dumbbells for Schutzhund is essential in this canine sport.
Blinds.
During the protection phase, there's an exercise called the blind search. The dog has to find the helper hiding behind one of the blinds on the field. Most clubs have them, so you shouldn´t have to invest in this type of equipment.
Tracking Lead.
As I already said, you might need many types of leashes for Schutzhund training. For tracking, you must have a very long lead. So you should get a standard 33-foot tracking line (or shorter one for training) that's relatively light and non-slip.
Articles.
In the tracking phase, the dog also has to locate articles. Those are items dropped by the person who laid the track. To practice and train your dog for this part of Schutzhund, you will need some of these articles. Ideally, they should be durable and comply with the IGP trial requirements.
Flags.
When teaching your dog tracking, you will use flags. Some trainers make scent pads delimited by them to help the dog understand the concept of tracking. You can also use a flag to indicate where the track starts.
Crates.
Having a crate is a must for Schutzhund handlers during transportation and travel. Most clubs require them on the training field when the dog isn't working, and it's convenient for waiting time. You can also buy accessories for the crate, such as a fan, hanging bowl, pads, etc.
Gloves.
If your dog is a strong puller and you don't want the leash to slip from your hands during training, wearing gloves could be an excellent idea. It will protect your hands and give you more grip for protection work training.
Muck Boots.
Whether you want to keep your feet dry or laid tracks for your dog, muck boots might be the ideal Schutzhund footwear. They are comfortable, convenient, and practical. That's why so many handlers use and recommend them.
Rain Gear.
If you want to enjoy Schutzhund, whatever the weather is outside, you will need the proper outfit for it. Most clubs train even when it's raining, so you should be ready for it. Having a raincoat or ponchos, muck boots, and waterproof equipment will help you stay dry, warm, and comfortable.
Convenient Accessories.
You could use and carry many other things to make Schutzhund training even more enjoyable. For example, having an umbrella to protect you from the sun might be convenient. You can also consider bringing a camera, sunscreen, hat, spare clothes, neck coolers, etc.
Tote Bag.
Finally, you will need something to carry all the gear mentioned above. That's where the tote bag comes into play. It will help you transport your Schutzhund equipment to your club and on the training field.
Don't Forget:
Staying hydrated, picking up your dog's poop, and having a positive attitude are also essential for Schutzhund. Thus, don't forget to bring a lot of water for you and your dog. You should also carry some poop bags and ensure you have fun on the training field.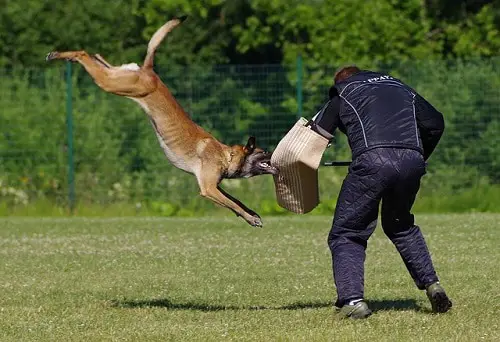 Where To Buy Equipment For Schutzhund?
Now that you have a better idea of what equipment you need and why, it's time to go shopping. You have a few options when gearing up for Schutzhund. You can either buy new or second-hand for another handler.
Some members of your club might have some equipment they don't use anymore that you could need. For example, their dog can outgrow a harness or collar that's still in good condition and fits your pup. So you could buy it for cheap and help them get rid of unused gear.
You might also borrow some stuff from other members and handlers. But sometimes it's better, or you don't have any other choice than to purchase brand new equipment. Thus, let me give you a couple of recommendations for specific items and places to buy from.
Schutzhund Equipment Starter Kit
Dog Collars.
Training Harnesses.
Leashes.
Dog Toys.
Treats.
Other Schutzhund Equipment To Consider:
Bite Sleeves & Pillows.
Scaling Wall.
Hurdles.
Dumbbells.
Protection Blinds.
Articles.
Flags.
Crates.
Gloves.
Muck Boots.
Rain Gear.
Tote Bag.
The pieces of equipment listed above are just some of my recommendations. You can always do your own research to find the right gear for your needs. So here are a few sites where you can buy good Schutzhund equipment.
Last Thoughts About Schutzhund Equipment!
Finally, gearing up properly for Schutzhund training can seem quite overwhelming. With all the equipment necessary to improve your dog's obedience, tracking, and protection skills, you must be ready to invest some money. Find out how much Schutzhund training costs!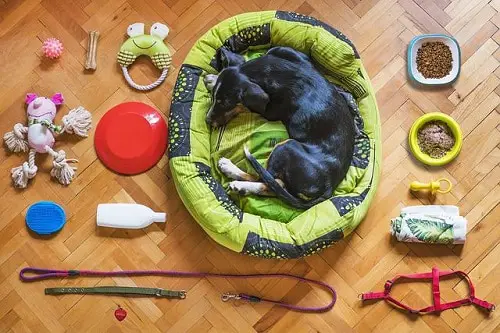 Nonetheless, keep in mind that you don't need everything mentioned in this article right off the bat. A leash, harness, toys, and treats should be enough to get started. So now it's time to buy the Schutzhund equipment you need and start training your dog.
Let's Gear Up For Schutzhund Training!