Training your dog for Schutzhund will require a lot of equipment. If you're just beginning or plan to get started, you might wonder what you should wear on your feet in the training field. So here are my recommendations on the best shoes and boots for this canine sport.
What Type Of Footwear Do You Need For Schutzhund Training?
When training your dog for Schutzhund, you will need comfortable footwear appropriate for the weather. The phase you train in can also influence what you should wear on your feet. Schutzhund handlers mostly use muck boots, hiking boots, and running shoes. It will depend on the conditions and their preferences.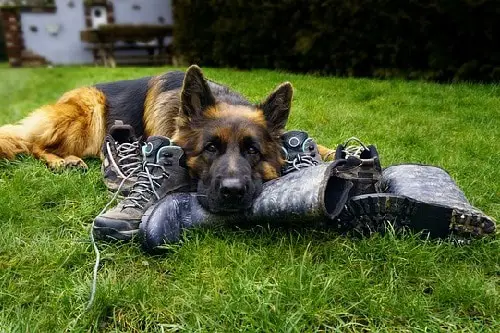 Best Boots For Schutzhund Tracking!
Tracking is probably the training part where footwear is the most important. Since you have to lay the track for your dog, you should wear shoes or boots that are appropriate for it. Thus, here are some great options to consider for this phase of Schutzhund.
Muck Boots.
Having waterproof rubber boots designed to keep your feet dry and warm is ideal for tracking in most conditions. Whether it's cold, rainy, or muddy outside, muck boots will allow you to lay a track and train your dog comfortably. That's why it's a popular footwear choice for Schutzhund.
Muck boots are warm enough to be worn in the winter but not too much so that you can still use them when it's hot outside. Therefore, they are versatile enough to be your footwear practically all year round. Now here are some of the best muck boots for Schutzhund training!
Best Schutzhund Footwear For: 
Rain.
Mud.
Cold Temperatures.
Hiking Boots.
If you're looking for something more comfortable and easy to put on than muck boots, hiking shoes might be the solution for you. This footwear designed for outdoor walking and physical activity might be more appropriate for Schutzhund training. 
However, hiking boots are generally not as protective and warm as muck boots, even though some models are. So it will mainly depend on what you prefer to wear and the conditions of the training field. Here are two great hiking shoes for the sport of Schutzhund!
Best Schutzhund Footwear For: 
Comfort.
Versatility.
Outdoor Walking.
Gaiters.
To make your hiking boots more protective, you can buy and wear gaiters too. They will keep your feet, ankles, and lower legs dry and safe. So this add-on makes hiking shoes even more appropriate for Schutzhund training in rainy, snowy, and muddy conditions.
Running Shoes.
Another option is to wear running shoes on the training field. They are comfortable and ideal for physical activity but won't do well in snow, rain, mud, and cold temperatures. So as long as it's dry and relatively warm outside, you can wear your sport or running shoes.
If you don't have any or want to invest in some footwear appropriate for Schutzhund, here are some recommendations.
Best Schutzhund Footwear For:
Comfort.
Freedom Of Movement.
Convenience.
Whatever You Wear.
Some handlers don't really care about their footwear for Schutzhund tracking. They use whatever they have with them, whether it's cheap rain boots, sandals, or sneakers. So if you have no other option or think footwear doesn't matter, you can keep what you already have on your feet.
Best Shoes For Protection Work!
When it comes to Schutzhund protection, you will need footwear that gives you solid footing and good traction. Since your dog will pull you during this type of training, you don't want to fall or slip and let go of him.
Most muck boots, hiking boots, and running shoes can do the job. But some footwear will provide you with more grip on the ground. For example, trail shoes with a cleated sole could be more appropriate for protection training. Here are some options you should consider!
Best Shoes For Helpers & Decoys!
If you're a decoy or a helper, your footwear needs are slightly different than the handler. You want shoes that allow you to move and run while keeping a good and solid footing. That's why most helpers and decoys recommend wearing soccer or American football shoes.
Some people also prefer footwear without cleats that still provide enough traction to work with the dogs. And if you choose shoes with cleats, make sure they aren't too dangerous because it's not rare to step on a pawn during protection training.
For Schutzhund, I think the best option would be American football shoes with rubber cleats. However, soccer and sports shoes with an anti-slip sole can also be suitable for Schutzhund helpers and decoys. Let's take a look at some options you should consider!
Does Footwear Really Matter For Schutzhund Training?
Choosing the right shoes and boots for tracking and protection work will provide comfort and safety. So footwear is essential to make your Schutzhund training sessions as enjoyable and safe as possible.
However, you don't have to break the bank and buy expensive shoes or boots to enjoy this canine sport. You just need to find something that will be comfortable and protect your feet on the training field. Keep in mind that there is much more Schutzhund equipment to have other than the footwear.
Last Thoughts About Schutzhund Training Shoes & Boots!
Finally, you will need proper footwear to train your dog for Schutzhund. Whether it's muck boots, hiking boots, running shoes, or cleats, I'm sure you will find something comfortable to wear for tracking and protection work.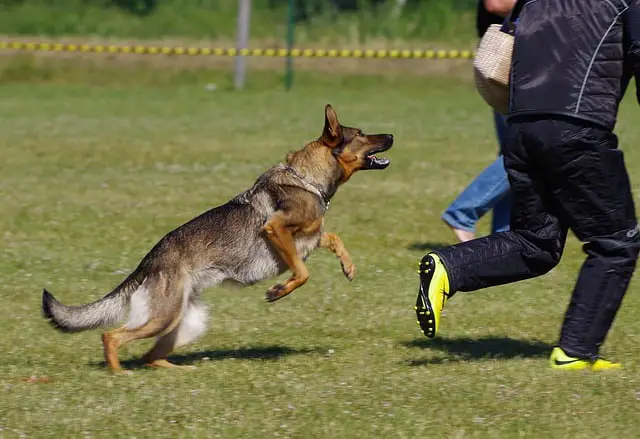 You could even invest in multiple pairs of shoes and boots to always have something appropriate for all phases of the sport and the outdoor conditions. So let's find that perfect footwear combination to keep your feet warm, dry, and safe all the time on the Schutzhund field.
Let's Get Those Shoes & Boots!