As you probably know, dog agility has many benefits for both humans and pooches. For example, it's a great source of exercise, a fun way to strengthen your bond, good to avoid behavioral issues, etc. However, there's a certain age when your dog can start agility training!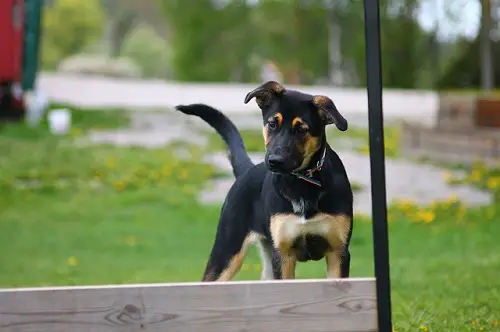 Yes, this sport can be bad or dangerous for your young puppy. After I had discovered this information, I started to do some research on this subject. By the way, dog agility training can be very interesting for your companion once he's old enough. Now, let me share with you what I've found about what age your dog should start agility training?
No puppy under 12 months old should do intense sports. In general, dogs can start agility training between 1 or 2 years of age. Too young puppies could hurt or injure themselves during agility courses. Before starting this activity, you should visit your vet. He will be able to know when it's OK to introduce your dog to agility training!
However, there are many other activities you can do with young puppies. Things like flat-work (pre-agility) or obedience training can prepare your dog to be good at agility sports. Some curious people (like me), would also like to know why puppies can't do intense activities. At the end of your reading, you will know everything about when or what age your dog can start agility or pre-agility! (Plus some ideas of fun activities for puppies!)
At What Age Should Your Dog Start Agility Training?
We all know that young puppies are full of energy and playfulness. Nonetheless, they aren't suitable for high-impact sports like running, agility training, hiking, etc. These furballs of energy only need bursts of exercise and a lot of rest. Furthermore, young dogs are extremely fragile while they are still growing. That's why agility is too intense for them!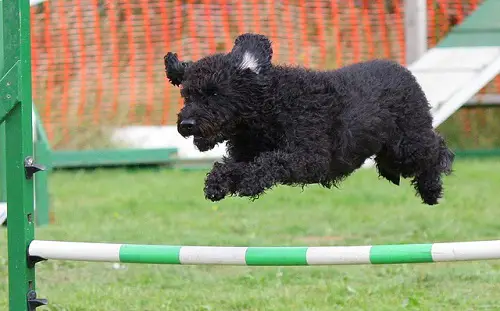 Dogs usually start dog agility around the ages of 1 or 2. Some breeds take more time than others to be suitable for intense sports. It normally depends on their growing time that can vary according to their size and other specific conditions. Therefore, it's highly recommended to visit your veterinarian before starting a dog agility with your puppy!
Every Dog Is Different!
Talking to a professional is essential before starting new dog sports. All breeds have different needs and conditions. Moreover, all dogs of the same breed can also have unique restrictions. Starting dog agility training around 1 or 2 years of age is only the average. Some dogs will take longer than that because of specific growth and development patterns. That's why it's very important to talk to your vet before starting agility training with your dog!
Growth Plates Matters!
Growth plates are the areas of new bones that are still growing and extremely fragile. When puppies are fully grown, the growth plates slowly harden to become solid bone. That can help you understand why young dogs can't do intense sports. Therefore, age isn't what's important because it's not accurate. Some dogs' growth plates will take more time to harden than others! 
Unfortunately, the only way to know if your dog's growth plates are solid and closed is with an x-ray scan. Asking questions to your vet is another way to have more personalized answers or advice. However, most canines are fully grown around 12 to 18 months. It could be longer for large dog breeds or a little bit shorter for small pooches. The safest option would be to wait around 2 years of age to start high-impact agility training with your dog!
Why Agility Training Is Dangerous For Puppies?
As you know puppies have soft bones and a fragile structure. Furthermore, their muscles and tendons will take intense shocks because they are stronger. Things like regular running or jumping could pull their soft tissue apart from the growth plate. Therefore, this injury could cause them more problems in the future!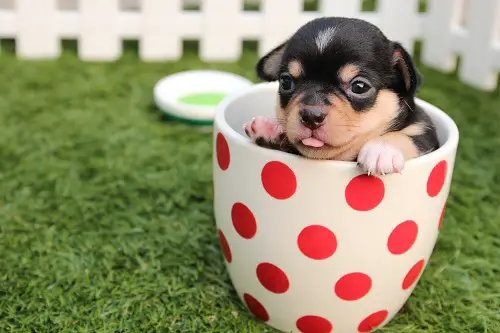 Besides, young puppy's bones are not strong enough to take regular impact. Agility training will make your pup run, jump, etc. These repetitive actions put a lot of pressure on your dog's joints and bones. Consequently, puppies that start agility training or competition too young are more prone to leg or spiral fractures! 
What About Pre-Agility (Flat-Work) For Young Puppies?
You should wait until 1 or 2 years of age to start agility training with your dog. However, I know that some of you won't be patient enough for that. Fortunately, there's a solution for owners or trainers that want to enjoy agility training with young puppies. It's to enjoy pre-agility (or flat-work) with your dog!
Before enjoying flat-work agility with your dog, obedience training is essential. This is the best way to prepare your companion for agility sports. You should master basic obedience training for dogs that principally include the 7 essential commands. After that, it would be way easier to start flat-work or agility training. Now, let's see what pre-agility is exactly!
What Is Pre-Agility?
It's a way to prepare your dog for agility training or competition. It's flat-work that won't put unnecessary pressure on your puppy's joints or bones. Pre-agility training can include exercises like tricks, shadow handling, hand targeting, etc. Flat-work will also include an introduction to obstacles that are on the ground!
With very young puppies, it's essential to focus on your communication and teamwork. Don't try to go too fast for your pup; it won't help. Flat-work or pre-agility training should be fun and light for both of you. Well practiced, it's an awesome way to exercise young dogs without too intense effort or work!
At What Age Should Your Puppy Start Pre-Agility Training?
Now, you may wonder if there's an age to start flat-work with your dog. Yes, your puppy should be older than 4 months of age to get started. Before that, he won't want or be suitable to learn more things than sit, stay and respond to his name. However, the real main reason for this age restriction is to not over-exercise young dogs. You shouldn't have any issues playing and having fun with your new puppy without agility training for 4 months!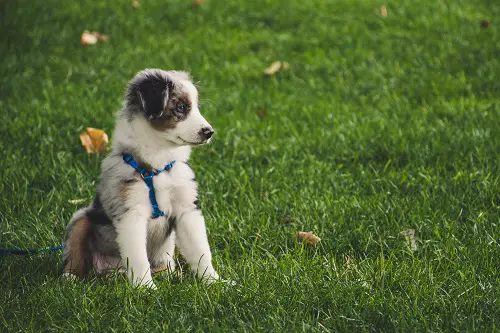 Furthermore, it's crucial to not start with intense training sessions, especially for young puppies. You should be aware that their focus span is really short. Therefore, it's OK to start pre-agility training around 4 months old if you (or the trainer) have the right knowledge of the proper exercises, gear and time of the lessons for this sport. Otherwise, you could hurt or injure your dog!
Is Agility Training Good For Dogs?
This sport can be extremely good for dogs that are suitable for this activity. Moreover, the owner (or trainer) needs to know what he's doing and take some precautions. For example, your dog could hurt or injure him if he's not suitable (or well prepared). It's also important that you give proper instructions and train your buddy well for his safety!
In general, agility training has many benefits both for dogs and humans. Like any other sport, there are also some risks. However, it's relatively safe if you use the right method and respect your dog's limits. You probably already know that dog agility was good for your companion. Now, let's see if you can discover some benefits of this activity that you didn't know!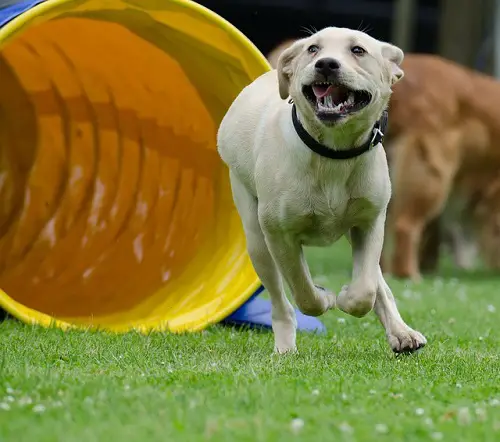 Benefits of Dog Agility Training!
Great Source Of Exercise.
Opportunity To Go Outside.
Mental Stimulation For Dogs.
Good Bonding.
Teach Patience And Self-Control To Your Dog.
Improve Your Communication.
Etc.
Can All Dogs Enjoy Agility Training?
After I had discovered that puppies can't enjoy agility training safely, I wonder if they were alone in this situation. Some dogs are naturally better than others at this type of activity. However, it's not just about the breed as many people think. Most professionals agree that any breed can enjoy this sport. You will only need to adapt your agility training to your companion's conditions!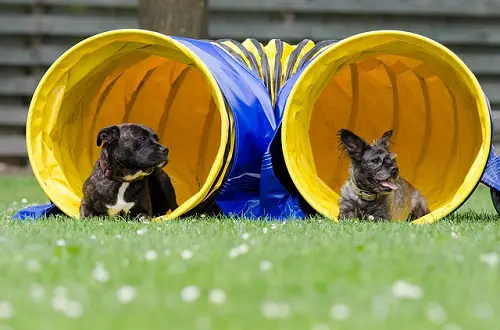 Unfortunately, there are specific types of dogs that aren't suitable for agility training. Your companion's health, structure, age, and some other conditions could influence his ability to jump or run safely. Therefore, it's very important to ask your vet if this activity is good for your buddy. Here are some types of pooches to be that you should be particularly careful with!
Dogs To Be Careful With Before Start Agility Training!
Young Puppies. (Under 1 or 2 years)
Senior Dogs. (Over 8 years)
Overweight Companions.
Dogs With Structural Issues. (Hip Dysplasia, Arthritis…)
Brachycephalic Breeds. (Bulldogs, Pugs, Mastiffs…)
Etc.
Good Exercise For Fragile Dogs: Walking, Swimming, Etc.
Best Agility Dog Breeds!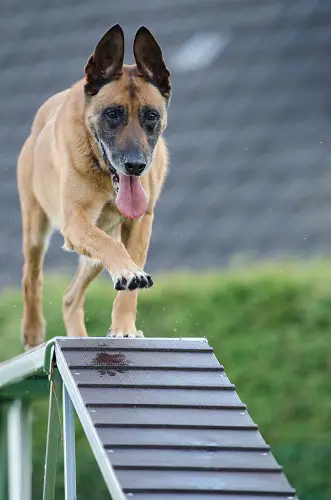 Border Collies.
Australian Shepherds.
Shetland Sheepdogs,
Golden Retrievers.
Dutch Shepherds.
German Shepherds.
Jack Russell Terriers.
Cocker Spaniels.
Poodles.
Papillons.
Whippets.
Etc.
How Do You Start Agility Training With Your Dog?
Once you make sure your dog can enjoy agility training safely, you're ready to start. There are many ways to teach your dog how to do agility courses. However, I've found an easy process to start this activity in 3 simple steps. It would certainly help you get started without any trainer or expensive agility classes. Let's see what are these three phases to help you enjoy agility training with your dog!
3 Steps To Start Agility Training!
The first step is to prepare your dog to be easier to train. It will include basic obedience training (7 commands), a healthy lifestyle (proper nutrition and exercise), and socialization. The second step will be to get your equipment and introduce your dog to it. The last step would be to teach your dog how to overcome every obstacle one by one!
I won't explain in detail every one of these steps in this article. However, this article [Link Open In a New Tab] on The Spruce Pets website could be interesting if you're ready to start agility training now. Besides, there are also many videos on Youtube that will help you teach your dog how to jump, pass in a tunnel, weave in and out poles, etc. Here's a video that should be interesting if you consider starting dog agility training!
Here Are The 7 Basic Agility Obstacles!
Standard Jumps.
Weave Poles.
Tunnels.
Dogwalk.
Pause Tables.
Tire Jumps.
Teeter Boards.
5 Tips To Get Started With Dog Agility Training!
Now, I know that training your dog isn't always easy. Like any other sport, dog agility will require time, hard work and perseverance to succeed at it. Nevertheless, I'm sure that you can do it with the right attitude and method. Let me share with you some pieces of advice to help you start agility courses with your dog!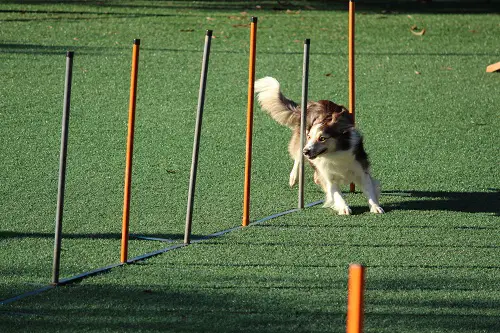 Reward Your Dog With Something He Loves! (Treats, Praise, Toys…)
Start With Short Training Sessions!
Think Safety First! (Gear, Obstacles, Conditions…)
Improve Your Dog's Agility Skills Slowly And Gradually!
Stay Positive And Have Fun! (Always)
Find more tips for agility training on the AKC [Link Open In a New Tab] website!
5 Fun Alternatives To Dog Agility For Puppies!
Many readers are probably disappointed that their puppies can't start agility training with them. However, keep in mind that it's for your dog's safety and well-being. Moreover, it's not because you can't do dog agility that you can't have fun with your puppy. Believe me, there are many other fun activities to enjoy with young dogs. Let's see what alternatives to agility training you can do with your pup!
Tug-of-War.
Teach Him Simple Tricks.
Play Hide And Seek.
Backyard Fun.
Play In Water/Sprinkler or Leaves.
Bonus Activity: Explore The Outdoors. (Forest, Beach…)
Etc.
Last Thoughts About When Your Puppy Can Start Agility Training!
As you can see, canine sports are awesome to provide your companion with proper physical activity. Once you master agility training, there are plenty of other intense activities to enjoy with healthy dogs. Whether it's running, biking or hiking, exercising with your buddy is always fun. Moreover, it's an awesome way to stay both healthy, fit and happy!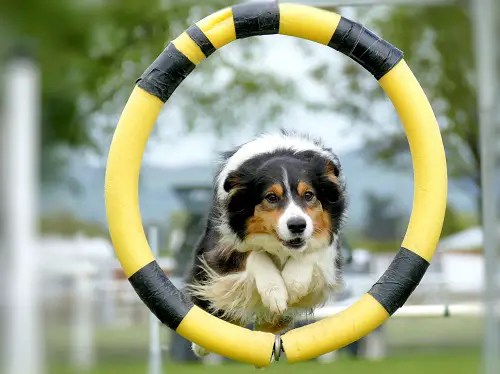 Now, it's time to take action and go play with your dog. Don't forget that his well-being is in your hands. Even if you can't enjoy intense activities, there's always an adapted solution to exercise with your pup. I hope this article helps you understand that puppies can start agility training around 1 or 2 years of age. Do you know what would make me very happy? Simply to see you teaching new agility tricks to your young dog while I'm exercising with my Labrador!
External Resources:
Similar Article On The TrainingMyBestfriend Website! [Link Open In a New Tab]
More Info About Flat-Work And Agility On The AgilityFusion Website! [Link Open In a New Tab]