Heading out on hiking trails with your dog is one of the best sports you can enjoy together. However, you must do some preparation and gear up properly before exploring the great outdoors with him.
The most important thing on adventures is to provide your buddy with enough water and food. Thus, let me help you to find the perfect option for your needs among the best dog bowls for hiking!
With all the products on the market, it can be difficult and overwhelming to understand which water dog bowl you should choose. Whether it's for hiking, backpacking, or camping with your four-legged companion, you must have a convenient accessory to feed him and keep him hydrated.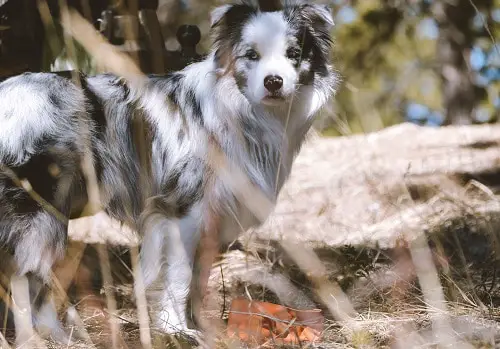 The best dog bowl for you will mainly depend on your dog's conditions, the type of adventure you plan to do, and your needs. After spending hours searching for the right hiking gear for my Lab, I want to share with you everything I've found.
There are several things you should know before you head out on trails with your dog. Investing in the best water bowl for your needs is only one part of the preparation required to start hiking together!
If you're in a hurry, here my 3 favorite bowls to feed and keep your four-legged friend hydrated.
Top 3 Best Dog Hiking Water Bowls!
Why Should You Have An Appropriate Dog Bowl For Hiking?
This piece of equipment isn't essential. You could either make your dog eat and drink directly in your hands or bring a standard bowl in your backpack.
But let's be realistic, it's inconvenient to get your hands dirty/wet every time he needs some water/food. Besides that, his bulky bowl isn't suitable for outdoor sports!
Therefore, I highly recommend investing in an appropriate dog bowl for hiking. Having the right accessory for this purpose can make your adventures much more enjoyable for everyone.
Portable bowls are lightweight for easy transportation and designed for compact storage. In other words, it's the perfect dish to put in your backpack for trekking with your companion!
This type of gear is convenient, not expensive at all, and you can use it at any time you're traveling with your buddy. So you have no reason not to purchase a hiking dog bowl, especially if you're an outdoor enthusiast.
Now let's talk about some of the best options I've found on the market!
My Top 5 Best Water Dog Bowls For Hiking!
To save you time, money, and energy, I've selected the 5 best products for different needs. From the most high-quality portable dog bowl to the easiest to carry, passing by the most affordable, those options are all great for hiking.
After an overview of my favorite dog adventure drinking facilities, I will also share with you what are the different types of portable bowls.
Price: $$
Quality: ****
Lightweight: *****
Compact Storage: *****
Easy To Carry: *****
Capacity: *****
Affordable, lightweight, and convenient, it's the perfect bowl to enjoy outdoor adventures with your dog. The Zippy Bowl folds down and zips up for compact storage in any pocket or bag.
This drinking accessory also comes with a carabiner, so it's easy to carry on hikes without taking any space in your backpack. Another great feature is the size that's suitable for practically any dog.
The quality of the bowl is excellent, and it's built to last. Made from durable fabric, this drinking accessory is easy to clean and can retain its shape. Overall, I highly recommend the Zippy Bowl because it's an ideal solution to hydrate and feed your dog on hiking trails!
Best Hiking Dog Bowl For:
Easy Transportation & Compact Storage.
Soft & Durable Travel Accessory.
More Bang For Your Buck.
Pros:
Collapsible Zipping Design For Easy & Compact Storage.
Free Carabiner Included To Attach The Bowl Conveniently.
Made With Lightweight Materials For Easy Transportation.
High-Capacity Water Bowl Holding Up To 48 oz. (1.4 L)
Durable & High-Quality Construction.
Machine Washable & Easy To Clean.
The Bowl Holds Its Shape Even If It Folds Up.
All Kurgo Products Are Guaranteed Built For Life.
Cons:
Not The Best Quality.
The Loop Connecting The Carabiner To The Bowl Is Weak.
The Base Could Be Wider For More Stability.
My Overall Rating: 4.7/5
Pro Tips For Improving This Hiking Water Bowl: Some customers lost the bowl on trails because the webbing loop is too weak. My advice would be to clip the carabiner inside the zipper. You can also carry the bow inside your backpack or pocket!
Price: $$$$
Quality: *****
Lightweight: *****
Compact Storage: ****
Easy To Carry: ****
Capacity: *****
This portable dog bowl is the premium option you have to make your buddy drink or eat on trails. With this product made by Ruffwear, you're sure to have one of the most performant and high-quality gear on the market.
On the other hand, you must invest a little more money if you want to provide the best hiking experience to your dog. Ultra-light, durable, and easily collapsible, this is the ultimate bowl for outdoor adventures. The Bivy Bowl can hold up enough water or food to accommodate small and large dogs.
It's also designed with rigid walls and some grip on the bottom to be stable while your partner is eating or drinking. Thus, this is another excellent option if your budget is flexible enough to invest in the best hiking gear for you and your dog's satisfaction!
Best Hiking Dog Bowl For:
Superior Quality.
High-Capacity & Large Dogs.
Lightweight & Collapsible Soft Design.
Pros:
Very Lightweight Design. (2.96 oz / 84g)
Hold Up To 60 oz (1.8 L) Of Water or Food.
Collapsible For Compact Storage.
Watertight Construction For Easy Cleaning.
Made From High-Quality & Durable Materials.
Integrated Hang Loop For Convenient Transportation or Drying.
Reflective Trim For Better Visibility In The Dark.
Large Enough For Two Dogs To Drink At The Same Time.
Cons:
Expensive.
The Loop Could Be Improved.
No Carabiner Included.
My Overall Rating: 4.8/5
Price: $
Quality: ****
Lightweight: ****
Compact Storage: ****
Easy To Carry: *****
Capacity: ***
This collapsible dog bowl is one of the most affordable options for hiking. Very compact when you fold it up, this accessory simply pop-up when you need to feed or hydrate your companion on trails.
For easy transportation, a free carabiner is included with the travel bowl. So it can clip on your backpack, leash, pants, or anywhere else there's a loop!
This product made by COMSUN is also small enough to store in any bag size. For the price, the quality of this gear is impressive.
One customer has also declared it's almost too good for the price. Thus, it's an excellent choice to save money without sacrificing too much on performance!
Best Hiking Dog Bowl For:
The Cheapest Price.
Easy Transportation & Storage.
Simple & Efficient Design.
Pros:
It Includes 2 Dog Bowls From Different Colors. (Green & Blue)
Very Affordable Price For Good Quality Product.
Made From Sturdy & Durable Materials.
Simple Pop-Up & Collapsible Design With 2 Levels Of Depth.
Come With Free Carabiners, So The Bowls Are Easy To Carry.
Foldable, Lightweight & Small For Compact Storage.
Convenient To Rinse, Wipe, Or Put In The Dishwasher For Cleaning.
Cons:
Very Small Bowl With Little Capacity. (Hold Up To 12 oz (350 ml) or 1.5 Cups)
Not The Best Quality.
Carabiners Are Very Cheap.
Not Ideal For Large Dogs.
My Overall Rating: 4.6/5
Pro Tip: Don't let your dog alone with this type of hiking water bowl. If he enjoys chewing things, he will certainly be able to destroy them. So you shouldn't let him play with this drinking accessory!
Price: $$
Quality: *****
Lightweight: ****
Compact Storage: ****
Easy To Carry: *****
Capacity: *****
Here's a similar option to the COMSUN Collapsible Dog Bowls. The only two differences are that the BarkBowl is of better quality and can hold up more water or food.
Thus, it's a more convenient option for large and flat-faced breeds. This versatile hiking bowl also has 4 different configurations from flat to tall, so it's adjustable for any dog size and situation!
Made from high-quality silicone, this collapsible bowl is tear-resistant and can be put in the microwave or freezer. Available in 5 different colors, you have plenty of options to find the perfect match for your furry friend.
This gear made by Ruff Products also comes with a high-quality and durable carabiner. Eco-friendly, lightweight, and convenient for traveling, it's one of the best water dog bowls for hiking with your buddy!
Best Hiking Dog Bowl For:
Large & Brachycephalic Dogs.
Optimal Quality & Durability.
Adjustability & Versatility.
Pros:
Heavy-Duty & Long-Lasting Construction.
Great Size With Customizable Design For Different Needs.
Lightweight & Compact Dog Bowl Made For Travel.
Ideal Capacity: Can Hold Up To 27 oz (800 ml) Of Food or Water.
Made From High-Quality & Non-Toxic Materials.
The Included Carabiner To Carry The Bowl Is Sturdy & Durable.
Easy To Clean In Dishwasher or With Water & Soap.
Suitable To Use In The Microwave & Freezer.
Cons:
Lack Of Structural Integrity & Stability.
Not The Best Quality Carabiner.
My Overall Rating: 4.8/5
I've found another similar collapsible drinking accessory for hiking designed for large dogs. The Bonza bowl can hold up to 5 cups of food or 40 oz (1.2 L) of water, and the quality is also good!
Price: $
Quality: ****
Lightweight: *****
Compact Storage: *****
Easy To Carry: *****
Capacity: *****
This is another great hiking accessory to hydrate or feed your dog on the go. Convenient for traveling, you can fold this bowl for compact storage in your backpack or any other pocket.
The Outward Hound Port-A-Bowl also has an excellent capacity. It's large enough to hold up to 48 oz (1.4L) of water!
You will find a sturdy loop on the portable dish to carry it conveniently on outdoor adventures. Furthermore, it's the lightest option of all my recommendations for easy transportation on trails.
This product is also made from rugged nylon to be as high-quality and durable as possible. Overall, it's an affordable hiking water dog bowl that offers excellent value for the money!
Best Hiking Dog Bowl For:
Very Lightweight & Portable Construction.
Cheap Price But Still Good Quality.
Any Outdoor Adventure.
Pros:
Lightweight & Easily Portable For Optimal Hiking Experience.
Excellent Quality, Especially For The Price.
Can Fold Down To Practically Nothing For Compact Storage.
The Loop On The Bowl Is Very Convenient For Transportation.
Large Enough Bowl For Any Size Of Dog.
Quick To Dry.
Cons:
Not Ideal For Very Small or Toy Breeds.
Some Customers Have Experienced Minor Leaking Issues.
Not Meant To Hold Water For Long Periods.
Materials Quality Could Be Improved.
My Overall Rating: 4.5/5
Different Types Of Portable & Travel Dog Bowls!
Before selecting the right gear for your needs, you must understand what options you have. With my five recommendations, you've probably noticed there are different types of dog water bowls for hiking.
Thus, let me share with you all the pros and cons for each category of gear that's available on the market to hydrate or feed your buddy on trails!
Rubber Collapsible Dog Bowls For Hiking.
Very popular, this type of drinking dog accessory is ideal for traveling. Lightweight, affordable, convenient on outdoor adventures, it's not surprising why hikers love this design. Those water dog bowls are also collapsible for compact storage!
My favorite feature of this portable dish is the carabiner usually included with the product. It's handy because you can attach the bowl on the leash, on your dog's harness, on your backpack, or anywhere else you want. Thus, it's simple to carry and within easy reach to avoid opening up your bag every time your buddy is thirsty!
Another great advantage of this construction is the plastic material. It's easy to clean, not too heavy, and stable enough for your dog to drink/eat properly. The only issue with those kinds of hiking dog bowls is the smaller size and lower quality!
However, it's probably the best design to consider for hiking and backpacking. For the price range, you won't find anything else as easy and agreeable to use.
If you're looking for the best collapsible rubber dog bowl to hydrate and feed your companion on trails, this travel bowl made by Ruff Products is my favorite product!
Best For:
Budget-Friendly Options.
Portability & Convenience.
Ease Of Use.
Pros:
Easy To Carry.
Simple To Clean.
Not Too Heavy.
Different Size Configurations.
Generally Comes With The Carabiner Clip.
Cons:
Too Small For Large Dogs or Complete Servings.
Not Made With The Most High-Quality & Durable Material.
Fabric Hiking Dog Bowls.
Those portable dog bowls are well-suited to bring with you on adventures. Extremely lightweight and easily collapsible, they take up minimal space in your backpack.
The soft and flexible fabric material also allows you to put it in your pocket or any other small bag for daily walks and short hikes. Sturdy and durable, this type of dish for dogs might be slightly more expensive than products made in rubber.
Nonetheless, the quality of fabric hiking dog bowls is generally better. They can also have a loop for easy transportation or drying purposes, but they rarely come with a carabiner.
The main downside of this foldable design is that water can remain in the folded bowl if you don't shake it out properly. That's why it can be hard to keep this style of drinking accessory completely dry.
Furthermore, fabric dog bowls won't hold water for long periods because they're not always totally waterproof. But it should be a problem if you use them for outdoor adventures!
Overall, this is one of the best types of dog water bowls for hiking. They are ideal for transportation and storage because you can pretty much pack them anywhere you want.
The best soft drinking accessory for an optimal experience on trails is certainly the Ruffwear Bivy Bowl. It's an excellent choice to benefit from the advantages of the fabric design and avoid its drawbacks!
Best For:
Lightweight & Compact Storage.
Overnight or Long Outdoor Trips.
Quality & Durability.
Pros:
Lightweight.
Sturdy & Durable Design.
Large Capacity.
Folds Down To Practically Nothing For Compact Storage.
Cons:
Not Designed To Hold Water Over Long Periods Of Time.
Quite Difficult To Dry.
More Likely To Develop Mold or Odor.
Not The Most Stable Construction.
Plastic Dog Hiking Water Bowls.
They are very similar to fabric bowls. The only difference is that this type of drinking accessory is made from plastic. It's compared to a well-made and stable ziplock bag in which you can put water or food for your dog in this article on the Pawsitively Intrepid blog.
Extremely lightweight, this type of expandable bowl is easy to carry on trails, at the park, or for daily walks. The plastic material is also much more waterproof than fabric. Thus, you won't have to deal with leaking issues unless the construction or quality is poor.
My biggest concern with this type of hiking dog bowl is durability. I don't think plastic is as resistant and long-lasting as rubber or fabric!
That's why I've not selected one of those portable hydration pooches in my top 5 picks. Nonetheless, it doesn't mean you should avoid this type of gear for your outdoor adventures.
For instance, the Modgy Plastic Dog Bowl available in several patterns is an excellent option for hiking because it's strong, durable, and has a resealable closure!
Best For:
Lightest Material Available.
Convenient Portability.
Pros:
Ultra Lightweight.
Collapsible & Folds Flat.
Easy To Put In Any Pocket or Bag For Transportation.
Good Capacity.
Cons:
The Quality Could Be An Issue.
More Flimsy Than Other Types Of Dog Bowls.
Water Bottles For Dogs.
Another way to hydrate your buddy while exploring the great outdoors is with an appropriate water bottle. Yes, there are actually products of this type made especially for dogs.
It's heavier and not as easily portable as collapsible bowls. But there are still some benefits to opt for this unique drinking accessory!
The principal advantage of bottles is that they don't waste as much water as bowls. That's why it's an excellent option if your buddy always seems thirsty but rarely drinks all the water you offer him.
This type of gear could also be interesting if you have many water bottle holders on your backpack. Even if it's generally not the best design for hiking, dog water bottles might be ideal for your specific needs.
Therefore, I've found two great products to suggest to you. The first one is the Highwave AutoDogMug which's perfect to use in your car or on trails.
Another option is the Pet Handi-Drink. It has a different design to be easily pack in your backpack or one of its bottle holders!
Best For:
No Waste Of Water.
Backpacks With Bottle Holders.
Car-Friendly Water Drinking Supply.
Pros:
Good Drinking Experience For Your Dog.
You Don't Need To Dump Out The Excess Of Water.
Allow Your Dog To Have His Own Water Source.
Very Convenient If You Have Bottle Holders On Your Backpack.
You Won't Have To Guess How Much Water Your Dog's Need.
Cons:
Not Lightweight At All.
You Might Need To Assist Your Dog While He's Drinking.
Only Useful For Hydration. (Not Appropriate For Food)
As you can see, each type of design has different advantages and drawbacks. Therefore, you should explore all your options to select the right drinking accessory for your dog.
In general, rubber and fabric collapsible bowls are the best products for hiking. However, it's not always accurate because we all have different needs and preferences!
How To Choose The Right Hiking Dog Bowl?
With all the portable pet dishes available out there, the variety of choices isn't missing. My recommendations might help you narrow down your options, but you will still have to select one product among the best hiking dog water bowls.
Let me share with you some of the most important things to consider before making your final decision!
The Type Of Adventures You Will Enjoy!
You won't need the same gear for one hour of hiking as you would for an overnight backpacking trip. Thus, you should always keep in mind what type of activity you will do to invest in an appropriate water bowl.
For example, if you take your dog on short hikes with your hydration backpack, you might need an option that you can put easily in your pocket or small spaces such as the Ruffwear Trail Runner Bowl!
Your Dog's Conditions!
To purchase the right drinking accessory for your buddy, you must understand and consider his needs. Some products might be more suitable for him depending on his breed, size, or any other condition.
Otherwise, you can end up with a high-quality, durable, and performant product, but it might not be the right option for your companion. For example, flat-faced or large dogs will need a water bowl wide enough for them to drink without any restriction!
Your Personal Needs & Preferences!
Once you know which products are appropriate for your dog, you can finally analyze what type of water bowl is convenient for you. It's not that you're not important, but you don't matter as much as your buddy when it comes to choosing gear for him.
It's OK if you're looking for an accessory that's lightweight and easy to carry. However, you shouldn't prioritize your preferences over your dog's needs!
With all the different colors, prices, weights, designs, and several other features, it's easy to forget the original purpose of a hiking dog bowl.
Thus, you can consider as many things as you want, as long as the bowl you select fulfills its principal function of hydrating and feeding your dog on trails!
What Makes Good Dog Water Bowls For Hiking?
Before my research, I have chosen some criteria to find the best options for taking with me on trails. From the quality of the product to its capacity, there are several things to consider for this type of equipment.
Thus, I've rated each recommendation according to the 6 most important elements to look at on hiking dog bowls!
Price.
Quality.
Lightweight.
Compact Storage.
Easy To Carry.
Capacity.
What About The Design?
First of all, the design isn't among the selection criteria because it influences most of those to analyze. As I told you sooner in this article, the type of dog bowl you choose will directly impact the price, quality, portability, etc.
That's why it's important to understand there are different models available. But it's not the only thing you should consider to find the right option for your buddy!
Price, Quality & Durability.
For every dog gear you consider, you will have to look at the value for the money. In general, high-quality and durable products are more expensive.
The material, construction, brand, and many other factors will influence the value of an accessory. By looking at the price, quality, and durability, you should have an excellent idea if the dog bowl is worth the investment!
For instance, the Ruffwear Bivy Bowl is probably the best option available but, its price is much higher than other options. Therefore, you could opt for an alternative practically as performant and more affordable such as the Zippy Bowl, if money is a significant factor for you!
Portability Features.
For hiking, having easily portable gear is essential. That's why you must find a dog bowl that's lightweight, simple to carry, and easy to pack.
The drinking accessory you will choose must be convenient to take on trails with you. Otherwise, your outdoor adventures won't be as enjoyable as they could be!
If you already head out on trails with your companion, you know how difficult it can be to bring everything you need while keeping the weight down.
An accessory such as the Port-A-Bowl that's ultralight (0.3 oz) might be the perfect solution if you always run out of space or your backpack is too heavy. However, most products available on the market are designed for travel, so portability shouldn't be an issue!
For compact storage, an option that's collapsible to practically nothing is ideal. Whether you want to put your dog's water bowl in your backpack, pocket, or anywhere else, it should take as little space as possible!
Another interesting feature for easy transportation is the possibility to hook this accessory with a carabiner. It will save you some room in your bag, and the bowl will be at easy reach every time your buddy needs to drink or eat!
Size & Capacity.
You already know you need a hiking dog bowl wide enough for your buddy's muzzle. Now, you should also consider the capacity to make sure it's convenient for both of you.
For example, small portable bowls might not be large enough to contain a complete food or water serving, especially for large dogs.
However, I don't think it's a big deal because the best way to hydrate or feed your buddy on trails is through regular small portions!
You're Ready To Invest In The Right Dog Hiking Bowl!
With all the information I've shared, you should be able to choose the ideal dog water bowl for your buddy. If you don't know where to get started, I highly recommend looking at my recommendations.
I've spent a lot of time searching and analyzing the best dog bowls for hiking available out there just for you. Now, it's your turn to do some work by selecting the perfect option for your needs!
Other Things To Know Before Hiking With Your Dog!
Opting for the most suitable portable bowl to feed and hydrate isn't the only thing you should do before heading out on trails together.
There are several other ways to prepare you both for outdoor adventures and make them as safe and fun as possible. So here are some tips to make sure you're ready to hike with your dog!
The Travel Bowl Isn't The Only Essential Hiking Dog Gear!
You will need plenty of equipment to explore the great outdoors with your pup. From the leash to the collapsible dog bowl, many things could be useful on trails. Gearing up the right way is indispensable to improve your experience and avoid many potential problems!
Here's my list of hiking essentials to help you figure out what you will need to enjoy this activity with your companion. I will also put links to my favorite products in parentheses if you're interested!
Must-Have Gear:
Optional Accessories:
Make Sure Your Dog Is Suitable & Ready For Hiking!
Before starting any new activity with your buddy, you must make sure it's safe for him. As long as he's in good health, he should be able to go on outdoor adventures. However, I still highly recommend asking your vet if your dog is suitable for hiking.
He should also be well-trained and have no physical condition to enjoy this sport. Then, you will be ready to head out on trails together without any problem!
How Much Water & Food Should You Bring For Your Dog On Hikes?
Your buddy's breed, size, level of activity, temperature, and many other factors will influence his hydration and feeding needs. In general, dogs should drink from 0.5 to 1.5 oz (15 – 45 ml) of water per pound every day.
For instance, my Labrador should get between 30 and 80 oz (0.9 – 2.4 L) of water per day because she weighs almost 55 pounds!
On short hikes, your dog won't need his entire daily requirement of water. Although I'm not an expert, around 0.5 oz of water per pound should be enough to hydrate him for a few hours of moderate physical activity.
Thus, I'm packing approximately 25 – 30 oz (750 – 900 ml) of water for my furry best friend every time we are heading out on trails together!
While hiking, most dogs will need from 50% to 100% more calories than usual. So I generally put anywhere from 2 to 6 cups of food for Marshmallow in my backpack.
Again, the amount of kibble you should have will vary depending on the type of adventure and your buddy's conditions!
Pro Tip To Carry All This Water & Food:
The best way to hydrate you and your dog conveniently on trails is to invest in a hydration pack such as the Osprey Skarab 18. (Check It Out On Amazon!)
If you already have a backpack, you can only purchase an appropriate water reservoir. (Look At The WACOOL 3 L Hydration Pack Bladder!)
For dog food, you can store it in a large ziplock. That way, it's not much extra weight and safely zippered!
Have Fun On Hiking Trails!
Finally, don't forget to enjoy your outdoor adventures. Heading out on trails with your buddy might take some preparation, but it's seriously worth all the memories you will share.
You could also bring some toys if there's enough place for them in your backpack. However, exploring nature with your dog is all you need to spend quality time with each other!
Last Thoughts About The Best Water Dog Bowls For Hiking!
Keeping your pup hydrated is essential to ensure his safety and well-being on trails. That's why investing in the right drinking accessory is so important.
With my recommendations, the information about water dog bowls, and all my tips, you have everything necessary to find the perfect option for your needs!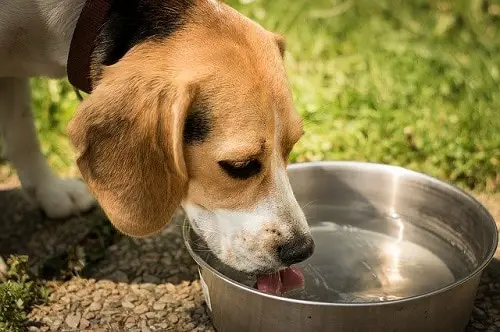 I hope my post helped you find the right gear to enjoy hiking with your dog as soon as possible. Once you're ready for outdoor adventures, it's finally time to go out and have fun together. I would be happy to meet you both on trails with your new portable dog bowl!
Have Fun & Hike On!