Heading out on trails to run or hike with your dog is one of the best ways to have fun while improving your health. Getting some fresh air, enjoying nature, and working out together just feels so good.
However, you must have the proper gear to make outdoor sports as safe and enjoyable as possible. For instance, dog shoes are essential to protect your dog's paws while running or hiking!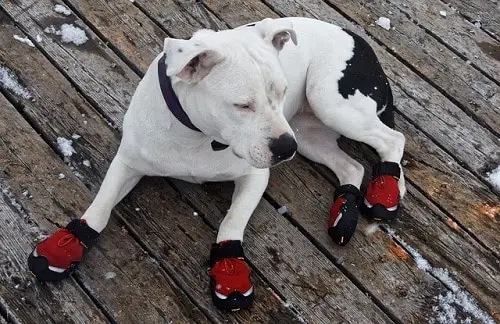 If you're looking for the best option on the market, I highly recommend you to consider the Ruffwear Grip Trex Dog Boots. It's my favorite pair of outdoor shoes for dogs because they are designed for the trails. The rugged outsole, breathable mesh, and secure cinch closure make them ideal for any adventure or physical activity.
Nonetheless, those dog boots won't be the ideal choice for everyone because we all have different needs. That's why I've found other options to help as many people as I possibly can.
Top 3 Best Dog Boots For Running & Hiking!
Then, I also want to share with you all the information you need to figure out which shoes are the best for your buddy. At the end of your reading, you will finally have the ideal solution to protect his paws while hiking or running on trails!
Should Your Dog Wear Shoes When Running or Hiking?
In the last several years, most dogs were bred as indoor companions. Thus, their natural paw pads protection isn't what it used to be.
Just imagine yourself running or hiking on the mountains barefoot. If we need shoes for more support and comfort while doing physical activity outdoors, why shouldn't our four-legged friends also enjoy such luxury?
If your dog has sensitive paws, you should invest in good doggie boots. It's the perfect solution to protect him from potential injuries while running/hiking.
Whether it's to prevent his paw pads from scratches, cuts, or burns due to extreme temperatures, dog shoes are protective equipment every outdoor enthusiast should have!
On the other hand, your buddy should be able to play, walk, and run barefoot on grass or any other natural ground surface. With some time, his paw pads will slowly develop resistance to rough terrain.
However, there are more risks for your dog to hurt himself without any extra paw protection. That's why I highly recommend you to continue your reading if you want to find the best dog shoes for his needs!
My Top 5 Favorite Running & Hiking Dog Shoes!
With all the options out there, it can be difficult and overwhelming to find the best one for your companion. To save you time, energy, and money, I've already done all the research for you!
Now you only have to look at my overviews of the top 5 dog boots for outdoor adventures. Then, I will help you to understand which product is the most appropriate for your needs.
Here are the best solutions I've found to protect your dog's paws on trails!
Price: $$$
Quality: *****
Comfort: ****
Traction: *****
Convenience: *****
This is the ultimate all-terrain paw wear for dogs to explore the great outdoors safely and comfortably. Made from quality polyester and rubber, this gear made by Ruffwear is built to last.
These high-performance shoes are lightweight, secure, and convenient. Whether it's to bike, hike, or run on trails with your pup, the Grip Trex Dog Boots are great to protect his paw pads!
The rugged outsole construction provides excellent traction to your companion on any type of surface. It's also flexible for more comfort and control on rough terrain. Another great feature is the breathable mesh that evacuates the heat without letting debris or dirt get in the boots!
Overall, it's the best dog shoes for outdoor adventures. My only concern with this product is the price. It's expensive, but this protection gear offers good value for the money. Thus, I highly recommend them if you're ready to invest in your dog's safety and well-being!
Best Dog Shoes For:
Running, Hiking, Biking & Other Outdoor Sports!
Quality & Durability.
Optimal Performance On Trails.
Pros:
Heavy-Duty Materials & Construction For Optimal Toughness.
Provide Great Traction For Your Dog With The Vibram Sole.
Flexible Shoes For Better Comfort & Adaptability On Trails.
Secure Fit With The Hook & Loop Velcro Strap.
Breathable Mesh For Ventilation & Convenience While Hiking or Running.
Resistant To Water & Dry Quickly In The Sun.
Highly Visible With The Reflective Trim.
Ruffwear Is One Of The Most Reliable Dog Gear Company.
Cons:
Expensive.
No Padding For Optimal Comfort.
Other Features:
Available In 3 Colors. (Blue Spring, Obsidian Black & Red Currant)
Possibility To Purchase 2 or 4 Boots.
8 Sizes To Choose From For Perfect Fit.
My Rating: 4.5/5
Pro Tip: The Ruffwear Grip Trex Dog Shoes aren't padded, but you can invest in the socks made by the same brand to ensure your buddy is comfy in his boots! (Check Those Out On Amazon!)
Best Budget-Friendly Hiking & Running Shoes For Dogs → QUMY Dog Boots
Price: $
Quality: ****
Comfort: *****
Traction: ****
Convenience: *****
If you're looking for an affordable option that's still good quality, these dog shoes might be ideal for you. Made from sturdy, durable, and water-resistant materials, they are great for outdoor adventures.
The QUMY Dog Boots also have an anti-slip sole to provide better stability and grip to your buddy while hiking or running!
They feature two velcro straps for a safe and adjustable fit. It's also easy to put them on and off with the wide split opening.
Lightweight, comfortable, and secure, this is another convenient solution to protect your dog's paws without restricting him to perform well on trails!
Best Dog Shoes For:
Low Price, But Still Good Value.
Running On Pavement.
Pros:
Very Affordable Price.
Secure & Adjustable Fit With 2 Attachment Points.
Waterproof Design To Keep Your Dog's Feet Dry & Warm On Trails.
Lightweight & Comfortable Construction.
Excellent Grip Sole For Concrete or Asphalt.
Reflective Straps For Better Visibility In Low-Light Conditions.
Good Quality For The Money.
Versatile Dog Shoes.
Great Customer Service.
Cons:
Doesn't Provide Much Traction On Dirt, Slippy Rocks, Snow & Ice.
Not The Best Quality & Durability.
Sizing Issues.
Not Breathable.
Other Features:
Available In 7 Sizes & 2 Colors. (Black & Red)
Hand Washable.
My Rating: 4.1/5
Price: $$$
Quality: *****
Comfort: *****
Traction: ****
Convenience: *****
Here's another awesome gear to protect your dog's paws on trails. Are you planning to hike in mountains where there could be sharp rocks and branches or to run on the hot pavement together?
Well, these high-quality shoes are ideal for his comfort and safety. Made from recycled rubber, the soles are designed to offer optimal traction and stability on all types of terrain!
The Canine Equipment Ultimate Trail Dog Boots are water-resistant, and their shell is breathable to provide the best running or hiking experience. The hook-and-loop cinch closure is another considerable feature for an easy and secure fit.
Even if it's more expensive than many other products, these dog shoes are definitely worth the money if you're looking for performant gear that will last!
Best Dog Shoes For:
Superior Quality & Durability.
Optimal Comfort.
Performance.
Pros:
Provide Excellent Traction With The Rubber Grip Sole Design.
Breathable & Water Resistant Upper Mesh.
Sturdy & Comfortable Construction For Optimal Protection On Trails.
Made From High-Quality & Durable Materials.
Different Sizes For Front & Back Shoes For Perfect Fit.
Wide Opening To Be Easily Put On & Off.
Cons:
Quite Expensive.
The Velcro Straps Could Be Improved.
Not The Best Option For Small Dogs.
Other Features:
Available In 5 Different Sizes & 1 Color. (Black)
Come With 1 Garment Bag.
My Rating: 4.4/5
Price: $$
Quality: ****
Comfort: *****
Traction: ****
Convenience: *****
As one of the most popular products on the market, these dog shoes offer great value for the money. Durable, comfortable, and lightweight, they are ideal for running, hiking, or any other outdoor activity. Made from good quality materials, the dog boots made by Ultra Paws are the best option for an affordable price!
Their anti-slip and flexible soles provide solid traction/stability to help your pup perform well on trails. The foam padding at the closure also ensures he feels comfy while wearing them on his paws. Thus, these versatile dog shoes are very convenient whether you both want to explore the great outdoors or to jog on the pavement together!
If you're looking for good running or hiking gear that's not too expensive, the Ultra Paws Durable Boots might be ideal for you and your dog's needs!
Best Dog Shoes For:
More Bang For Your Buck.
Multi-Use Gear.
Comfortability & Ease Of Use.
Pros:
Easy To Put On & Off With The Wide Opening.
Protect The Paws From Snow, Hot Pavement, Dirt, Etc.
Impressive Quality & Durability For The Price.
Generous Foam To Ensure The Shoes Are Comfortable When Tightened.
Slip Resistant & Flexible Sole For Optimal Experience On Trails.
Two Velcro Straps For Secure Fit.
Boots Won't Slip Off With Proper Fitting & Adjustment.
Ultra Lightweight Design.
Cons:
Not Ideal Traction For Muddy Or Steep Trails.
Have Caused Rubbing Issues To Some Dogs.
Not As High-Quality & Durable As The Ruffwear Or Canine Equipment Gear.
Other Features:
Available In 10 Different Sizes & 2 Colors. (Black & Red)
Machine Washable. 
My Rating: 4.2/5
The Ultimate Alternative For Your Dog To Hike or Run Without Shoes → Musher's Secret Paw Wax
Price: $$
Quality: *****
Comfort: ****
Traction: ****
Convenience: *****
If you want to keep your buddy's feet intact on trails, running and hiking dog shoes aren't the only solutions. You could also put some protection wax on his paw pads that act as an invisible boot.
The Musher's Secret Paw Wax will make a breathable barrier to prevent injuries on debris, snow, sand, or hot pavement. Thus, it's the ideal alternative to let your dog play, run, and hike safely without forcing him to wear shoes!
Originally designed for mushing sports, it's an excellent way to protect your four-legged friend's paws on outdoor adventures. This wax is safe to use, easy to apply, and 100% natural.
Furthermore, this alternative to boots can gradually improve your dog's natural foot resilience. He may eventually be suitable for barefoot hiking or running!
Ideally, we shouldn't rely on any gear to work out or go on adventures with our furry companions. That's why I think this type of protection wax is the perfect solution.
It's simple to use, affordable, very convenient, and much more pleasant for your dog. Overall, the Musher's Secret Wax will prevent his paws from cracking, drying, and getting hurt on trails!
Best Alternative To Dog Shoes For:
Ease Of Use & Convenience.
Winter & Outdoors Sports.
Natural & Efficient Protection.
Pros:
More Convenient & Easy To Use Than Dog Shoes.
Safe & Natural Protection Wax For Paws.
Help Your Dog To Develop Resistance To Go On Rough Terrain Barefoot.
Prevent Paws From Cracking, Blistering, Drying, Burning, Etc.
Very Good Value For The Price.
Cons:
Have To Put The Wax Regularly Or A Few Hours Before Running Or Hiking.
Your Dog Can Lick It Off.
Can Be Slippery On Hard Floor.
My Rating: 4.8/5
How To Choose The Right Dog Shoes For Hiking & Running?
Even if my recommendations can help you narrow down your options, it might still not be obvious which one you should pick. It's totally normal.
That's why I've got much more information to help you figure out what type of dog boots are the best for your needs. First of all, let's make sure you understand well what you should base your decision on!
Things To Consider To Find The Perfect Paw Protection Gear For Your Dog!
I've selected 5 solutions to protect your pup's paws on trails because we all have different needs and preferences. Some people should seriously invest in the Ruffwear Grip Trex when others might be more pleased with the Musher's Secret Wax.
Thus, it's important to understand what elements will influence which dog boots you should choose!
Your Dog's Conditions.
Let's be realistic; how can I tell you which product you should choose if I don't even know what your four-legged looks like? That's why you must consider his conditions to find the right dog shoes for his needs.
His breed, size, personality, and many other factors will influence what type of paw protection he should choose. For example, Great Danes won't need the same dog shoes as Chihuahuas!
The Activity You Enjoy Together.
If you read this article, you probably already know that you want to explore nature and/or exercise with your dog. Even if outdoor sports are similar, he won't need the same boots for running on the pavement as he would for hiking on steep mountains.
The types of adventures you plan to do together will highly influence the level of traction, optimal design, or other extra features his shoes should have.
Furthermore, you also have to consider the intensity of the activity and the frequency you want to go out on trails with your buddy. These two elements will have an impact on what quality and durability of gear you should choose.
That's why you must have a clear idea of what type of hiking and running you want to enjoy before making your final decision!
What About Your Personal Needs & Preferences?
Unfortunately, your satisfaction should not be the priority when you invest in equipment for your dog. It's OK if you want him to have shoes looking great, affordable, and easy to use.
However, your preferences aren't more important than your buddy's safety and comfort on trails. Just keep in mind the main reason why you wanted to invest in paw protection gear at first!
What Makes The Best Dog Boots For Outdoor Adventures?
Once you understand your needs, it's time to take a look back at the products available. Then, I highly recommend you have some selection criteria to determine which dog shoes are the most appropriate for your pup.
From the durability to stability passing by the price, there are several aspects to consider for this type of paw protection gear!
Quality & Durability.
For running and hiking, you must invest in dog boots that are built to last. That's why my recommendations are made from high-quality materials.
On the other hand, cheaper options won't be sturdy enough for your buddy to run or hike on rough terrain. (Sharp rocks, branches, etc.) Thus, make sure the solution you choose to protect his paws on trails is durable!
Traction & Comfort.
If you want to help your dog exercise perform well on trails despite his shoes, the sole should offer him a good grip. Whether it's to run in mud or hike in the snow, he will need optimal traction.
Furthermore, he should also be comfortable with his boots on to enjoy adventures with you. That's why extra padding and more stability can do outdoor sports much more fun and safe for your pup! 
Convenience & Other Features.
Another element to consider is the overall experience on trails. For example, some dog shoes that stay on could have an attachment construction that's more secure and effective than others.
This type of protective equipment could also be more convenient for hiking and running if it's lightweight, easy to put on/off, or waterproof. Thus, there are plenty of features to consider in dog boots if you want to find the right option for your needs!
How To Select The Right Size Of Shoes For Your Dog's Paws?
Even if you invest in the best gear out there, it's useless if it doesn't fit well on your buddy. That's why proper sizing is as important as choosing the perfect dog boots.
In general, the company will provide a chart or guide to help you figure out which size you should select. Now let me share with you an easy process to measure your dog's paws!
Make Your Dog Stand Up.
Put A Piece Of Paper Under His Paw.
Trace All-Around Your Dog's Foot On The Paper.
Use The Widest Parts Of The Drawing To Measure Is Paw's Width & Length.
Choose The Right Size Of Dog Shoes According To The Sizing Chart.
Here's an excellent video made by Ruffwear that's showing this simple method in action!
You're Ready To Invest In The Best Running & Hiking Boots For Your Dog!
At this point, you have all the information you need to make your final decision. The next step is to choose which dog shoes you want to purchase.
If you're still not sure of the best option for your buddy, I highly recommend you check out one more time my top 5 selection. There's no hurry, but the faster you will find the right gear, the sooner you will have fun running or hiking with your dog!
Other Uses Of Dog Shoes!
Protecting your dog's paws while working out isn't the only good reason to buy this type of accessory. It's also useful to control his temperature, keep him from digging in your backyard, or avoid damaging your floor.
Thus, dog boots are versatile pieces of equipment convenient for hiking, running, and walking!
How To Teach Your Dog To Run Or Hike With His New Shoes?
Once you've received the boots for your canine, there are still some things you should do before heading out on trails. It's normal for him to walk strangely the first time he tries this type of gear.
That's why you should introduce him properly to any new accessories you want him to wear. To help your dog get used to footwear, you should make him enjoy his first experiences.
For example, you could give him treats, play with his favorite toys together, or do anything else that's fun while he has his boots on. It's "pawfect" to ensure your buddy associates this protection gear with something positive.
As soon as your dog doesn't bother anymore to wear his running or hiking shoes, it's time to put them on trails. For his first adventure with footwear, starting with short distances is highly recommended. It will let him slowly get used to this new equipment.
I would also suggest you regularly stop to check if the boots and his paws are alright. After some practice, you will finally be able to enjoy adventures together more safely!
Other Essential Gear For Running & Hiking With Your Dog!
The boots aren't the only accessory your pup will need on trails. There's a lot of equipment that's necessary to enjoy outdoor sports together.
Therefore, let me share my list of essential things I'm bringing with me to hike and run with my Labrador. You can also check out more details about my favorite products with the links in parentheses.
Running Equipment For Dogs!
Dog Hiking Gear List!
Last Thoughts About The Best Dog Shoes For Running & Hiking!
Finally, there are several things you should do before enjoying the great outdoors with your furry friend. As you already know, investing in the right paw protection gear is essential to ensure his safety on trails.
To find the best dog boots for your needs, you will have to consider your dog's conditions, your preferences, and the type of activity you plan to enjoy together.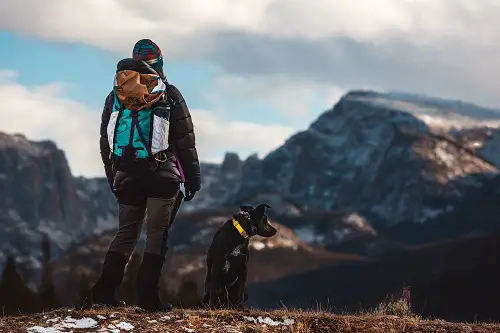 In my view, the Ruffwear Grip Trex Dog Boots are ideal for hiking and running. Whether you want to protect your companion's paws on hot pavement, snow, sharp rocks, or any other rough terrain, it's the best option on the market.
It might not be the most affordable paw protection gear, but its quality and durability are totally worth the extra investment. If you're looking for something that's more budget-friendly, the shoes made by Ultra Paws might be an excellent alternative.
Whatever product you choose, you make sure it's the right one for your buddy's safety and well-being. I hope this article helped you figure out how to keep his paws while enjoying outdoor sports.
See You On Trails!