Dogs that love digging can make a serious mess in your backyard. Having holes on the ground all-around your house isn't very beautiful. However, digging is a natural behavior that your companion can't always control. Unfortunately, it's not easy to find the perfect solution to satisfy his desire to dig. After facing this issue, I've done some research on the best dog toys for diggers!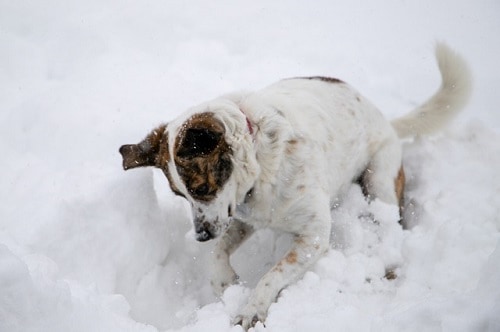 Yelling at your pooch every time he digs holes in your beautiful lawn or when he scratches the floor is simply useless. Instead of trying to restrict him from digging, you should provide him with something that allows him to dig without damaging your property. That's why certain dog toys can be extremely interesting for diggers. Here's more information about these awesome products that will solve digging issues!
The best dog toys for diggers are by far the iDig Stay & Go. It's a puzzle that will satisfy their natural desire to dig. This game will also stimulate your dog mentally to prevent him from boredom. So iDig toys are ideal to avoid digging behaviors. Then, other toys like ball pits, dig boxes, or snuffle mats could also be great for diggers!
Without anything to entertain your dog, he will probably develop behavioral issues. In other words, he could start to bark, dig, or chew for no reason. Fortunately, some pet toys could keep him busy enough to prevent excessive destructiveness!
However, most dogs won't be able to control their natural digging desire. That's why I want to share with you some awesome toys for dogs who love to dig. I've found plenty of solutions to let them have fun with their paws and keep them busy. At the end of your reading, you will be able to let your buddy dig freely without damaging your floor or yard!
Overall Best Dog Toys For Diggers!
Understanding how to keep your dog from digging excessively is important. However, you might just want to know what are the best toys for diggers. That's why I've selected the top 3 options on the market right off the bat for people that don't have time to read my complete blog post!
Even so, I still have much more useful information to share with you after my product recommendations. There are plenty of things you should know to keep your buddy from destroying your yard. However, here are the best digging toys for dogs I've found during my research!
This is the first toy ever made that meets your dog's natural desire to dig. The iDig Stay is a puzzle in which you can hide his favorite toys or treats in 3 different pockets. Thus, he will have to overcome some digging challenges to access his rewards. This is an awesome dog toy for diggers to stimulate your companion both mentally and physically. The iDig Stay is also easy to clean, durable, and perfect for dogs who dig!
The iDig Go is almost the same toy as the iDig Stay but it's designed to be easily transportable. It's kind of a pop-up version of the digging puzzle to take it on the go. The main difference between the two models is the materials of construction to be easily portable. The iFetch company also recommends the iDig Go for less aggressive diggers because the base is made from fabric instead of hardshell. This portable digging dog toy has the same benefits as the iDig Stay, but it's just less complicated to carry it!
Digging Box. 
Another ideal dog toy for diggers you could invest in or build is a digging box. This will allow your dog to have the perfect spot to make holes without damaging your garden. You could either buy a sandbox or build your digging box to meet his desire to dig. Believe me, this safe play area could keep him busy for hours. You just need to make sure it's well designed for dogs. Thus, the dig box is the ultimate outdoor alternative to iDig dog toys!
What You Will Need To Buy For Your Dog Digging Box?
How To Build Your Own Digging Box?
Here's a video that will explain how to build a sandbox to let your dog dig as much as he wants!
How Can You Satisfy Your Dog's Desire To Dig?
There are many ways to control your dog's urge to dig. You could simply make his digging spots less attractive by putting chicken wire or gravel on them. Nonetheless, you probably don't want to have chicken wire or gravel all over your backyard. Moreover, restricting him from digging won't meet his desire to dig. That's why digging toys or boxes for dogs are the best solutions to satisfy their natural instinct to dig!
Why Is Your Dog Digging?
Another interesting thing you should know to resolve your problem is the reason why your dog is digging. First of all, you should know that it's a natural behavior inherited from wild ancestors. He might just want to bury bones or toys as his forefathers were doing. He could also not be able to resist the digging temptation because of his predatory instinct!
On the other hand, some dogs dig in the ground for fun or to avoid boredom. In general, digging toys or boxes will always be a great solution to control this destructive behavior!
However, you might not have to invest in an iDig product or sandbox if your dog is digging to keep him from getting bored. In this case, you should seriously do more physical activity together such as running or find some other ways to entertain him. That's why understanding the source of the problem is extremely important!
Here's another example: Pooches that want to bury things could keep digging holes in your backyard even if you offer them the iDig Stay or Go. Thus, you must understand your companion before helping him to satisfy his impulse to dig without causing you any trouble!
Which Dogs Are Natural Diggers?
Most dogs will love digging, but some breeds are more prone to develop this bad habit. Keep in mind that some of them were bred to dig for hunting. Besides the instinctive behavior, your buddy could also simply enjoy this fun activity when he's bored or stressed out. To give you an idea, here are a couple of dog breeds well known to be expert diggers!
Jack Russell Terrier.
Dachshund.
Siberian Husky.
Malamute.
Bedlington Terrier.
Cairn Terrier.
Beagle.
Miniature Schnauzer.
Airedale Terrier.
Border Collie.
Australian Shepherd.
Etc.
Are Dog Toys For Diggers The Ultimate Solution?
After my research, I've found that some dog toys could be ideal for digging enthusiasts. This solution won't only allow your companion to dig freely and safely. It's also an excellent way to keep him busy for hours. Moreover, playing with digging toys can be a great source of physical and mental activity for him. That's why I highly recommend investing in the best dog toys for diggers I've selected for you!
Best Indoor Digging Toys For Dogs!
Is your dog constantly digging on the floor inside your house? Unfortunately, this natural behavior could also become problematic for indoor companions. They could always dig or scratch the ground whether it's grass or hardwood flooring. Having scratches all-around your house is probably something you want to avoid. Therefore, indoor toys for dogs who dig might be ideal for you!
These dog toys are ideal to let your companion dig and scratch inside your house without damaging your floor. This is simply a puzzle designed for diggers. It's made of 3 flaps where you can bury some treats or toys. Thus, you only need to load the iDig pockets with things that your dog likes to entertain him. He will sniff, scratch, and dig on the toy to eventually find his favorite treats or toys. It's the perfect digging activity for him to spend mental and physical energy indoors!
There are two styles of digging dog toys made by iFetch: iDig Stay & iDig Go. The base of the iDig Stay is made from a hard shell ideal for aggressive diggers. For the iDig Go, it's completely made of fabric perfect for travel or easy storage!
Pros:
Physical Activity.
Mental Stimulation.
Challenging Digging Puzzle.
Simple To Use.
Portable.
Easy To Clean.
Cons:
Relatively Expensive.
Not The Best Option For Aggressive Diggers.
Ordinary Digging Experience.
Check Out More Details On The iDig Toys Made By iFetch On Amazon!
Indoor Digging Box. (Ball Pit)
Another interesting dog toy for diggers is a ball pit. Building a sandbox inside your house might not be possible. However, filling your pooch's playpen with balls could be an excellent alternative to make an indoor digging box. You could also use a ball pool made for kids to make him dig and play in it!
This activity might be the funniest thing you have ever done together. It might not completely satisfy your dog's desire to dig, but it can't make it worse. To encourage him to dig inside the ball pit, you could bury his favorite toys or treats in it. This awesome play area will certainly keep you both busy for a while and you will probably have as much fun as your buddy with this activity!
What You Will Need? [Links Will Open In New Tabs]
Pros:
Fun Physical Activity.
Mental Stimulation.
Homemade Possibility.
Cons:
Unrealistic Digging Experience.
Not All Dogs Are Interested In Plastic Balls.
Snuffle Mats.
This dog toy isn't directly made for diggers, but it's still great for them. The snuffle mat is a brain game that will allow your companion to sniff, scratch, and dig something other than your carpet or floor. It's simply a dog-proof mat where you can hide his food or treats!
This awesome game is an excellent source of mental stimulation because your buddy will need to use his sense of smell. For diggers, they will also have the opportunity to scratch or dig through the mat to find their rewards. This satisfying dog toy is ideal to meet your dog's digging desire and alleviate boredom!
For This Type Of Sniffing & Digging Toy, I Highly Recommend You To Check Out Wooly Snuffle Mat On Amazon!
You could also make your own snuffle mat with a rubber mat with holes and fleece strips!
Here's a video of how you can make your snuffle mat at home!
Pros:
Excellent For Mental Stimulation.
Interesting For Scent Work.
Make Your Dog Work For His Food.
Prevent Boredom.
Affordable.
Cons:
Other Toys For Bored Dogs!
Your companion might not enjoy digging that much even if he's doing it regularly. Being bored could be the only reason why he digs holes in your backyard or scratches your floor inside your house. Thus, many dog toys could help him to escape boredom!
Snuffle mats, iDig toys, and ball pits are efficient to keep your pet busy. However, many other indoor games could make him more active mentally and physically. Let me share with you some of the best toys to keep your dog's mind and body stimulated!
Mental Stimulating Dog Toys!
Working out with your buddy is great, but not always enough to make him happy. Lack of mental stimulation is one of the main causes of boredom in dogs. That's why brain games such as puzzles or interactive toys are ideal to keep them busy. Here are 5 of the best toys to provide mental stimulation to your dog!
Outward Hound Hide & Seek Plush Toy.
Outward Hound Interactive Puzzle Dog Toy.
Fun Things To Try With Your Dog!
There are many other fun ways to entertain your companion. Learning new tricks, sniffing on walks, or simple games such as hide & seek will definitely help him have something else in mind than digging. Furthermore, dog sports could also be perfect to stay active together both mentally and physically. Thus, keeping your pooch busy isn't extremely complicated, you only need to take action now!
Best Outdoor Dog Toys For Diggers!
If you have a backyard or space to play outside, you should let your dog enjoy it. He certainly loves to play outdoors especially if he's a dedicated digger. Nonetheless, you might not want your companion to dig holes in your beautiful yard. Thus, let me share with you some outdoor digging dog toys!
Digging Box For Dogs!
There's nothing better than providing your dog with an appropriate and safe place to dig. Investing in a sandbox for him is one of the best ways to entertain natural diggers. They will have somewhere they can bury bones, dig holes, and play in the sand without destroying your backyard!
The digging box is the perfect solution for dogs that can't resist their desire to dig. As long as the sandbox is an interesting digging spot for them, your yard should remain intact. That's why you could hide his favorite toys in the sandbox or simply have fun with him in it. Overall, I highly recommend this dog toy for every digger's owner!
What You Will Need? [Links Will Open In New Tabs]
Build Your Own Doggie Sandbox!
With some wood boards and resourcefulness, you could build a DIY digging box. That way, you will have to possibility to make the sandbox as you want it to be while saving some money. Here's a step by step guide that will help you make the digging box for your dog!
What Materials You Will Need?
Trap. (Optional)
Wood Boards.
Chicken Wire. (Optional)
Sand.
Tools. (Drill, Screws, Etc.)
How To Make Your Digging Box?
Put the tarp (or anything else that will contain the sand) under the place where your sandbox will be. (Optional)
Cut the wood boards depending on the size that you want the digging box to be. (Around 4 feet by 6 feet is recommended)
Fix the ends of the boards together with screws.
Install chicken wire or anything else that your dog can't dig through at the bottom of the sandbox.
Place the structure over the trap.
Fix the structure to the trap and ground. (Optional)
Add some sand to the digging box.
Introduce your dog to his new sandbox.
Have fun with him in his new play area.
Other Outdoor Dog Toys To Avoid Boredom!
Most dogs that are left alone in their backyard will try to find something to entertain themselves. This could lead to destructive behavior such as barking or digging. That's why it's important to keep your dog busy when he's in your yard. Otherwise, any natural digger will eventually destroy your backyard landscape or garden!
That's why outdoor toys are extremely interesting for dogs who dig. As long as you keep your pup interested in something, he won't think about digging holes or burying his favorite toys in your lawn. Simple games such as fetch, frisbee, or tug-of-war could be extremely efficient to entertain him. Here are my 5 favorite dog toys to keep your dog busy and have fun together in your backyard! [Links Will Open In New Tabs]
Flirt Pole Ideal For Active Dogs.
Goughnuts Tug Toy For Heavy Chewers!
How To Choose The Perfect Digging Toy For Your Dog?
There are many elements to consider to select the best dog toy for your companion. The reason why he's digging is one of the main factors that should influence your choice. For example, investing in a sandbox for natural diggers is great, but bored dogs might prefer more stimulating toys such as the snuffle mat. That's why you must understand your dog's needs to offer him appropriate entertainment that he will enjoy!
Other conditions such as your budget or your dog's personality could also influence the toy you should choose. Nonetheless, don't make this selection too complicated. As long as you provide for your dog's natural instinct, he should stay busy and happy. That's why I would principally suggest the digging box, iDig products, and snuffle mat as the best toys for diggers!
Last Thoughts About The Best Dog Toys For Diggers!
Digging is instinctive for dogs, so you shouldn't try to prevent it. In general, this natural behavior is mainly retrieved from their ancestors. However, your buddy might simply love to dig because it's fun, entertaining, and stress-relieving. That's why you must find an appropriate place for your dog to bury things or dig without bad repercussions!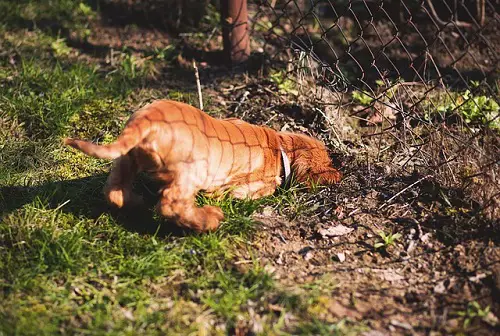 Dog toys such as digging boxes, puzzles, or other fun games could be the perfect solution. For instance, natural diggers will love to have their sandbox to play, dig, or bury their bones in it. On the other hand, stimulating toys or games could be ideal for dogs that are digging to escape boredom. I hope that this article helps you to understand better how to satisfy your buddy's desire to dig. I would be more than happy to see you have fun together with your new sandbox, iDig toy, or snuffle mat!