If you're new to dog agility, there are many things you have to learn. Guiding your dog through an obstacle course isn't easy because it requires advanced training and handling skills. Fortunately, there's a lot of information available for you to get started the right way.
Reading is a simple but effective way to learn about a topic, and it can be enjoyable too. So investing in a dog agility training book might be an excellent starting point for beginners. It will allow you to increase your knowledge of the sport and prepare for it.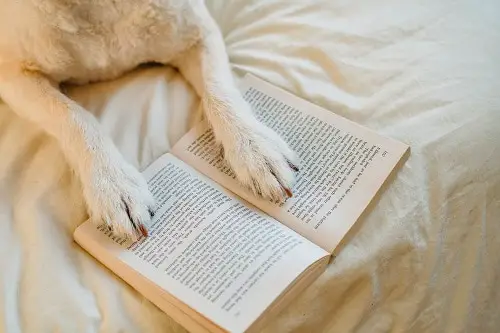 Books About Dog Agility Training!
There are several dog agility books you can choose from on the market. Whether you want to compete in agility events or train your dog for plain fun in your backyard, there's an option for you. Some books cover the basics of agility training, while others teach advanced handling skills.
Can You Learn Dog Agility With Books Only?
Books are generally not sufficient for getting started in dog agility. A class or online course might be more appropriate to put theory into practice and improve your skills. Books can be helpful resources during the training process, but they shouldn't be the only way you learn about dog agility.
What Are The Best Dog Agility Training Books?
With all the books about dog agility training out there, it's essential to find the right one(s) for you. Your end goal, handling skills, dog conditions, and many other factors will come into play. So it's essential to analyze all your options to choose a book that fits your needs.
I've already found and analyzed the best dog agility books available to save you some time. Since not everyone is looking for the same information, I've selected a couple of great options for different situations. Here are my top 7 dog agility books!
Apart from my first recommendation, which is the best option overall, the order doesn't matter. Each dog agility book in this list can be ideal for specific needs. So let's look at them in more detail to find the right one for you!
Author: Laurie Leach
Number Of Pages: 256
Price Range: $$$
The Beginner's Guide to Dog Agility is a popular choice to get started with this sport. It includes information about pre-agility, obedience training, making your own obstacles, and entering trials. So it's a book with step-by-step instructions to learn everything you need to know about dog agility.
Laurie Leach is an agility enthusiast who competes on the national level. In her book, she's sharing her knowledge and experience to help readers initiate and train their dogs for agility. The comprehensive guide she made is generally the best option for beginners!
Author: Eva Bertilsson & Emelie Johnson Vegh
Number Of Pages: 456
Price Range: $$
If you want a more in-depth guide to get into dog agility, this might be another great book to consider. With over 450 pages, it's probably the first and only training resource you will need.
It will help you learn everything from the basics to more advanced dog agility skills. This guide has a clean and logical layout with step-by-step instructions for all training exercises, including many helpful charts and over 600 instructive photographs.
Eva and Emelie are leading agility teachers throughout Norway and Sweden. You can now access their powerful and modern training system by reading their book Agility Right From The Start!
Author: Kim Collins
Number Of Pages: 168
Price Range: $
Although young dogs aren't suitable for agility training, you can still prepare your pup to run through an obstacle course. This book might be the ultimate resource to help you build the right foundations for dog agility. So it's ideal for puppies as well as beginners.
It covers everything, from basic training methods to agility exercises, passing by pre-agility, and flatwork. Kim Collins focuses her book on preparation and relationship building. Then, it will be much easier for you and your dog to improve your agility skills on the obstacle course.
Author: Linda Mecklenburg
Number Of Pages: 304
Price Range: $$
If you're looking specifically to improve your dog handling skills for agility training, this book is the right option for you. It will help beginners and accomplished competitors to communicate with their dogs and guide them more effectively on the obstacle course. 
You will also learn how to use proper motion and timing for better performance in agility. Linda Mecklenburg spent years figuring out a simple but comprehensive approach to agility handling.
Her book Developing Handling Skills is the result. You can now read it to access all her knowledge and tips. Overall, it's the ultimate resource for mastering this essential training skill for dog agility.
Author: Laurie Leach
Number Of Pages: 256
Price Range: $
Once you're done reading The Beginner's Guide to Dog Agility, it's time to step up your game. After the success of her first book, Laurie Leach wrote another book for more advanced training. So if you're ready for a new challenge, this book might be ideal for you.
The Intermediate's Guide to Dog Agility builds on skills from her first book. It will help you succeed on a competitive obstacle course with detailed instructions, including more than 200 full-color photographs and maps. This dog agility book will take your game to the next level.
Author: Margaret H. Bonham
Number Of Pages: 192
Price Range: $
Agility is a good and enjoyable way to bond with your dog while doing some exercise. So if you're only looking to have fun with this activity, this book might be ideal for you. It puts aside rigid rules, pressures, intense training, and expenses to compete in agility events.
Margaret H. Bonham is an accomplished writer and trainer. In her book, she presents a positive agility training method that's fun for you and your dog. Thus, it's the perfect resource for you to enjoy as much as possible the time spent together on the obstacle course.
Author: Ann Embry
Number Of Pages: 62
Price Range: $
Apart from training, dog agility also requires a lot of equipment. If you want to build an obstacle course to practice at home, here's the book you need. It's a step-by-step guide to building agility obstacles for your dog.
This booklet has color-coded diagrams and full-color photos of the equipment. So it's practical and easy to understand. You will also have access to more than 15 plans to make the process as simple as possible.
It includes a list of the materials and tools needed. So this resource can help you build agility obstacles while saving you time, effort, and money. 
Other Ways Than Books To Learn About Dog Agility!
Although books are great resources to increase your knowledge on dog agility, it's not always enough to get you started. More practical ways to learn, such as taking a class or signing up for an online course, are generally more appropriate for agility training.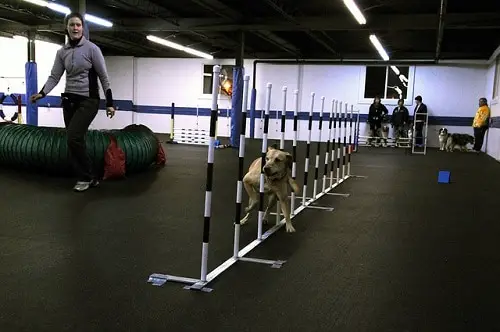 You can learn how to guide your dog through an obstacle course on your own or by reading a book. However, having the support of an instructor and personal feedback is extremely helpful. That's why most beginners should find a local agility club that offers classes.
Learn More About Dog Agility Classes & Online Courses!
Last Thoughts About The Best Dog Agility Books!
Finally, books are helpful resources to learn about dog agility training. They can increase your knowledge and prepare you to guide your dog on an obstacle course. But nothing will replace actual training and practice.
Reading books and taking a dog agility class is the perfect learning combination for beginners. My ultimate recommendation is the Beginner's Guide to Dog Agility by Laurie Leach. Nonetheless, other books on my list might be more appropriate for your needs.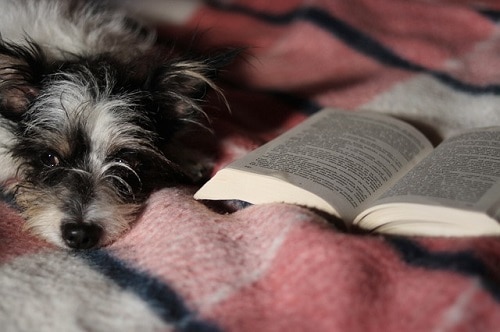 Whatever resource you choose to acquire knowledge in dog agility, it's essential to take action and put your learnings into practice. A lot of training and patience is all that's required to succeed. Now, let's read and have fun with dog agility.
Enjoy Your Reading!