Agility training is a fun activity in which you have to guide your dog through an obstacle course. It's one of the best sports you can enjoy together, but you will need the proper gear to get started. Today we will focus on the weave poles, so let's make sure everyone understands what they exactly are.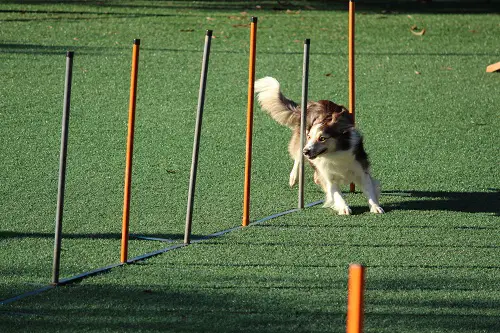 What Are Dog Agility Weave Poles?
The weave poles section is an essential part of most agility courses. It's a straight line of 6 to 12 poles in which the dog has to weave as fast and accurately as possible. Every AKC class has this type of obstacle except for the Agility Course Test 1 (ACT1). So the weave poles are frequent on an agility course.
Here's an impressive video to see what this obstacle looks like in action!
Don't worry; there won't be as many weave poles on an agility course. But it's still one of the most challenging obstacles to master. That's why I want to share with you everything you should know about weave poles. From the standard dimensions to training, you have a lot of things to learn!
Weave Poles Obstacle Requirements For Dog Agility!
Like any other equipment on the course, weave poles must meet specific criteria. According to the American Kennel Club (AKC) Agility Rulebook, this type of obstacle should have a base securely fixed with a rigid upright to support every pole.
Now let's talk about the dimensions and material construction. In competition, most organizations use weave poles made from ¾-inch PVC pipe with a tolerance of +/- 1/16-inch. For the height, each upright should measure 40 inches.
Otherwise, it won't be compliant with the AKC requirements. If you practice dog agility training for plain fun in your backyard, it doesn't really matter. In this case, any weave poles that are safe, adjustable, and sturdy should do the job.
Agility Weave Poles Spacing.
The FCI (Federation Cynologique Internationale) and AKC Obstacle Guidelines for the weave poles spacing are the same. Each pole must be spaced 24 inches (60 cm) apart from the others. The obstacle standards can vary from one organization to another, but the weave poles spacing allowed is generally between 22" and 24".
How To Find Dog Agility Weave Poles?
With the technical specifications in mind, you're ready to gear up properly for this fun activity. To start training your dog for agility, you must have all the essential obstacles, including weave poles.
You can either buy this piece of equipment, build it yourself, borrow it or pay to use a complete agility course. I highly recommend investing in weave poles because it's not that expensive and you will be free to use them whenever you want.
Best Weave Poles Equipment Sets For Dog Agility!
Thanks to the popularity of this sport, you have many options available. But with all the products out there, choosing weave poles appropriate for your needs can be overwhelming. Depending on your experience, dog's conditions, and why you do agility training, here are some offers to consider.
Quality: *****
Adjustability: *****
Stability: *****
Design: *****
Price Range: $$$$
My Overall Rating: 9.9/10
Lord Anson is well known to make performant and high-quality products. Their Agility Weave Pole Set is no exception. Easily adjustable, sturdy, and beginner-friendly, it's the perfect equipment to start training your dog on this type of obstacle.
Pros:
Compliant Spacing (24") To Most Agility Organizations.
Solid & Durable Construction.
Heavy-Duty Metal Base For Optimal Stability.
Available In Two Sizes. (6 Poles & 12 Poles)
Cons:
Quality: ****
Adjustability: *****
Stability: ****
Design: ****
Price Range: $$
My Overall Rating: 9.7/10
To get started, you don't need professional dog agility equipment. You can also opt for an option more appropriate for your level of experience. The weave poles made by Pawise are ideal for beginners because they are affordable, easy to set up, and highly adjustable.
Pros:
Great Value For The Price.
12 Individual Weaving Poles Included.
Carrying Case For Easy Storage & Transportation.
Each Pole Has A Steel Spike For Inserting Into The Ground.
Lightweight, Versatile & Safe Design.
Suitable For The Angle Weave Pole Training Method. (I Will Explain It Later On!)
Cons:
Only For Outdoor Use.
Not The Best Quality.
Quality: *****
Adjustability: ****
Stability: *****
Design: *****
Price Range: $$$$$
My Overall Rating: 9.6/10
If you want the best for the best, the DogSport Weave Poles Set is what you need. Made from durable PVC with a steady metal base, it's a high-quality and performance dog agility obstacle. Thus, it's an excellent piece of equipment for professional and more advanced training.
Pros:
Adjustable Spacing Between The Poles. (19" – 25")
Well-Made & Sturdy Dog Agility Gear.
Foldable Base For Convenient Storage.
Carrying Bags Included For Easy Transportation.
Available In Two Sizes. (6 Poles & 12 Poles)
Cons:
Expensive.
Not Beginner-Friendly.
Quality: ****
Adjustability: ***
Stability: *****
Design: ****
Price Range: $$$
My Overall Rating: 9/10
The weave poles aren't the only equipment you will need to prepare your dog for his first agility trial. A standard course also has other obstacles such as hurdles and a tunnel. That's why investing in a complete dog agility kit like this one made by Better Sporting Dogs can be an excellent idea.
Pros:
Include All The Essential Gear.
Excellent Quality For The Price.
Lightweight, But Durable Construction.
Come With A Carry Bag For Easy Storage & Transportation.
Cons:
Not The Best Obstacles.
There Are Only 6 Weave Poles.
Quality: ****
Adjustability: *****
Stability: ****
Design: ****
Price Range: $
My Overall Rating: 9.5/10
If you want to start agility training on a budget, this last option is worth considering. Most of my other recommendations are relatively expensive, especially for beginners. Thus, the Triple-A Dogs Weave Poles are an affordable alternative to introduce your dog to this type of obstacle.
Pros:
Safe & Beginner-Friendly Design.
Include Measuring Strap & Carry Case.
Made From Lightweight, But Strong Material.
Easy To Assemble & Set Up.
Poles Can Be Place In Angle For Training.
Cons:
Not Suitable For Indoor Use.
Quality & Sturdiness Isn't The Best.
An Alternative → DIY Dog Agility Weave Poles!
Instead of buying your equipment, there are some obstacles that you can make yourself. It's the perfect option to save money if you have crafting skills and a little bit of free time. Besides the money aspect of things, it can also be a fun DIY project to start.
How To Make Weave Poles Yourself?
Building weave poles isn't too complicated. However, you need to make sure they are safe, well-made, and stable enough for agility training. Thus, here are some instructions to help you get started.
What You Will Need?
¾ inch PVC Pipe. (40" Per Pole)
¾ inch PVC Caps. (One Per Pole)
¾ inch PVC Couplings. (One Per Pole)
¾ inch PVC Plugs. (One Per Pole)
PVC Cutting Tool.
Carriage Bolts 3/16" x 1". (One Per Pole)
Hex Nuts That Fit On The Bolts. (One Per Pole)
Washers That Fit On The Bolts. (One Per Pole)
Something To Tighten The Nuts. (Socket Wrench)
Plated Steel Slotted Metal Flat Bar. (3-Feet Piece For Every Weave Poles Pair)

+ An Extra 3-Feet Piece To Stabilize 2 Weave Poles Pairs.

Electric Drill With Drill Bits.
Saw.
Colored Duct Tape.
Step-By-Step Process:
1. Make The Weave Poles.
Cut the PVC pipe into 40" pieces, which will be your poles for the obstacle. Make as many as you want, but the total number should be even. You can then put a PVC cap on every pole and add colored duct tape stripes for better visibility.
2. Assemble The Obstacle Base.
When all the poles are ready, it's time to build something to keep them in place. Use one 3-feet plated steel slotted metal flat bar for two weave poles. With each pair, you also need to cut some at 9" of length. You will use them for stability.
Now you have to fix the PVC plugs on the weave poles base. First, drill a hole large enough to fit the carriage bolts in their bottom center.
Place the small metal piece (9") on different sides ( ⎺|_ ) perpendicularly to the long ones (3 ft) where the poles will be, which should ideally be at 24" from each other. Put the PVC plugs on the top and fix them with the carriage bolts, washers, and hex nuts.
Alternative: Instead of the metal base, you can buy self-watering spikes and fix them at the bottom of your poles.
3. Put Everything Together.
Finally, you only have to insert the poles in the PVC plugs, and you're all set. With this method, you need to build several pairs to make a complete obstacle section. 6 or 12 weave poles (3 or 6 pairs) is the most common number on the course.
For more information about this dog agility DIY project and visual support, you can read this article on Ammo The Dachshund blog.
The Simple Method.
Another very straightforward idea to make weave poles is to take long garden stakes, put some colored duct tape around them, and insert them into the ground. It's a quick and easy solution to build weave poles without breaking the bank.
Dog Agility Weave Pole Training!
Once you have the right equipment to get started, you can introduce your dog to this new obstacle. There are many ways to teach him the weave poles. Here are three different techniques so you can choose the best one for your situation.
The Channel Method.
In general, it's what beginners prefer to use because it's simple for both the handler and dog. For this popular training technique, you will need weave poles that can move sideways from each other. The concept is extremely straightforward.
Place the poles straight up in a zigzag line with a lot of space between them. So your dog will be able to run in the middle without weaving yet. ( → , ' , ' , )
Encourage/Lure him to go through the "Channel" with his favorite toy or treats.
Introduce the command "Weave".
Gradually decrease the distance between the poles and the obstacle center until you have a straight line.
You can also play with the weave poles spacing. The farther they are from each other, the easier it will be for your dog. After some practice, you should shorten the distance to 24 inches, which is the standard for this obstacle.
This method is simple to put in place, and it works well. Just make sure not to reduce the distance between each weave pole too quickly. Give your dog the time he needs to understand the obstacle and improve his agility skills.
The Variation With An Angle.
My second suggestion for teaching your dog the weave poles is very similar to the first one. In fact, the concept is the same unless you place them at a specific angle. This small change can make such a complicated obstacle much easier for your dog to learn. Here's how it works.
Place the poles straight up in a zigzag line with a lot of space between them. So your dog will be able to run in the middle without weaving yet. ( → , ' , ' , ) For the angle, anywhere from 45° to 75° should be alright, and the bottom should be narrower than the top. ( \¤/ )
Encourage/Lure him to go through the "Angled Channel" with his favorite toy or treats.
Introduce the command "Weave".
Gradually decrease the distance between the poles and the obstacle center until they are aligned.
Slowly reduce the poles' angle until they are straight up.
Again, you can play with the weave poles spacing to adjust the difficulty.
Thus, it's practically the same idea as the channel method. The only difference is the angled poles that give you an additional parameter to adjust depending on your dog's skills. It can also help him understand the concept of weaving because he will know which side of the pole he needs to go on.
The 2×2 Weave Poles Technique.
More recent and advanced, this training method developed by Susan Garrett is not as simple as the two others. But the results are generally much better if you have the necessary time and skills. Let's see what it consists of in 4 steps.
Introduction.
Place two weave poles next to each other with reasonable spacing between them.
Encourage your dog to go through them by tossing his favorite toy or using treats.
Repeat the second introduction step multiple times until he understands the concept.
Try from different angles.
Build Up.
Add another pair of weave poles aligned at around 15 feet away from the first one.
Make your dog run through both pairs and reward him.
Practice from different angles and sides.
Start running with the dog when he's going through the obstacle.
Start Weaving.
Place the second pair of weave poles at a 45° angle alignment. ( , , ' ' )
Ask your dog to run through them and reward him afterward.
Try it from different angles and on both sides.
Slowly bring the two pairs of weave poles together to form a straight line.
Improve.
Introduce your dog to the command "Weave".
Add more weave pole pairs. (Start with 6, 8, 10, and finally 12)
Work on speed and other technical aspects.
Put the weave poles into your agility obstacle course.
As you can see, there are much more steps in this last training method. On the other hand, it teaches your dog an excellent entry and to go fast right off the bat. That's why I highly recommend the 2×2 technique if you're serious about starting agility training.
For more information about this brilliant alternative to standard weave pole training, here are a few good resources:
Beginner Tips For Weave Poles Training!
Whatever method you choose, some basics will always be essential to understand. Dog agility can be fun and safe only if you practice it the right way. Therefore, here are my pieces of advice to help you avoid common mistakes and make training sessions as enjoyable as possible!
Be Patient; Consistency Is The Key To Success.
Never Punish Your Dog, Use Positive Reinforcement Instead.
Start Slowly & Gradually Improve.
Consider Dog Agility Training Classes.
Have Fun!
Last Thoughts About Weave Poles For Dog Agility!
With all the information up there, you've everything necessary to master this challenging obstacle. But it doesn't mean you don't have to put in a lot of time, effort, and some money to succeed. Teaching your dog how to weave through poles isn't easy, but it's worth all the fun you will have on the agility course together.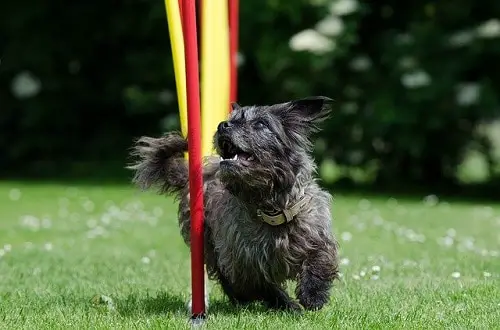 I hope my article has helped you learn more about this piece of equipment and how to use it properly. Now it's time to find weave poles and start training your dog. With a lot of practice, I'm sure you will soon be ready to compete as an official team in your first agility trial.
Have Fun & Weave On!