Does your dog always pull on the leash while walking? This can be very frustrating, but there are many solutions to this problem. For example, the Pug Life Harness is one of the most popular no pulling accessories. This brand even claims that it's the last dog harness you'll ever have to buy!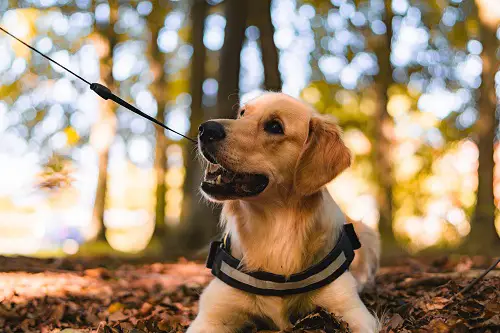 After reading some reviews, I realized that there are two extreme levels of satisfaction for the Pug Life Harness. While some clients are struggling to get refunds, others are very happy with their purchases. It's normal that a product has some bad reviews, but how much is too much? Let's see what you should know before buying your own Pug Life Harness!
The Pug Life Harness is a relatively good product that you should consider to buy. However, customer support and some other features still have a lot of room for improvement. For example, many customers claim that they can't have their refund or that the Pug Life Harness isn't very safe. So it's probably not the best option on the market!
What you need to understand is that this harness isn't interesting for every dog. I've found some common characteristics to the clients' pets that aren't satisfied. Moreover, it's common that a few products occasionally have some problems. Nonetheless, for the price of the Pug Life Harness, it can be frustrating to not receive a good product and customer support!
How Does The Pug Life Harness Works?
This product is designed to be easy to use and understand. You shouldn't have any problem finding how the Pug Life Harness works. Many users especially love this harness because it's simple to use. Here how easy it is to put this harness on your buddy!
Adjust the strap with the velcro for your dog's size.
Put the chest loop over your furball's head.
Clip the buckle on the side.
With three simple steps that anybody can manage, you're ready to go on walks with your dog. After that's you simply need to clip your leash's hook to one of the Pug Life Harness rings. Before going further, here's some more information about this product!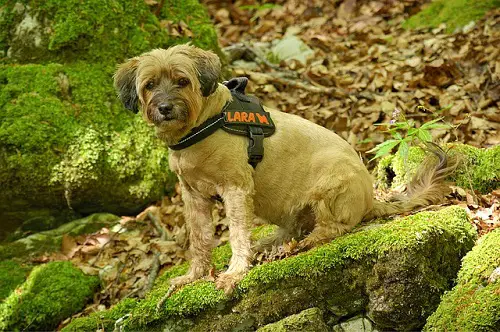 For visual support during your reading, you can visit the Pug Life Harness product page. [Link Open In a New Tab]
What Is This Harness?
This gear is one of the most popular on the market. The brand even writes on their sales page that their product is « The Last Dog Harness You'll Ever Have To Buy, Guaranteed! ». With its simple system, this harness is perfect to walk or run with your dog easily. Now, let's see what are the main characteristics and benefits that they promote!
Price: $34.95-$50
Colors: Black, Blue, Red, Pink, Purple, Orange, Green, etc.
Sizes: XS (4-9 lbs), S (10-19 lbs), M (20-40 lbs), L (40-60 lbs), XL (60-85 lbs) and XXL (85-140 lbs).
Features:
Stops Pulling.
Easy To Put Off/On.
Adjustable Velcro Straps.
Grip Handle.
Reflective Strip.
High Quality.
Here's a review video (promotional) that you can find on the product's page or Youtube!
Where This Pug Life Harness Is Located or Made?
Unfortunately, I didn't find where this product was made. However, the company is based in Los Angeles, California. Maybe they produce their Pug Life Harnesses there, but I don't think they are making their product in the US. They are hosted by Shopify (an e-commerce platform to sell things online), so their products probably come from countries where they can have cheaper cost prices. This is simply my personal opinion! (It's a supposition, not a fact!)
Can You Adjust It?
Adjusting your Pug Life Harness is extremely simple. You just have to adapt the velcro strap for your dog's needs. Before buying, there's also a size guide to choose the right one according to your companion weight (or breed). That could be very interesting to make sure you pick the right size before to purchase especially because they have customer support issues!
Should You Buy The Pug Life Harness?
Now that you know more about the product that this brand is promoting, you may wonder if it corresponds to what buyers receive. As you probably know, many businesses make «false promises» to encourage people to buy their products. Let's see if the Pug Life Harness (or Joyride Harness) brand is delivering what they promote!
Product Reviews
On their website, they have an average of 4.8 stars [Link Open In a New Tab] based on around 12 000 reviews. Therefore, it could seem very good feedback for the buyers. Nonetheless, it's not because it's on their website that it's automatically true. Therefore, I've found another source to have more accurate reviews!
On Trustpilot [Link Open In a New Tab], they have a «TrustScore» of 4.2 that isn't bad at all. As a comparison, the average rating on Amazon is around 4.4 stars and their customer support is awesome. The few bad reviews on the Pug Life Harness were generally because either they didn't receive the product (or it was damaged) or it brokes while using it. Therefore, reading multiple reviews helps me understand that you can't entirely trust that brand!
Nevertheless, I don't tell that it's not a good product. I think that this harness can be extremely useful and convenient for many canine owners. The truth is that every dog has different needs. Then, the Pug Life Harness could be the best pick for some pooches. Here's a video review from someone that enjoys this harness!
Pros and Cons of The Pug Life Harness!
It can be very long to read reviews on many products before buying. Although it's extremely useful, so it will be worth your time. Just for you, I've spent many hours looking and researching through this product's reviews. Thus, here some interesting pros and cons I've found on this famous ultimate harness for dogs!
5 Benefits Of This Harness!
Many people seem to enjoy this product a lot. With all the advantages it offers, I can understand why. In most bad reviews, the problem isn't the product itself. Most of the time, customers were complaining about the service of the brand. Therefore, here are some pros of the Pug Life Harness!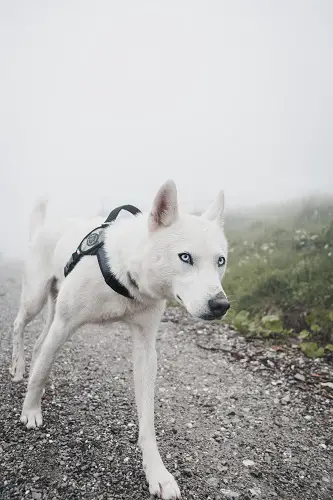 It's Easy To Put On or Off.
You Can Adjust It With The Chest Strap.
The Reflective Strap Is Awesome For Night Walks.
It Allows You To Control Your Dog With The Handle.
This Harness Is Comfortable For Your Buddy.
5 Common Problems With This Product!
In life, everything can't be perfect. Thus, it's common that dog accessories have some issues. The Pug Life Harness isn't the only product that has some bad reviews. Nonetheless, it's essential to be conscientious about the risks. Most people regret the things they buy when they don't take the time to rationalize their purchases. Here are some cons of this harness for dogs!
Some People Pay, But Don't Receive The Harness. (or It's Broken/Late)
The Buckle Is Large And Could Irritate Your Dog.
Side Rings Don't Seem Very Solid.
The Hook And Loop Could Be More Secure.
Customer Service Isn't Good At All.
The Biggest Concern About This Harness!
There's one main problem that you should also consider before buying. The Pug Life Store has many complaints regarding their company on BBB.org. [Link Open In a New Tab] On the other hand, several complaints are resolved in a couple of days or weeks. Hence, it's very difficult to judge it's safe to buy products from this brand. If you have any problem during or after your purchase, BBB.org is probably the best place to ask for help (or refund)!
What People Were Complaining About?
| | |
| --- | --- |
| Advertising/Sales: | 19 |
| Billing/Collections: | 6 |
| Delivery Issues: | 112 |
| Guarantee/Warranty: | 9 |
| Problem With a Product or Service: | 401 |
| Total: | 547 |
Source: BBB.org
As you can see, 547 complaints in 3 years is a high level of dissatisfaction. Nevertheless, only 31 of these complaints are categorized as unresolved. In other words, this business isn't a scam but has serious problems to solve. With this information, you're now ready to buy this product knowing that there are some risks related to your purchase!
So, This Harness If For Good Who?
After reading many complaints and reviews, I realized that this product wasn't interesting for every dog. For example, some customers said that the Pug Life Harness wasn't safe for dogs that pull a lot. There are a couple of feedbacks reporting that their pooches were able to get out of the harness by pulling too hard. That's why I'm also not sure that this product it's extremely safe. Anyway, here's for who I would recommend this harness!
Recommended For:
Well-Trained Dogs.
Simple Daily Walks.
People That Like Things Simple.
Night Walks.
Etc.
Not Ideal For:
Dogs That Don't Pull Too Hard.
Long Hikes or Too Intense Physical Activity.
Train New Puppies or Dogs.
Optimal Security.
People That Care About Customer Support.
Etc.
My Personal Opinion About The Pug Life Harness!
Just to make it clear, I didn't personally buy this product. Some people will think that it's senseless to write this article without even being a customer. However, I think that all the information in this blog post can help many people to buy (or not) the Pug Life Harness more reasonably. Moreover, my opinion is more neutral and accurate than someone that had a good (or bad) experience with this company!
How Do I Have Found This Product?
Well, I was looking for ways to become more active with my Labrador. I've rapidly found that canine gear is essential to exercise with your buddy safely. Whether it's for daily walks, regular runs or other dog sports, a harness is always very interesting. Therefore, with some research, I've discovered many canine accessories including the Pug Life Harness. After I had found a couple of bad reviews, I realized that people would appreciate knowing the risks before their purchases! (That's why I've made this article!)
That doesn't mean I won't ever buy this harness. Honestly, this could be an awesome gear to exercise with my Labrador. I think that she would like it. Nonetheless, I don't need it now, and I've found some better products for my dog's needs. It's not because this harness isn't ideal for my furry companion and me that you shouldn't buy it. Whatever, let me share with you what other canine equipment my research helped me to find!
Here Are Some Other Articles That Review The Pug Life Harness! [Links Open In New Tabs]
On Dog Tipper Blog.
What Are The Best Harness For Dogs?
The best harness for your companion isn't necessarily the ideal my Labrador. It's important to understand that every dog is different. Therefore, you'll need to do your research to assure you that you pick the right gear. For example, some people are looking for an extremely safe harness, and they don't want any problem with their order. I let you figure out that the Pug Life Harness is probably not the best option for them!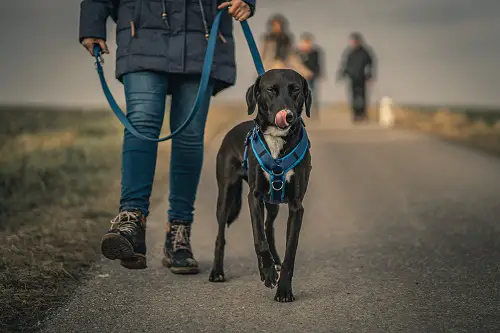 Things To Consider Before Buying Your Dog Harness!
Your Needs:
What's Your Dog's Size, Personality…?
Is It For Walking, Running, Hiking…?
Etc.
Features And Characteristics Of The Harness:
Safety And Durability.
Comfort.
Cost.
Style.
Complexity.
Etc.
These are the main elements to analyze before making your final purchase. As you can see with the example of the Pug Life Harness, things like customer service are also important to consider. However, this shouldn't be problematic with most brands. Let's see some of the most recommended harnesses for dogs!
5 Alternatives To The Pug Life Harness!
Researching for the best products out there can be extremely long. There are many interesting high-quality harnesses for dogs. It's crucial to take the time to select the right gear for your companion. Otherwise, it could make him uncomfortable, hurt him or cause many other complications. To save you time and money I've selected some of the best harnesses for any kind of dog! [Product Links Open In New Tabs]
The Pug Life Harness 2.0! (Expawlorer)
This gear is extremely similar to the Pug Life Harness. However, it's cheaper, safer and has better reviews. This harness will be ideal for medium to large breeds. Moreover, you shouldn't have any customer service problems because it's selling by Amazon!
Price: $16.99-17.99
Best Walking Harness! (Ruffwear)
This is an awesome gear for everyday use. It can be adjusted to fit perfectly with your dog's side. Whether it's for your daily walks or to go on adventures, this harness will provide your dog with optimal comfort and safety!
Price: $38
Ideal Harness For Small Dogs! (Puppia)
Finding good gear for small buddies isn't always easy. With the Pug Life Harness, some people were complaining that it wasn't adjustable enough or comfortable for small dogs. This one is ideal for your little companion because it's soft, lightweight, and perfectly safe. Furthermore, they are adjustable straps to avoid your dog backing out of the harness!
Price: $21.90
This is the harness that I'm probably going to buy for my Labrador. As I already told you, I'm looking forward to being more active with her. Therefore, this is the perfect gear to enjoy dog sports like running, hiking or camping. It's also extremely useful for medium or large breeds that are backing out of other harnesses!
Price: $59.95
Perfect Harness For Pulling Dogs! (Rabbitgoo)
This harness seems to help many dog owners that were pulled during walks. With perfectly adjustable straps, two leash-connection rings, and simple release side buckles, it's probably the best no-pull canine harness on the market. The Rabbitgoo Harness will help you and your dog to enjoy more daily walks!
Price: $16.98
How To Choose?
Now, it's your turn to do some additional research on these products. You can see the features, instructions, and reviews directly by clicking on the links. I'm sure that you will find at least one more interesting gear than the Pug Life Harness. My last advice would be to don't hesitate to invest in quality gear that will be more effective and durable!
Last Thoughts About The Pug Life Harness!
Finally, the Pug Life Harness can be very interesting. Nonetheless, you should be careful because this brand doesn't seem 100% trustworthy. That's why I've shared with you other alternatives that are more cost-effective, safe, and reliable!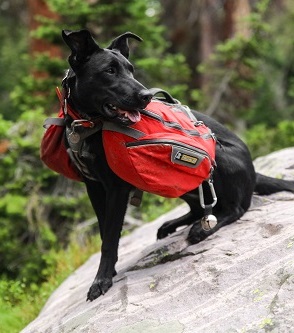 Whatever harness you choose, make sure that it's ideal for your needs. Furthermore, don't forget to use this harness during canine activities like running, biking or simply walking. Providing your dog with proper exercise is essential for his well-being and happiness. I hope this article helps you learn many things about the Pug Life Harness. I would be very happy to meet you walking your dog with his new harness while playing with my Labrador!