Dog agility is an excellent sport to train and exercise your four-legged companion. But without the right equipment, you won't go very far. Hurdles are essential obstacles in an agility course. Thus, let me help you find the best dog jumps for this activity!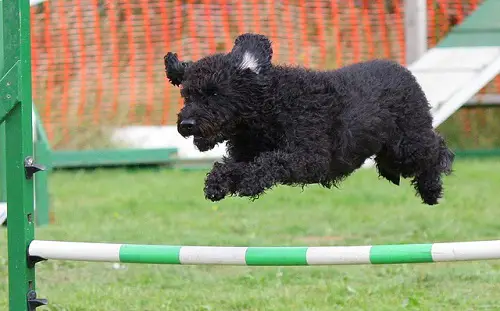 My ultimate recommendation for an individual hurdle is this one designed by Triple-A Dogs. It's a versatile, convenient, and safe jump to train your dog on. Made from good quality material, stable, and highly adjustable, you should add this piece of equipment to your agility course.
Since we all have different needs, this hurdle might not be the right one for you. That's why I've selected a few other great options to consider.
If you are just getting started with dog agility, you probably also have many other questions in mind. Stay tuned because I'm here to help you out!
Top 3 Best Dog Agility Jumps!
What Are Dog Hurdles & Jumps For Agility?
If you are reading this article, you probably already know what an agility hurdle is. But let's just quickly define it to make sure everyone can follow.
It's an obstacle of the course that dogs need to jump over. This piece of equipment is used in agility, flyball, obedience, and other dog sport events.
As you can see in the video below, there are many hurdles to jump in agility competition courses.
Elements To Consider For Your Dog Hurdle Set!
If you want the best gear for agility training, there are some aspects you should look at. Dog hurdles are very simple, but some options are more suitable for your needs than others.
Dog Jump Height & Size.
The dimension you should select will vary according to your dog's conditions. Large breeds such as German Shepherds or Great Danes won't need the same size of hurdles as small breeds such as Papillon Dogs or Corgis.
What Size Of Dog Hurdles Is Used For Agility Training?
The height of jumps on an agility course can vary according to the dog's size, class, jump type, and organization. As an example, here are the standard jump heights for the American Kennel Club (AKC) agility events in the preferred class.
| Jump Height (in inches) | Dog Height (measured at withers) |
| --- | --- |
| 4" | 11 inches and under |
| 8" | 14 inches and under |
| 12" | 18 inches and under |
| 16" | 22 inches and under |
| 20" | Over 22 inches |
Retrieved From The AKC Agility Beginner's Guide (Page 7)
If you have an obstacle course in your backyard just for fun, the height doesn't really matter. You only have to make sure the size is appropriate for your dog's conditions and skills. Too tall jumps can be bad for his joints and increase the risk of injury.
Safety.
That's where the ultimate consideration comes into play. Whatever agility equipment you choose, you must think about the safety of your dog first.
For hurdles, the uprights and bar must fall relatively easily to avoid injuring him if he touches them while jumping. Some sets of equipment are safer than others, so take that into account.
Adjustability.
Whether it's to teach your dog how to jump hurdles or improve his skills, adjusting the height is always very convenient. It's also an essential feature to put the bar at the right height for his size and experience.
Fortunately, most options on the market are highly adjustable. If you are a beginner, this element is even more important because your dog will have to start with small jumps and slowly increase the height as he gets better at it.
Stability.
If you don't want to replace and put the hurdle back up for nothing, it must be stable. To have fun and make the most from agility training, the bar and the jump itself shouldn't always be on the ground. That's why it's essential to find the right balance between stability and safety.
Your Specific Needs.
Finally, we all are in different situations. Your dog's conditions, preferences, budget, and many other personal factors can influence what hurdle(s) you should opt for.
For example, you might want to choose an option that's lightweight and easily portable for travel. The ideal hurdles for your needs will also depend on where you plan to do agility training. (Indoor or Outdoor)
Your level of expertise is another element to consider. Professional athletes don't need more performant gear than beginners.
Overall, everything comes down to understanding your requirements and selecting the right agility jump set according to them.
Different Types Of Dog Agility Jumps!
There are many designs of hurdles you can choose from for agility training. You should know what your options are before making your final decision. Thus, here's more information on the different types of jumps for dog agility.
Bar Hurdles.
The standard jumps on agility courses are generally bar hurdles. It consists of one or multiple rounded bars usually made from PVC pipe with two uprights to support them.
It's the safest and most convenient hurdle construction, so I highly recommend it to beginners. If your dog is already good at agility, there are many variants of bar jumps. (Double, Triple, Ascending, Etc.)
Cone Jumps.
Very similar to bar hurdles, it's the same concept but with cones instead of uprights. Such change makes this hurdle design very stable.
On the other hand, it offers less height and adjustability. That's why this type of agility obstacle is more appropriate for small dogs.
Panel Hurdles.
This dog jump is made of multiple wood boards that form a wall. Obviously, it's not the safest design. However, it's very stable and simple to make yourself.
Tire Jumps.
Another variety of agility hurdle is the tire jump. It consists of a circular object generally suspended in a rectangular frame. Your dog will have to jump into the obstacle, so it's more challenging than the standard bar hurdle.
Borrow Line: Each type of agility jump has pros and cons. Most of the time, I would recommend beginner dogs to choose a bar hurdle.
5 Best Hurdles For Dog Agility!
With all the information up there, you have everything you need to select the right jump for your dog.
To save you some time, energy, and money, I have already found great options to introduce him to agility training. Here are the 5 best hurdles to put in your obstacle course!
Quality: *****
Safety: *****
Adjustability: *****
Stability: ****
Price Range: $$
My Overall Rating: 4.9/5
Lightweight, sturdy, and highly adjustable, this hurdle made by Triple-A Dogs is my favorite option on the market. It's the perfect jump to introduce your dog to agility training. The height can be adapted for his needs no matter what size he is or experience he has.
For your convenience, this piece of equipment is fairly simple and quick to assemble. It also comes with a bag for better portability. To ensure your dog doesn't get hurt while working on his agility skills, the bar can be knocked off relatively easily.
Overall, it's the best hurdle I have found during my research. That's why I highly recommend you add it to your homemade obstacle course.
Best Equipment For:
Quality.
Outdoor & Indoor Use.
Beginners.
Pros:
Made From Strong & Lightweight ABS Pipe.
Fully Adjustable Height From 8" to 26".
Good Quality Hurdle Reasonably Priced.
Easy To Assemble & Adjust.
Safe Design For Your Dog.
Offer Great Stability.
Convenient Bag To Carry The Hurdle.
Cons:
Not The Best Option For Expert Agility Dogs.
Relatively Expensive For Beginners.
Quality: ****
Safety: ****
Adjustability: *****
Stability: *****
Price Range: $
My Overall Rating: 4.7/5
If you are just getting started, you might not want to invest in the best agility hurdle. Some jumps can be very affordable and still do the job for fun playtime in your backyard. Pawise has designed an excellent product to introduce your dog to this awesome sport.
It's an outdoor hurdle bar that's extremely simple to set up. All the components (bar & uprights) are sturdy and well-made. Each post has a sharp prong to fix the jump on the ground. The height is also easy to change and highly adjustable for your dog's conditions.
Overall, it's the perfect option for hours of fun outside entertainment. The only two downsides of the Pawise Hurdle is that you can't use it inside if the weather is bad and the quality isn't the best.
That's why I would not recommend this product for people that are serious about starting dog agility and want high-performance gear for year-round training.
Best Agility Hurdle For:
Budget-Friendly Alternative.
Simplicity.
Fun Playtime.
Pros:
Simple & Convenient Design.
Inexpensive Agility Equipment.
Good Quality & Durability For The Price.
Extremely Simple To Assemble & Adjust The Height.
Lightweight & Compact.
Come With A Bag For Easy Transportation & Storage.
Cons:
Can't Be Used Indoor.
Not Designed For Professional Use.
Quality: *****
Safety: ****
Adjustability: *****
Stability: *****
Price Range: $$$
My Overall Rating: 4.8/5
The hurdle isn't the only piece of equipment you will need to start agility training with your dog. Other essential obstacles like the weave poles and other jumps are also fundamental in your course. Thus, you might be looking for a complete set that includes everything you need.
Cheering Pet has the perfect starter kit for beginners. It's made of two jumps (bar hurdle & tire jump), a pause box, and weave poles. The only accessory you will need to purchase separately is the tunnel.
Why do I recommend this equipment set over other options? There are many agility kits for beginners, but it's almost the only one that's not too expensive, good quality, and can be used indoors.
Thus, you should seriously consider this product if you want to start training your dog with professional gear. With everything included in the kit, it's an excellent deal to get into agility at a reasonable price.
Best Dog Jump Set For:
Good Quality Agility Obstacles.
More Bang For Your Buck.
Indoor & Outdoor Training.
Pros:
Complete Beginner Jump Kit.
Affordable Price.
Two Different Hurdles Included. (Bar & Tire)
Very Portable & Comes With A Carrying Bag.
Strong & Durable Construction.
Highly Adjustable Height For Both Jumps.
Stable Design For Indoor & Outdoor Use.
Cons:
No Tunnel Included.
The Quality Is Not The Best.
If you really want an agility tunnel, you can either check out this set as an alternative or also invest in this high-quality open tunnel.
Quality: ****
Safety: *****
Adjustability: *****
Stability: *****
Price Range: $$$
My Overall Rating: 4.8/5
One jump might not be enough if your dog already has some experience in agility. Whether it's to prepare him for competition or make the obstacle course more challenging for him, you need multiple hurdles.
They don't need to be different; just having more will provide you with new possibilities. The PawHut set of 4 bar jumps is therefore ideal for intermediate to advanced agility dogs. It can also be appropriate for beginners, but investing in that many obstacles is not necessary to get started.
If one hurdle is not enough for you, then this is a no brainer. For safety, the top bar displaces if your dog hits it while jumping. It's also very lightweight and easy to transport with the carrying case included.
Overall, the design of each hurdle is perfect for building the ultimate homemade agility course.
Best Agility Hurdles For:
Intermediate To Advanced Athletes.
Challenging Obstacle Courses.
Safety.
Pros:
Great Value For The Price.
Adjustable Heights.
Bar Can Falls Off For Your Dog's Safety.
Suitable For Indoor & Outdoor Training.
Fixed Bottom Bar For Optimal Stability On Any Surface.
Carrying Bag Included.
Cons:
Not The Best Quality Hurdles.
Some Customers Have Issues With The Jumps Falling Apart.
Quality: *****
Safety: ****
Adjustability: ***
Stability: *****
Price Range: $$$$
My Overall Rating: 4.6/5
My last recommendation is the cone set made by Lord Anson. This type of jump offers excellent stability and durability. It's also great to avoid any problem with parts falling apart or breaking up.
The Lord Anson company is well-known for creating high quality and performance products. Designed and tested by experienced dog owners, the cone set is perfect for agility, obedience training, and rehabilitation. It's also an appropriate design to use indoor and outdoor.
My only concerns about this product are the adjustability and safety. The cones have multiple holes for different heights, but the rods can only be set to 5", 9", 13", and 17".
For safety, the bars can't be knocked off because they are inserted in the cones. Apart from that, it's still an excellent piece of equipment to start agility training with your dog!
Best Equipment For:
Small Dogs.
Quality & Durability.
Stability.
Pros:
Set Of 4 Cone Hurdles
Extremely Stable Design.
Built To Last.
Made From Good Quality Material.
Easy To Assemble.
Can Use The Cones As Weave Poles.
Cons:
Limited Adjustability.
Bar Won't Fall Off For Your Dog's Safety.
Not Very Portable.
What About Homemade Agility Jumps?
I've shared with you many products you can add to your obstacle course. But if you want to save some money and you have craft skills, there is another option. You can build a homemade agility hurdle.
However, you have to be aware that making a safe, adjustable, and stable jump won't be easy. That's why I generally recommend buying one instead of building it yourself. But it can still be a fun DIY project to start.
How Do You Make Dog Hurdles?
I've found an excellent video to help you create your own agility jump. It's made from materials you can find in pretty much any hardware store, and the obstacle is appropriate for beginner training. You can also adjust the height of the holes for the bar according to your dog's needs. (Size & Experience)
Good Listening!
How To Choose The Right Agility Equipment?
With the information in this article, you have everything to select the right hurdle for your needs. Depending on your priorities (Safety, Quality, Portability…), preferences (Price, Design, Type Of Jump…), and dog's conditions (Size, Experience, Age…), some of my recommendations are more appropriate for you than others.
Now it's your turn to analyze each option and make your final decision. Most products on the market can be great to start agility training. But the hurdles I've selected are more likely to meet your requirements.
What's The Next Step After Buying The Hurdle?
Once you have invested in the right agility equipment, the fun has just started. You still have to introduce your dog to this new sport.
It's essential to start training him slowly and gradually improve his skills. Even with the best hurdle out there, he will need some help to learn how it works.
To make sure your pup is ready for agility, he's at what age you can start training him!
Teach Your Dog How To Jump Over A Bar | Youtube Video
Last Thoughts About The Best Hurdles & Jumps For Dog Agility!
Even if agility requires some investment in time and money right off the bat, it's worth all the fun you will have practicing it with your dog. Having the right equipment is the first step to enjoy this sport.
That's why you must invest in essential obstacles such as hurdles and jumps. Then, you will be all set to start training your companion and improve his agility skills.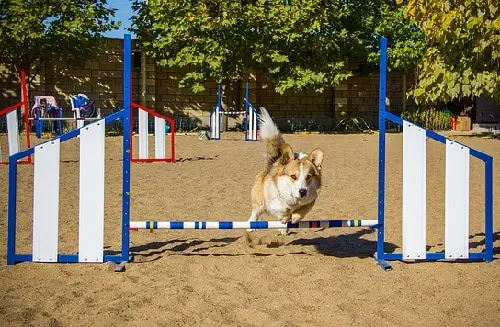 I hope my article has helped you find the gear you were looking for. Now it's time to go out there and use your new hurdle. Jumping, running, and learning is the perfect activity to keep your dog healthy and happy.
Good Training & Have Fun!