If you have two dogs, you certainly don't want to leave one of them alone at home while you're going out with the other one. However, walking or running with both of them at the same time isn't as easy as you might think.
Foremost, they must be very well-trained so you can have control over all of them simultaneously. Then, you also need an appropriate leash (or a coupler) if you want to walk or run with two dogs!
Let's be honest. You probably don't have time to exercise each of your furry friends separately. That's why investing in proper gear is essential to kill two birds with one stone.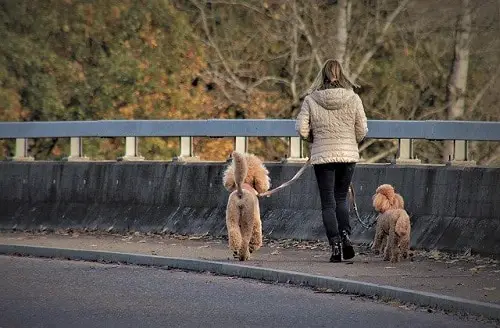 With all double dog leashes and couplers available on the market, it can be quite complicated or even overwhelming to find the best option for your needs.
Thus, let me help you out with my recommendations and some helpful information I've found about this type of accessory for multi-dog households!
I'm planning to become an official pet sitter, so being able to exercise with multiple dogs at the same time is pretty much an indispensable skill to have.
Thinking about this project, I recently wonder what's the best leash to have for walking or running with my Lab and my future client companion. Therefore, let me share with you the results of my research and all the valuable information I've learned!
Why Not Taking Two Dogs Out With Individual Leashes?
The two standard leashes are very likely to get tangled if your two dogs switch sides or sniff around too much. With the twisted leads, you won't have proper control over your pets. Furthermore, you might even drop one of the ropes if you try to unravel them.
Thus, it's simply not safe to exercise two dogs with individual leashes. Walking or running with both of them is already arduous, so please do yourself a favor by investing in the appropriate equipment!
Best Running & Walking Leashes For Two Dogs!
With your pets, family, job, and all your other projects, you are probably too busy to find the perfect double dog lead. To save you time, money, and energy, I've spent hours searching and analyzing most products available out there.
From the best option to the most affordable one, here are my favorite dog leashes to exercise two dogs at the same time!
Best Overall Starter Kit To Walk & Run With Two Dogs!
Price: $$$
Type Of Leash: Hands-Free & Hand-Hold Leash + Coupler.
Quality: ****
Convenience: *****
Whether you want to walk, run, or hike with two dogs, this is an excellent setup to consider. First, you have the Roamer Leash, which is the perfect gear for outdoor enthusiasts.
It's an adjustable stretch lead that can be worn around the waist or held in your hand with the padded handle. The bungee webbing feature is also convenient to absorb shocks on trails, especially if one pup suddenly starts pulling!
Unfortunately, this product alone won't allow you to exercise your two dogs at the same time. That's why I've combined it with the Mighty Paw Leash Coupler. With the adjustable length, tangle-free swivel, and quality of the materials, it's the perfect match with the Ruffwear lead!
Best Double Leash Setup For:
High-Quality & Durability.
Trail Running, Hiking & Other Outdoor Sports.
Multi-Use Dog Gear.
Pros.
Versatile Lead With Multiple Features.
Stretchy Webbing To Absorb Shocks.
Can Be Waist-Worn, Hand-Held & Secured To Posts or Trees.
Padded Handle For Optimal Comfort While Walking & Running.
Strong & Secure Clips On The Leash & Coupler.
No Tangle With The Swiveling Attachments.
Made From Good Quality & Weather-Proof Materials.
Cons.
Expensive.
Relatively Long If You Hold The Leash In Your Hands.
Don't Provide The Best Control Over Your Two Dogs.
Overall Rating: 4.8/5
Pro Tip: If you already have an appropriate leash for running and walking, you can only purchase the coupler!
Best Hand-Free Setup For Running With Multiple Dogs!
Price: $$$$
Type Of Leash: Running Belt + Leash + Coupler.
Quality: *****
Convenience: *****
If you want to run with two dogs, holding one or two handles at the same time is not convenient nor safe. However, most hands-free leashes are not very comfortable and durable.
That's why I've searched for the perfect system designed with serious runners in mind. Luckily, I've found the Canicross Belt and Tug-Line made by Neewa. Originally constructed to get pulled by dogs on trails, this starter kit is also great to walk or run with them hands-free!
Lightweight, breathable and adjustable, the belt is ideal for optimal comfort while working out with both of your companions. The Neewa Bungee Leash also absorbs shocks to avoid jolts or sudden pulling.
Then, I've combined those two performant pieces of equipment with another leash coupler. It has a swivel leash attachment to prevent any tangle while running or walking with your two dogs. The overall cost might seem high, but you won't be disappointed if you're ready to invest in such high-quality gear!
Best Hands-Free Dog Leash Kit For:
Canicross, Running & Walking.
Optimal Performance.
Comfort & Convenience.
Pros.
Multi-Use Gear For Outdoor Adventures.
Elastic Rope On The Leash & Coupler.
Ultimate Belt For Comfort & Performance While Running With Dogs.
Made From High-Quality & Durable Materials.
Carabiner Attachment Point For Quick-Release If Needed.
Cons.
Very Expensive.
Lack Of Control.
Quite Long For Side By Side Walking or Running.
Overall Rating: 4.7/5
Best Affordable Tangle-Free Leash For Two Dogs!
Price: $
Type Of Leash: Rope Leash With Double Bungee Extension.
Quality: *****
Convenience: ****
If keeping the leash in your hand isn't an issue, this option might be ideal for you. It's an excellent all-in-one solution to walk with your two dogs without breaking the bank.
Thus, you won't need any other accessories to exercise both of them at the same time. It's affordable, durable, and comfortable to hold. The heavy-duty design of the iYoShop Dual Dog Leash is suitable even for large dogs.
For the included coupler, it has a bungee cord. So it will absorb shocks to reduce the feeling of being constantly pulled. Then, the 360° metal swivel is another convenient feature that keeps the ropes from tangling up.
With the padded handle and the lightweight construction, it's also well-suited for running, hiking, or any other outdoor sport.
Made from climbing rope, the quality of the leash is impressive for the price. Nearly all the customers are more than satisfied with their investment. That's why I highly recommend this product to any multi-dog household!
Best Double Dog Leash For:
Budget-Friendly Alternative.
Sturdy & Durable Construction.
Preventing Tangle.
Pros.
Strong & Long-Lasting Lead Made From Climbing Rope.
Double Bungee Extension To Make Pulling Less Unpleasant.
Tangle-Free & Chew-Proof Design.
Reflective Threads For Better Visibility At Night.
Soft Padded Handle For Optimal Comfort While Holding The Leash.
Cons.
Can't Be Comfortably Hold Around The Wrist.
Not Hands-Free.
Overall Rating: 4.6/5
Best All-In-One Hands-Free Double Dog Leash
Price: $$
Type Of Leash: Double Hands-Free Bungee Leash.
Quality: ****
Convenience: ****
This product is an inexpensive hands-free belt with two leads to exercise all of your companions simultaneously. Made from anti-tear nylon with a bungee cord, it's an excellent option for energetic pullers.
For a secure connection, the attachment points are sturdy and durable. The metal clasps can rotate easily through 360 degrees to avoid tangling.
With the long shock absorbing feature, it's designed to reduce choking if your dogs pull. It can also prevent you from getting back pain or problems in the long term.
Then, the two handles on both ends of the leashes are also great to have more control over each of your furry friends if needed. Overall, the Lanner Waist Leash is one of the best hands-free setups to run or walk with two dogs.
Best Running & Walking Leash For:
Shock Absorption.
Multiple Features.
Complete System For Two Dogs.
Pros.
Reasonable Price For The Good Level Of Quality.
Adjustable Waist Belt With Two Leash Attachments.
Two Padded Handles On The Two Lines For Better Control.
Bungee Webbing To Prevent Jolts & Sudden Pulling.
Have Several Features For Convenience.
Come With A Multifunctional Bag To Carry Things On Trails.
Cons.
The Leashes Could Get Tangled Because They Are Quite Long.
Not The Best Quality On The Market.
Waist Belt Could Be More Sturdy & Comfortable.
Overall Rating: 4.4/5
Budget-Friendly Waist-Worn Leash For Running & Walking With Two Dogs!
Price: $
Type Of Leash: Hands-Free Leash + Double Extension.
Quality: ****
Convenience: ****
Very similar to the Lanner Waist Leash, this one is a little bit more affordable and less likely to tangle up. Whether you want to exercise your dogs holding the lead or hands-free, it's an excellent gear to have.
The durable belt buckle with the two sturdy clasps ensures a secure and easy connection. The SparklyPets Leash also has a bungee part to absorb shocks and a traffic handle to increase your control over the dogs if needed.
Once again, you will have to invest in an extension to take both of your companions out. My other couplers previously recommended could also be great to consider, but I've selected another option for this budget-friendly setup.
The Vastar Double Dog Walker is an adjustable leash extension for two dogs. Sturdy, easy to use, and affordable, it offers more bang for your buck than most other products of this type!
Pros.
Excellent Quality Kit For The Low Price.
Secure & Solid Leash/Belt/Coupler Connections.
Can Be Held In Your Hands or Around Your Waist.
Two Handles At Both Ends To Keep Control Over Your Dogs If Needed.
Shock Absorbing Cord For Better Comfort.
Great Design To Prevent Tangled Leashes.
Cons.
The Bungee Could Be Improved.
No Swivel On The Coupler.
Overall Rating: 4.5/5
You Want To Run or Walk With More Than Two Dogs?
If you have three dogs, you can check out this leash extension made by CocoPet. Over that number, you can always invest multiple couplers of the same model. (E.g. You will need 3 couplers for 4 dogs.)
Types Of Double Dog Leashes.
As you may have noticed with my recommendations, there are many different types of leads and setups. Each design has pros and cons to help you exercise all of your dogs at once as conveniently as possible.
Before making your final choice, you should at least understand what your options are. Then, you will be able to select the perfect type of gear for your needs!
Leashes For Two Dogs VS Dog Couplers.
First off, let's clarify what the difference is between double leads and couplers. The leash for two dogs only has two ropes directly connected to one handle or belt.
On the other hand, the coupler is an extension you can hook on practically any standard leash to walk or run both your companions at the same time!
In general, the double leash is more likely to get tangled because it's longer. Nonetheless, it allows you to give more freedom to your dogs. This type of lead is also more appropriate to make them run or walk on different sides.
The main benefit of the coupler is that you can combine it with your favorite leash. Furthermore, this versatile accessory is easy to put on and off when needed!
Types Of Leashes.
Apart from the connection design, there are other differences between all the products on the market. The way you want to hold the leash is another element that will influence what gear you should choose for walking or running with your two dogs.
Would you prefer to exercise them hands-free or with the handle in one of your hands?
Hands-Free Leashes.
Some double leashes come with a belt or can be waist-worn for more convenience on trails. This type of setup is ideal for your comfort. Even if it's very tempting to select a hands-free lead, this feature also has drawbacks.
Without any handle, you will have less control over your dogs, especially if they pull. Thus, it's probably not the best option for you if they are untrained or heavy pullers.
Standard Leashes.
If you don't mind holding the handle while walking or running, you might consider this option. The main benefit of regular leads is the better control you will have over your dogs.
That's why it's ideal for training them if they aren't obedient enough yet. However, their design is much less agreeable than hands-free leashes.
Which One Is The Best For Two Dogs?
For optimal control over your companions, my recommendation would be to opt for something that you can easily hold in your hand.
Nowadays, most waist-worn leashes have additional handles you can use when needed. Nonetheless, it's not as safe and reliable as standard leads because you can't react fast if you need to grab the handle.
Both designs can be great to run or walk with your dogs. Thus, the right type for you will mainly depend on your preferences and their needs.
In my opinion, hands-free leashes could seriously improve your experience on trails. But you should train them properly to avoid any issue with this convenient feature.
If you don't know what to choose, the Ruffwear Roamer Leash can be hands-free or hand-hold with an adjustable handle. So it can be an excellent compromise.
Things To Consider For Choosing The Best Leash For Two Dogs!
Now, there are plenty of aspects to look at other than connection type and holding setup.
One of the main features to consider is the elasticity of the cord. Bungee leashes absorb shocks and ensure it's easy for you to exercise with both of your dogs simultaneously.
For better control, a traffic handle can keep them close to you and react fast if needed. This type of add-on is great for multiple dogs because managing two dogs with a standard leash handle can be tricky or even dangerous.
Another essential consideration is the swivel to prevent the leash from getting tangled. To sum up, here are the three main features to look for in double dog leashes and couplers!
Bungee Cord For Convenience
Extra Handles For Security.
Swiveling Attachment Points To Avoid Tangling.
Your Dogs Needs.
Apart from analyzing the product itself, you also have to keep the end-user in mind. Understanding your dogs' conditions will help you figure out which option you should choose.
For example, their level of training could seriously influence what type of leash is better for them. You should also consider their size, personality, age, and other elements to select the right accessory for their needs!
The Purpose Of The Leash.
Your dogs won't need the same equipment for daily walks as they would for running a marathon. So you must keep in mind what type of activity you plan to do with the double leash to choose an appropriate option.
If you don't understand why and how you will use the gear you're looking for, it can be complicated to select the right one for this purpose!
Your Personal Preferences.
At this stage, you should understand what your essential needs are. Now it's time to consider things you value as important.
For example, if you prefer to opt for an affordable double leash, it's OK. However, don't neglect your dogs' needs or conditions only to save some money.
What Makes Good Double Dog Leashes For Running & Walking?
To determine which options are the best on the market, I've based my selection on specific criteria. From the design to the length of the leash, my recommendations have many things in common.
Overall, you should be looking for an option that's convenient, secure, and durable!
Quality & Price.
The material, construction, and many other details will make some products better than others. If you want the best double leash out there, don't go for the cheapest option.
In general, you will have what you pay for, but you can still find gear with an excellent value for the price. In my recommendations, I've found high-quality items that won't break the bank!
Comfort & Convenience.
While you're running or walking with your two dogs, you want all of you to have a good experience. That's why features such as extra padding, bungee cord, or hands-free attachment are convenient to have on double leashes.
The best gear should make working out with all of your companions as easy and comfortable as possible for everyone!
No Tangling.
With two dogs, the different leash connections are likely to get twisted together. It's neither safe nor fun for you to solve this problem, especially with untrained or reactive furry friends.
Couplers with 360° swivel attachments and short straps are the ultimate solution to prevent any unnecessary tangle.
Extra Features.
There are plenty of other things you might want on the leash. For example, reflective trim or pockets can be convenient. All those types of add-on are fun to have but not essential.
According to your needs, some characteristics might be more important than others. Therefore, you could consider additional features to make your walks or runs more enjoyable!
You're Ready To Select The Right Double Leash For Your Needs!
With all the information I've shared with you today, you've everything you need to find the perfect lead to walk or run with your two dogs.
Once you understand what you should be looking for, you only have to analyze each appropriate product on the market. If you don't have much time available, you can always look at my recommendations and choose the best option for your needs!
How To Run or Walk With Two Dogs?
Finding the right gear isn't the only way to make sure you're ready to take them both outside at once. Before walking multiple dogs at the same time, each one should master loose leash walking.
Once they all have developed proper walking manners, it's time to try exercising two of your companions simultaneously. For the first time, choose an environment that's familiar to them.
Besides that, I recommend starting with short training sessions to ensure they keep their good leash behaviors with other dogs. After some practice, you might be able to enjoy running or hiking with multiple furry partners!
If you're an active runner, I highly recommend you to read my blog post on how to run with two dogs!
Last Thoughts About The Best Leashes For Running & Walking With Two Dogs!
Finally, I'm sure you will find all the gear you need to exercise both of your companions at the same time. Even if it's not easy, you will save a lot of time by taking them on daily walks altogether. However, everything will be much more simple with the right type of leash.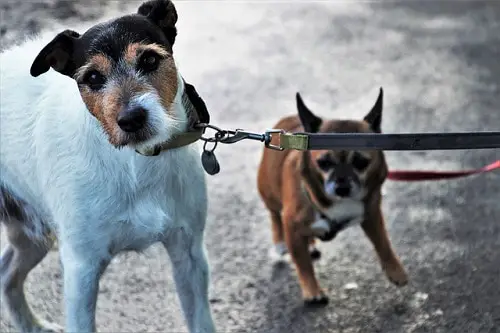 To choose the perfect option for your needs, you will have to consider your dogs' conditions, your preferences and analyze the products available. With my recommendations, you shouldn't have any problem finding good double leashes.
Thus, I hope all the information in this article was helpful for you. It would be awesome to meet each other on trails while working out with multiple dogs!