As a dog owner, it can be very interesting to do physical activity with your companion. If you both enjoy running, canicross is probably the best way to work out and have fun together. However, you will need to have the right canicross equipment and to train your dog before to start this awesome mushing sport. If you're an adventure enthusiast and you love running just like me, you should seriously read this article!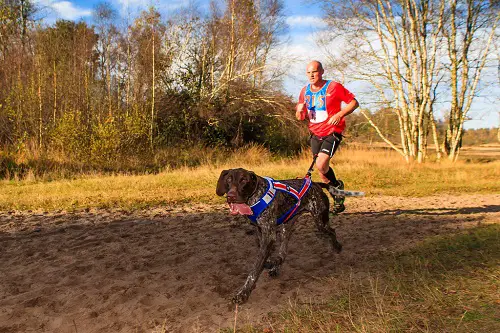 You Don't Know What Is Canicross?
Don't worry, it's simply cross country running with your dog. As you can see in the photo above, there an athlete that's getting pulled by his companion on outdoor trails. This is basically what this activity consists of, but it's less easy than it looks like!
If you and your dog are active and suitable for running this is the best sport you can enjoy together. Like any other activity, you will need some gear to start canicross. For your dog's safety and well-being on trails, you must use equipment that's designed for this mushing sport!
Now, you probably wonder what you should do if you have no idea how to find the right gear for cross-country running with your dog. It can seem very overwhelming and complicated, I've been there too. That's why I would like to share with you everything you should know about what equipment you need to start canicross! 
Essential Canicross Equipment Overview!
The first canicross gear you must have to run on trails with your dog is the harness. This piece of equipment is designed to provide him with greater support when he pulls you. An appropriate bungee leash is another gear that's highly recommended to prevent jerks and absorb shocks. Furthermore, you (the runner) must have a canicross belt or body harness to connect yourself to your dog. Then, there are some other optional accessories such as dog boots or a portable water bowl that could be useful for this mushing activity!
This short summary should have given you an excellent idea of what you need to head out on trails with your buddy. Nonetheless, understanding why you must have this equipment and how to choose the best products on the market is also quite important. Moreover, I've still plenty of information, tips, and details about canicross gear to share with you. Thus, let's get started!
Things To Know Before Starting Canicross!
First of all, the equipment isn't the only prerequisite to run on trails with your dog safely. Therefore, here are some other elements you should be aware of before to invest in canicross gear!
Is Your Dog Suitable For Canicross?
You should understand if your dog is suitable to do canicross safely. Every breed can enjoy this sport, but your buddy shouldn't run if he has some health issues or physical restrictions. That's why I highly recommend you ask your vet if it's OK for him to start canicrossing!
Special Gear Needed!
As you will see in this article, you need some canicross equipment to get started. There's not a lot of things to buy, but it's important to invest in good urban mushing gear. You will do a big favor to you and your dog by having the right equipment for this sport!
Advantages of Canicross!
Once you have the proper gear for this activity, you will be ready to benefit from some advantages. Obviously, it's an awesome way to exercise with your companion. If you want to improve your fitness and health this an excellent sport for your needs. Then, working out together will certainly strengthen the bond between you and your pet. Canicross also has plenty of other physical and mental benefits for both of you!
Is This Sport Difficult?
Almost any healthy person or dog can start canicrossing. After teaching him some basic command directions and finding the right canicross equipment for your needs, you're ready to go. It may be difficult at the start, but you will make it after some practice. It's one of the most accessible dog sports to enjoy together because it's relatively simple, not too expensive, and anyone can try it!
Why Do You Need Special Gear For Canicross?
Having the right equipment for the right activity is necessary for your dog's safety. Moreover, running with him is very affordable, so there's no reason to not invest in canicross gear. To give you an idea of how much it will cost, you can easily start to enjoy this sport with less than $100-$200!
How could it be dangerous for your dog to neglect the equipment? Let's say you want your dog to pull you while running with a simple neck collar. Unfortunately, this beginner's mistake could cause him pain, discomfort, or even some serious physical issues. You should absolutely not do canicross without an appropriate because it's simply too dangerous. Now, let me share with you all the gear you need to start this mushing sport safely!
What Equipment Do You Need To Start Canicross With Your Dog?
Here's everything you should have to enjoy cross-country running with your furry friend safely!
Canicross Harness.
Any running harness can do the job, but a canicross harness could be better depending on your needs. Like I already told you, don't run with your dog if he doesn't have an appropriate harness. (No collar)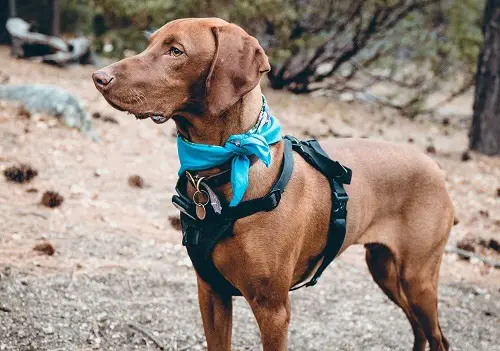 Some products such as the Freemotion Harness [Link Open In a New Tab] are designed to provide your dog with better support and force distribution. This piece of equipment is essential to ensure his comfort when he will pull you on running trails. You can find a lot of running harnesses online to make canicross more enjoyable and safe for your dog!
Body Harness or Belt. (For the runner)
Another harness for canicrossing? Yes but, this time it's for you. It isn't just your dog that needs to be comfortable while running. A belt or body harness is the essential gear that will offer you support and comfort for this mushing sport!
If you want to choose a simple leash that clips around you, it's OK to get started. However, a narrow waist leash can hurt your back if your dog is strong. That's why I highly recommend you to invest in one of the best canicross belts such as the Joring Belt [Link Open In a New Tab] made by Neewa!
How To Choose The Best Harness For You & Your Dog?
For dogs, avoid any harness that could restrict them to breathe well. If there's too much pressure on their chest or rib cage, you might want to try another one!
For you, if your harness is good, comfortable, and well-fitting, it's perfect. The best way to know if your belt and your dog's harness fits well is by trying them. Go for a small ride to analyze if your dog is breathing well and if something is restricting one of you to run normally. After that, you just need the perfect leash to start canicross!
Towline or Appropriate Leash.
Avoid any kind of short walking or retractable leashes. A hands-free leash that's relatively short would be the ideal for canicross. The bungee feature is also great to absorb shock and it will encourage your dog to pull. A leash that is too long could be dangerous if you trip over it or get stuck on something around you. That's another good reason to choose wisely your canicross gear. For the towline, I would recommend the Neewa Bungee Line! [Link Open In a New Tab]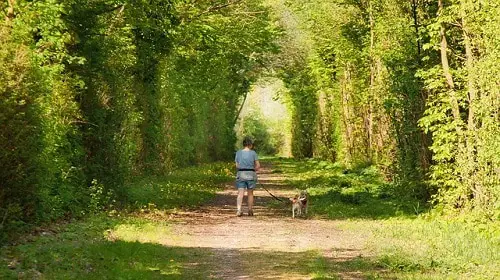 Here are some interesting features you can find on canicross equipment!
A Quick-Release or Emergency-Release.
This can be very useful to save you from potential injuries. With this feature, you can free yourself from your dog if something is wrong. For example, if he suddenly decides to chase a squirrel or any other wild animal this feature would be extremely helpful. That's also great if you want to learn canicross more safely!
Water Bottle Holders & Pockets.
This is a must-have if you want to go for a long run with your dog. If you need a small snack or some water during your run this feature will be very appreciated. This dog sport can be very intense, so it's highly recommended to have water and food with you on trails! 
Must-Have Gear For Canicross Runners!
I'm not here to teach you how to run, but here's some interesting gear for runners.
Good Running Shoes.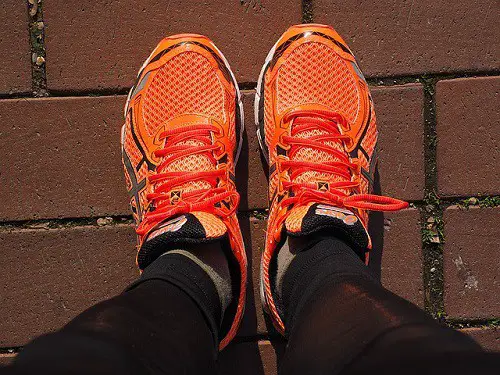 You need quality outdoor running shoes to enjoy canicross safely. This mushing sport can be very difficult and dangerous for dog owners without the right equipment. If you don't want to invest in good shoes, you will increase the risk of hurting yourself. Here are some features you want to find the perfect canicross shoes for you!
Comfortable.
Flexible
Breathable.
Durable traction. (Grip)
Water repellent.
Underfoot protection.
Etc.
Good Canicross Clothes.
Lightweight and breathable running clothing is the best thing you can wear. In cold climates, gloves, warm clothes, and even sport tuques can be useful to avoid getting sick. If you are somewhere that rains often, lightweight and waterproof clothing can also be a good investment!
Optional Gear You Should Consider For Canicrossing!
You don't have anything to carry water and food? That might be problematic, but I've found some solutions for you. You can buy a body harness such as the Hurtta Hiker Belt [Link Open In a New Tab] with room for water bottles, food, or any other small accessories. Another option is to invest in a Camelbak Hydratation Pack. [Link Open In a New Tab] This is a great solution for outdoor lovers because you could use it for many outdoor sports!
Portable Dog Bowl.
Your dog might need some food and water before, during, and after your canicross ride. Thus, a portable bowl is a very convenient way to feed him or make him drink outdoors without wasting anything. You could use the Outward Hound PoochPouch [Link Open In a New Tab] for different sports such as running, hiking, or camping if you're often going out on adventures with your companion!
Here are some other canicross pieces of equipment that might be useful on trails!
Musher's Paw Wax. (To Help Protect Your Dog's Paws!)
Dog Boots. (To Protect Your Dog's Paws!)
Bandages For Pets. (In Case your dog cut himself while running!)
Treats. (To motivate your dog and congratulate him after canicross.)
Spray. (To keep other aggressive dogs away!)
Sunscreen For You & Your Dog. (The best way to come back without sunburns during sunny days.)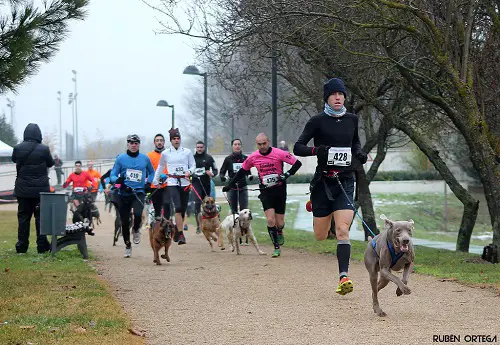 I share with you a lot of gear you should have for canicross. Here's my ultimate list of must-have canicross equipment!
Running harness.
Canicross leash.
Belt or body harness for you.
Running gear.
Water and food. (Especially for long runs!)
Dog waste bags.
A positive attitude.
Have fun! (The most important!)
Last Thoughts About Canicross Gear!
Finally, there's a lot of gear needed for this mushing sport. However, you must have all the canicross essentials to get started. Moreover, you're making you and your dog a huge favor by investing in quality equipment. You will enjoy this activty much more if you are comfortable while doing it!
Even if it's not the easiest sport to start, I highly recommend canicross to active people with a high-energy dog. If you want to learn more about canicross, you should seriously read this article. I hope this article has helped you to find the right running gear for you and your dog. It would be awesome to see you both have fun canicrossing together. I hope to meet on trails with your buddy!