Schutzhund training requires a lot of equipment, including dog leashes. According to the USCA rulebook, the handler must have a leash at all times during the IGP trial. You will also need different lines to prepare and train your dog for this canine sport.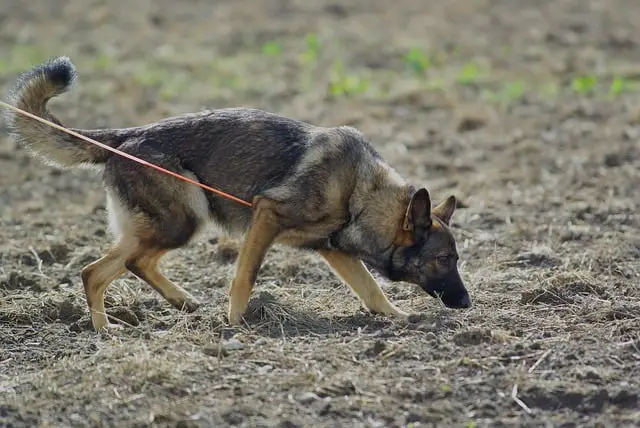 But you might wonder what types of leashes you should get and which models are the best for Schutzhund. Thus, here's everything you should know about the use of this dog equipment for obedience, tracking, and protection work.
What Type Of Leashes Do You Need For Schutzhund Training?
For IGP trials, you will need two different leashes. A standard short lead and a tracking line. The first one is required during the whole trial and must be small enough to be carried over the shoulder, around the waist, or in a pocket. The second leash is necessary for the tracking phase and must be 10 m (33') long.
When it comes to training, you can use whatever equipment you prefer and that works best for you. In general, most handlers will have many leashes for different purposes. For example, some use a standard 6-foot lead for walking and obedience and a long line for protection work and tracking measuring between 10 and 20 feet.
However, you might need or prefer to have more leashes depending on the training techniques used. Apart from the length, what else should you consider? Each type of leash will require specific features to be appropriate for Schutzhund.
Tracking lines have to be light and non-slip. Biothane material is also convenient to keep the leash from getting dirty and soaking water. For protection training, you will need a comfortable leash that won't burn your hands during agitation and bite work.
So, What Schutzhund Leashes Should You Get?
The best way to know what leash you need and when you will need it is to ask your club members or training director. Depending on the method they use, some leashes might be more appropriate than others. So if you follow their process, get the same gear they have.
Your dog's conditions, personal needs, and preferences will also influence what you should get. But if you have little to no experience with Schutzhund training, you might be better to listen to more knowledgeable and skilled handlers.
Best Dog Training Leashes For Schutzhund!
Now that you have a good idea of what you should be looking for, it's time to find the right equipment for you. We all want the best leashes for Schutzhund training, but our needs might be different. So here are some recommendations for each type of lead you should get!
Trial Short Leashes
Length: 4 Feet
Width: ¾ Inch
Length: 3 Feet
Width: ¾ Inch
Length: 4 Feet
Width: ¾ Inch
Trial Tracking Lines
Length: 33 Feet
Width: ¾ Inch
Length: 33 Feet
Width: 1 Inch
Length: 33 Feet
Width: ¾ Inch
Standard Dog Training Leashes
Length: 6 Feet
Width: 1 Inch
Length: 5 Feet
Width: ¾ Inch
Tracking Lines For Training
Length: 15 Feet
Width: ⅝ Inch
Length: 20 Feet
Width: ¾ Inch
Length: 13 Feet
Width: ¾ Inch
Leashes For Protection Work
Length: 10 Feet
Width: 0.5 Inch / 2 mm (Diameter)
Length: 10 Feet
Width: ¾ Inch
Length: 6 Feet
Width: ⅞ Inch
Thickness: ¼ Inch
Most products mentioned above are available in different sizes. So if you like a leash but want another length, you can click on the link to see what sizes are available. 
Which Leashes Should You Choose?
With all the models on the market and the recommendations I just gave you, it can seem overwhelming to select the best Schutzhund leashes. You might still not be sure what length, material, and features you should get. 
In general, it comes down to personal preferences. But some types of leashes are better for certain parts of Schutzhund training. For example, those made from biothane are durable, waterproof, and lightweight. That makes them ideal for tracking.
On the other hand, some handlers prefer another material for leashes. So you should try as many as possible and ask more experienced trainers what they use. Then, it will be much easier to choose the right Schutzhund equipment for you.
Where To Buy Schutzhund Leashes?
When it comes to leads and Schutzhund gear, you have many options. My recommendations are just some of the best dog leashes for this canine sport. There are many other places where you can get your Schutzhund equipment.
If you're part of a club or know other handlers, you can ask them if they have leashes they don't use anymore. But sometimes it's better, or you have no other choice than to buy new. Here are some of the best brands and sites that sell dog leashes for Schutzhund training!
Other Schutzhund Equipment & Accessories To Consider!
Apart from the leashes, you will need other gear to train your dog for Schutzhund. I won't get into all the items required for this canine sport, but I can at least cover the essentials. So you might need the following equipment to use the leads you have bought (or will buy).
Collars.
Standard, prong/pinch, electronic, and fur saver collars can all be helpful for Schutzhund training. You don't need all of them to get started, but you should at least have a flat one. Otherwise, where will you attach your new leashes?
Harnesses.
To improve your dog's comfort and perform specific training exercises, you might need a harness. Some handlers have different ones for protection and tracking. But you can also use a versatile model such as the Redline K9 Dog Harness.
Gloves.
Even if you have the right leash, your hands are still prone to burns and injuries. That's why it's always an excellent idea to wear gloves while training your dog for Schutzhund, especially for protection work. It's better to be safe than sorry.
Learn More About Other Schutzhund Equipment!
Last Thoughts About Dog Leashes For Schutzhund!
Finally, training your dog for Schutzhund will require specific leashes. If you're just getting started, you can use a standard lead for obedience. But as you get better and move to more advanced training, you will need the proper equipment.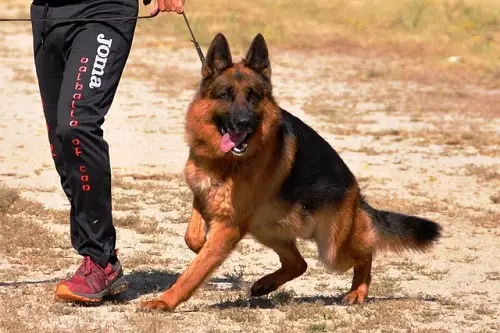 For tracking, you should have a long, light, and anti-slip leash. For protection work, most handlers use a medium line that's comfortable and easy to hold. So now it's time to buy that equipment and start working with your dog.
Let's Find Those Schutzhund Leashes!