We all know that walking your dog is important. But sometimes you just don't have the time or energy for that. So you might wonder if the law requires it. Since domestic animal regulations will vary from one place to another, let's find out if you legally have to walk your dog. 
In general, it's not illegal to not walk your dog. But some countries had reinforced the law in recent years to penalize not exercising or walking a dog. For example, it's illegal not to exercise or walk your dog in Australia according to subsection 6F of the Animal Welfare Legislation Amendment Bill 2019.
In the United States, there seems to be no regulation against not walking your dog. However, state and local welfare legislation may differ from one place to another. Therefore, make sure it's not illegal to not walk your dog where you live.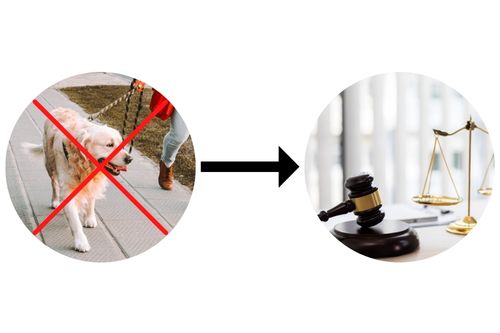 Where Is It Illegal To Not Walk Your Dog?
There are a few places where it's illegal to not walk your dog. In Australia, pet owners that don't walk their dogs may face a fine of up to $2,700 (AU$4,000), according to CCN. Not walking or exercising your dog is an offense of subsection 6F in the Animal Welfare Legislation Amendment Bill. 
It requires pet owners to exercise a dog for 2 hours after a 24-hour confinement or 1 hour and another hour in the next 24 hours. So you have to exercise your dog for at least 1 hour per day, which almost inevitably includes walking.
It is also illegal not to walk your dog in Turin, Italy. The city's council introduced a law requiring dog owners to walk their dogs at least 3 times a day, as stated on the Environmental News Network in 2005. If they don't, they could have to pay a fine of up to 500 euros ($650). However, many people on Reddit say it's not true, and this rule can't really be enforced. 
The German Minister of Food and Agriculture also proposed a similar law. Dog owners would have to allow their dogs to go out and exercise at least 2 times per day for a total of 1 hour in the form of a walk or free running outside. But the proposition made many pet owners angry, and it's not an official law yet.
Learn more about it on NPR.
Whether it's illegal or not to not walk your dog, you shouldn't do it. Walking is essential for dogs to stay in good mental and physical health. It's also an opportunity for them to do their business, breathe fresh air, and socialize with other pets. 
So not walking your dog may be legal where you live, but it doesn't mean it's OK. Dogs aren't just pets. They are animals with needs just like humans. That's why as their owners, we have to take care of them and allow them to walk.
Is It Cruel To Not Walk Your Dog?
Not walking your dog can be a form of cruelty. Without walks, dogs might lack physical activity, mental stimulation, and socialization. That could lead to negative repercussions, pain, and suffering. So keeping your dog from those fundamental needs is cruel.
Don't get me wrong. It's not the end of the world if you skip a dog walk, and it doesn't make you a bad owner. However, not walking enough can be harmful to your dog's health and well-being. That's why you should walk together regularly.
Here's what would happen if you don't walk your dog!
How Often Should You Walk Your Dog?
In general, most dogs will need to walk at least 30 to 60 minutes per day. Ideally, it should be divided into 2 or 3 walks per day. However, how often your dog should walk will depend on his breed, age, health, and physical condition. 
Last Thoughts About The Legality Of Not Walking Your Dog!
Finally, it's generally not illegal to not walk your dog. The only places where I found a law that requires dog owners to walk their dog is Australia and Turin, Italy. Maybe Germany will add up to this list in the future.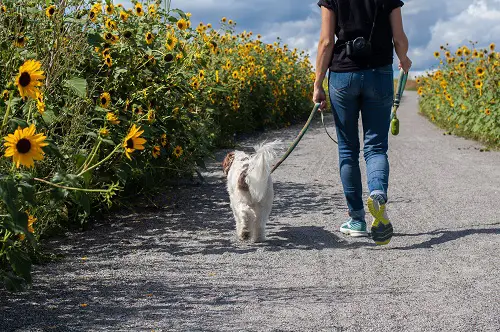 But regardless of the law, you should do what's best for your dog. And walking is good for his overall health, well-being, and happiness. So you should walk your dog even if it's legal not to do it.
Let's Walk That Dog!