Let's be honest; winter isn't the best season to go out and exercise with our dogs. But the cold temperature isn't a valuable reason to let them get bored and inactive all day long.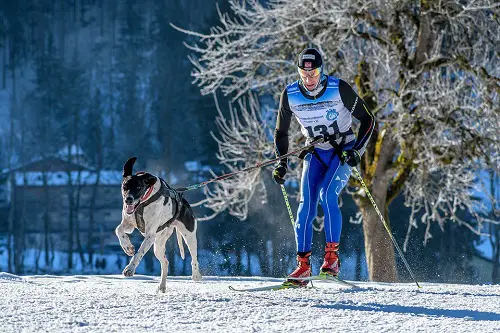 The good news is that Skijoring might be the solution to keep your dog healthy and happy when there's snow outside. Ski…What? Not a long time ago, I wasn't familiar with that term either. So let me share everything I've learned about this fun sport!
What Is Skijoring With Dogs?
It's a sport that combines cross-country skiing and sled dog racing. Skijoring basically means "Ski Driving", and it's derived from the Norwegian word "Skikjøring". This mushing activity consists of one or two dogs towing someone while he's skiing behind them.
Here's a video to show you what skijoring looks like in action!
As you can see, skijoring can be an excellent way to exercise with your dog in the winter. But to get started with this mushing sport, you have a lot of work to do. In this article, you will find all the information you need to have fun on cross-country skiing trails together.
How Do You Skijor With Your Dog?
If you are into skiing and your dog loves to run, skijoring is definitely for you. Now you might need some help to prepare yourself for this joring activity.
From choosing the proper gear to teaching mushing commands, there are many things you must learn. To make skijoring with dogs simple and accessible to everyone, here are 5 steps to follow!
Step 1: Make Sure Your Dog Is Suitable For Skijoring!
First of all, you should know that your dog might not be suitable for skijoring. His breed, age, size, physical conditions, health, and many other elements can restrict him to pull you on trails.
That's why I highly recommend talking with your vet before starting any new sport with your dog. It's your responsibility to ensure that skijoring is a safe and appropriate way for him to exercise.
For example, Chihuahuas are merely too small and not muscular enough to practice such an intense physical activity. However, the breed isn't the only factor you have to consider.
What's Required For Dogs To Be Suitable For Skijoring?
In general, your dog must be fully grown, healthy, medium-sized, and fit to get into skijoring. It's also essential for him to withstand cold temperatures relatively well to run in the snow for long periods. Therefore, this mushing sport isn't safe for puppies (under 1-2 years old) and overweight/injured dogs.
Basic Training.
Your dog should also be relatively obedient to start any mushing sport. Teaching him the fundamental commands and working on his manners will be extremely useful to go on trails. Without proper obedience training, it's practically impossible and not safe to get into skijoring together.
What Are The Best Dogs For Skijoring?
Your dog's main job on trails is to run and pull you. Therefore, natural runners and pullers generally perform very well at skijoring. Strength, energy, and stamina are some of the most important traits mushing dogs should have.
Top 10 Skijoring Dog Breeds!
Some breeds are more suitable for this type of work than others. For example, Huskies were bred for this purpose. So they are naturally athletic, fast, and powerful partners for mushing sports. Here are other dog breeds that are very well-suited for skijoring!
Alaskan & Siberian Huskies.
Samoyeds.
Malamutes.
German Shorthaired Pointers.
Border Collies.
German Shepherds.
Dalmatian.
Golden & Labrador Retrievers.
Greyhounds.
Great Danes.
Bonus: Athletic Mixed-Breeds.
If your dog isn't on the list, it doesn't matter. He can still be suitable for skijoring as long as you respect his conditions and limits. You don't need one of the best breeds for this sport to get started and have fun on trails!
Step 2: Improve Your Cross-Country Skiing Skills!
Once you know your dog can practice skijoring safely, it's time to make sure you are ready too. As with any other sport, it's important to take one step at a time.
Thus, you should at least have some skiing experience before adding up your dog to the equation. Otherwise, it won't be fun for either of you because you will probably spend more time in the snow than on trails.
If you are a complete beginner, you can either sign up for lessons or take some time to learn by yourself. Whatever option you choose, you must be good at skiing alone to start skijoring with your dog.
I've found an excellent article on the REI website to help you learn the basics of cross-country skiing!
For people with some experience, I would still recommend improving your skills if it's possible. Learn the skating technique is very useful for this sport.
Skiing with your dog is a whole different sport. So the better you are without him, the easier the transition to skijoring will be.
Step 3: Invest In The Right Skijoring Dog Equipment!
To start cross-country skiing with your four-legged friend, you must have some gear. For everyone's satisfaction, I highly recommend you purchase high-quality equipment that's designed for skijoring.
Ultimate Skijoring Gear List.
Water & Food.
Skiing Equipment. (Skis, Poles, Boots, Winter Clothing, Etc.)
Joring Dog Harness.
Tow-Line.
Hip Belt.
Paw Protection. (Dog Boots or Wax)
Poop Bags.
Other Accessories.
First of all, you should have the essentials for skiing. This includes the skis, poles, boots, and proper clothing. If you don't have any of that, you can check out this package on Amazon.
For the joring gear, you will need an appropriate harness, tow-line, and waist belt. Everything should be based on your dog's needs and conditions.
The equipment he will wear while skijoring must be comfortable and convenient for him to pull you on trails. Here are two starter kits for beginners you should consider!
You might also need some other accessories to make this mushing sport as safe and enjoyable as possible. To protect your dog's sensitive paw pads, I highly recommend investing in shoes or paw protection wax.
The Ruffwear Grip Trex Boots and the Musher's Secret Paw Wax are two great solutions to avoid paw injuries on trails. It will also prevent the snow from getting stuck between his paws, which be harmful to him.
If your dog doesn't have a thick coat, you might also want to keep him warm with extra clothing such as the Ruffwear Powder Hound Jacket. Finally, you should not forget to bring some water, food, and poop bags to be ready for skijoring.
It might seem like a lot, but you must be ready for any situation. The more equipment you have, the better your experience on trails will be.
Step 4: Teach Skijoring Commands To Your Dog!
Now you are almost ready for your first skiing adventure with your dog. The only thing that's missing is a means of communication to tell him where to go on trails.
Even if he's the one leading and pulling you, it's still important to keep control over him. That's where mushing commands become essential for skijoring.
Training is an important part of mushing sports. Your dog might be physically ready, but he also has to be mentally prepared. That's why mastering basic obedience training and the joring language will make your adventures on trails much more fun and safe.
You might have the right skills and equipment to get started, but you won't go very far if your dog doesn't know when it's time to start, stop, turn, etc. Thus, here's a list of the principal voice cues you should master before heading out on trails.
Skijoring Commands List!
Hike, Go, or Mush. (Start Running)
Stop or Whoa. (Complete Stop)
Easy. (Slow Down)
Gee or Right. (Turn Right)
Haw or Left. (Turn Left)
Leave It or On By. (Ignore Distractions)
The voice cues mentioned up there are the most commonly used. However, feel free to replace them with whatever words you want. Just make sure your commands are short and consistent. They should also be easy to differentiate for your dog.
How To Teach Your Dog New Voice Cues?
When your dog has to learn something new, you should make it as simple and easy as possible for him. If you want to teach him skijoring commands safely and efficiently, I highly recommend doing it during your daily walks.
If you try everything simultaneously, it's more likely that nothing ends up working as you wanted to. That's why you should focus on one step/skill/command at a time to prepare your dog for skijoring.
Training requires a lot of time, determination, and energy. But it can still be fun if you have the right attitude during skijoring lessons. You should never punish your dog (unless it's necessary), and don't be upset if he doesn't learn as fast as you want.
Let him the time he needs, and be patient. You also have to know your joring partner's limits and conditions to understand how you should train him. Believe me; all your efforts worth the quality time you will spend together while skijoring!
Step 5: It's Time To Head On Trails & Have Fun Skiing With Your Dog!
If you have cross-country skiing skills, the right equipment, and a well-prepared dog, you are all set for skijoring. The last step is to go out there and have fun.
Just make sure you find pet-friendly trails and that your dog is comfortable with his gear on. Then, you can head out for your first skijoring adventure together.
I highly recommend you start somewhere there are as few distractions as possible. Beginning on popular trails at busy hours will not help your dog to focus on his job.
You should find a place that's relatively calm to improve your skijoring skills without interruption. After some practice, you should be able to go on more long and challenging adventures with your dog.
Even if you are a beginner, you should still be careful not to disturb other trail users. During your first skijoring sessions, it's easy to forget about everything around you. But please don't destroy the tracks, keep control over your dog, and be mindful because you're probably not alone on the trails.
Skijoring Tips For Beginners!
Before letting you go, I still have some advice to help you get started. Skijoring isn't an easy sport to get into, but my tips might allow you to avoid some beginner mistakes. Thus, here are a couple of things you should know to make the most from your adventures on trails!
Preparation Is The Key!
Even if you're stoked about the idea of skiing with your dog, don't skip any step mentioned above. They are all essential to prepare you both for skijoring.
If you don't spend enough time improving your skills, training your dog, or investing in the right gear, it will be easy to notice it on trails. Thus, proper preparation is the difference between people who struggle and those who thrive on trails!
Start Slowly & Improve Gradually!
You should not expect anything for the few first times you skijor with your dog. In the beginning, the shorter your training sessions are, the better. Don't plan to start with a trail over 4 miles without any problem; it will just not happen.
It's your responsibility to respect you and your dog's limits and conditions. You have to let him build up stamina and improve your skills together. Then, you can gradually step up the difficulty, intensity, or length of your skijoring adventures.
Don't Forget Water!
Keeping you and your dog hydrated on any outdoor sport is essential. Skijoring is an intense workout for both of you, so taking a couple of refreshing breaks might not be a bad idea. That's why you should always pack enough drinking water for everyone before heading out on trails.
Consider The Temperature!
Skijoring can only be possible if there's snow, so the weather might not always be appropriate for your dog. Extreme temperatures can be harmful to him. If it's too cold for you to go outside, it's probably too cold for him as well.
In general, you should stay at home if it's below 5°F (-15°C). But your dog's tolerance to the cold will vary depending on his breed and coat type. For example, the Husky, Malamute, or any other arctic breed can withstand temperatures as low as -50°F (-45°C).
Thus, please make sure the meteorological conditions are safe and agreeable for everyone. Skijoring when it's too cold is fun neither for you nor your dog. As long as you understand and respect your limits, everything will be fine.
Don't Let Your Dog Do All The Work!
If you're just getting started with joring sports, you might be tempted to let your dog pull you all the time. Nonetheless, it doesn't work like that because it's a team play. You still have to be active on your skis and help him to go forward.
Skijoring should be physically challenging for both you and your dog. Letting him tow you without putting any effort is not safe. It will put too much strain on his back and increase the risks of injury.
Have Fun!
There might be a lot of preparation to do and information to process but never forget to put a smile on your face. Skijoring is one of the best ways to have fun with your dog in the winter.
I highly recommend you take the time to enjoy each cross-country skiing adventure. You can plan breaks to look at the view, take some photos, and let your dog sniff around. It's your responsibility to make sure this mushing sport is enjoyable for everyone.
What About Other Dog Joring Sports?
Once you master the basics of mushing, many new doors will open to you and your dog. Skijoring is an excellent activity to do in the winter, but what can you do when there's no more snow?
Well, you have a lot of options. From canicross to bikejoring, passing by skatejoring, there are many urban mushing sports to explore. Thus, you can enjoy pretty much any activity with your dog.
Do you enjoy biking, running, skateboarding, or rollerblading? Whatever you're into, there is an option for you. Here are some useful links to some of my other articles about different joring sports!
Last Thoughts About Skijoring With Dogs!
If you're looking for an activity to do with your dog this winter, please consider skijoring. It's a fun way to keep you both healthy and happy during the coldest months of the year. Now you only need to take action and follow my 5 steps to get started as soon as possible.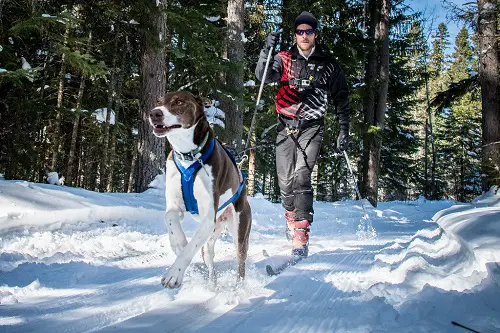 I hope my article will help you prepare yourself for cross-country skiing with your dog. With some practice, the right gear, and a lot of training, you should be all set. I'm sure you will have fun on your skijoring adventures.
See You On Trails!