Dog agility is the ultimate sport to exercise your companion both physically and mentally. It consists of training him to go through an obstacle course, including hurdles, weave poles, and TUNNELS.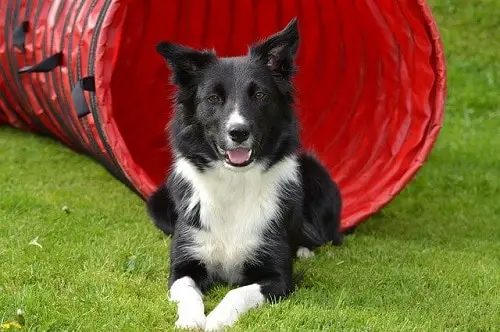 Thus, you can't get started without the right equipment. An open tunnel is essential to make your agility parkour fun and challenging for your dog. But with all the options out there, you might wonder which product is the best one for your needs.
In general, I would recommend the HDP Dog Agility Tunnel (18′) because it offers the best bang for your buck. This piece of equipment is not too expensive, durable, and AKC compliant. In other words, it's the tunnel you need to start training your dog or improve his agility skills at home!
Since we all have different needs, this option might not be the best for you. To make sure you find the right one, I've selected many other products. For example, the Agilipet Tunnel is the perfect piece of gear for professional athletes.
More versatile, sturdy, and long, you should seriously consider this alternative if you can afford it. It's the ultimate option to prepare your dog for agility competitions.
If you're in a hurry, you probably don't have time to read my whole article. Thus, here's my comparison table of the top 3 dog agility tunnels. It will give you a quick overview of my favorite options on the market!
| | | | |
| --- | --- | --- | --- |
| Tunnel: | HDP 18′ | Agilipet | Cossy Home |
| Image: | | | |
| Price Range: | $$ | $$$$$ | $ |
| Best For: | More Bang For Your Buck | Professional Equipment | Affordable Option |
Top 3 Best Dog Agility Tunnels!
Introduction To The Dog Tunnel As Agility Equipment!
To start training your dog for agility in your backyard or at home, you will need some gear. The most common obstacles in a homemade course are jumps, weave poles, and tunnels.
Whether it's to prepare your dog for competition or have fun together, you should get all of this equipment. For today, let's only put our focus on the tunnel.
An open tunnel is an excellent obstacle to introduce your dog to agility training because it's generally easy to master. Running at full speed in a long and wide tubular object should not be too difficult for him.
Most dogs also love tunnels because they can run fast through them. But some pieces of equipment are more appropriate to add to your obstacle course than others!
What Makes Good Tunnels For Dog Agility?
Before giving you more information about the best options I've found on the market, there are some things you should consider. Not all tunnels are suitable for your dog to run through. To figure out which is the right one, you have to consider his conditions, aspects of the products and your preferences.
Size.
To make sure your dog can run through the tunnel without any difficulty, it has to be large enough. If you only do agility for fun, there's no need to even care about the competition standards. In this case, the opening diameter you must look for depends on your dog's size.
For beginners, the wider the tunnel is, the easier it will be to master the obstacle. Thus, his experience might also help you figure out what dimensions are appropriate for his needs.
If you want your dog to compete in agility events, you have to find a tunnel that's compliant with the organization's guidelines. As specified in the AKC Obstacle Specifications (p.35), the open tunnel should have a height and width of 25 inches (+/- 2 inches) with 4-inch rib spacing required.
Thus, selecting a tunnel with openings between 23 to 27 inches in diameter is normally appropriate for professional agility training. To conditionate your dog to this type of obstacle properly, you have to consider the size.
What About The Tunnel Length?
For this specification, you have more freedom. According to the AKC Agility Organization, anywhere between 10 and 20 feet is allowed in competitions. Thus, most tunnels have an appropriate length for competitive training.
But there's no such thing as buying a too short or too long tunnel. Unless your dog is just getting started, I recommend opting for something of considerable length.
If you invest in a big tunnel, you will have more flexibility concerning the obstacle course difficulty. Therefore, you will be able to make it more challenging for your dog's satisfaction if necessary.
For beginners, relatively short tunnels might be more appropriate. If even they are easy obstacles, you should make them as simple as possible to overcome for your dog.
Starting with a tunnel with 20 feet of length might not be the best move. The idea of running into such a long tubular obstacle might scare an inexperienced athlete.
Overall, you have to opt for a tunnel properly sized for your dog's measurements and experience. The reason why you do agility training will also influence what dimensions you need.
Quality.
Like any other equipment, you want to invest in something durable. The tunnel doesn't have to be made of indestructible material, but it should withstand your dog running into it.
In general, most high-quality tunnels are made from PVC (Polyvinyl Chloride). It's a sturdy, waterproof, and relatively heavy material that can last for many years of regular agility training.
The Dacron material (polymer fabric) is another great option that's more common on the market. It's more flexible, lightweight, and cheap, but slightly less durable than PVC.
The construction itself can also influence the quality of a tunnel. If it's well-made, the product will last longer and be more performant. Thus, this is an essential aspect to consider for competitive agility dogs.
Weight.
The weight is another factor you should consider to select an appropriate dog agility tunnel. Some options are extremely lightweight when others are quite heavy.
The main element that will determine the weight of an open tunnel is the material. So if it's made from Dacron or any other type of polymer/polyester, it will be on the light end. On the flipside, PVC tunnels are generally heavier.
But what is the best for agility training?
It depends; each side both has pros and cons. Lightweight tunnels are very portable, easy to install, flexible, and affordable. However, they aren't as stable and safe for your dog as heavy ones.
For fun backyard play, choosing an agility tunnel that doesn't weigh a lot should not be problematic. But if you are serious about getting into this dog sport, investing in heavy-duty and professional equipment would be a better option.
Your Personal Needs.
The tunnel you should choose will vary according to your situation. Your level of expertise, budget, dog's conditions, and other preferences can influence your needs concerning this piece of agility equipment.
For example, let's say you want to get into agility training to exercise and have fun with your dog. In this case, you don't have to invest in expensive gear right off the bat. It's alright to start with an affordable tunnel.
On the other hand, professional athletes should have access to high-performance agility equipment. Thus, you should be ready to put in more money to train your dog safely and efficiently.
Quick Tip: In general, it's always better to invest in a quality tunnel, which often means more expensive. You will do a huge favor to both you and your dog by having the best equipment you can afford.
5 Best Dog Tunnels For Agility Training!
It's enough information, now let's find out what product you should pick. As I told you many times, we (and our dogs) all have different needs.
To make sure you find what you are looking for, I've selected 5 of the best options available out there. Here are more details about each dog tunnel I recommend for agility training!
Best Overall Dog Agility Tunnel → The HDP
Diameter: 24"
Length: 18 ft
Quality: ****
Material: Intertwined Wove Oxford Dacron.
Weight: 2.38 lbs
Price Range: $$
My Overall Rating: 4.8/5
Recommended on the AKC Blog, the HDP Open Tunnel is the best option for most people. With 24" wide openings and 18 feet of length, it's suitable for practically any dog breed. Made from good quality Dacron and steel grommets, this agility equipment is built to last.
If money is one of your biggest concerns, you're in luck because it's one of the most affordable options on the market. Thus, I highly recommend this dog tunnel because it offers the most bang for your buck.
Easy to set up, lightweight, and well-made, it's an excellent deal for beginner and intermediate athletes. It's not as durable and versatile as professional gear, but it's still an easy entry into the world of dog agility!
Best Agility Tunnel For:
The Value. (Quality/Price)
Fun Backyard Playtime.
Beginners & Intermediates.
Pros:
Performant Equipment For An Affordable Price.
AKC Compliant Agility Tunnel.
Made From Durable Material.
Appropriate Size For Most Dog Breeds.
Lightweight & Convenient Design.
Come With One Carry Case.
Cons:
Not As Stable & Safe As PVC Tunnels.
Stakes Are Relatively Cheap, So They Bend Easily.
Best Professional Dog Agility Tunnel For Competition → The Agilipet
Diameter: 24"
Length: 15 ft
Quality: *****
Material: PVC
Weight: 35.28 lbs
Price Range: $$$$$
My Overall Rating: 4.9/5
If you're looking for professional-grade equipment for agility training, don't read any further because this is what you need. The Agilipet Dog Tunnel is the ultimate option to prepare your furry athlete for competitions.
Made from high-quality PVC, there's no other product as durable and sturdy as this one. For the length (15 ft), it's great to make your obstacle course more challenging by adding a curve in the tunnel. It's also heavy enough for stability but not too much, so it's still convenient.
Overall, I highly recommend this tunnel for its quality and performance. The only issue with such excellent gear is the price. Yes, it's expensive, but every customer agrees it is worth the extra money!
Best Agility Tunnel For:
Professional Equipment.
Durability & Quality.
Stability & Performance.
Pros:
Heavy-Duty Tunnel. (UV/Weather/Fade Resistant)
Made From Marine Grade PVC Material.
Ideal Size For Competition Agility Courses.
Stable & Safe Design For Your Dog.
Most Performant Gear Available On The Market.
1 Year Replacement Guarantee.
Cons:
Expensive.
Relatively Heavy.
Tunnel Bags Are Not Included.
Diameter: 24"
Length: 10 ft
Quality: *****
Material: PVC
Weight: 9 lbs
Price Range: $$$$
My Overall Rating: 4.8/5
It's OK to start with beginner-friendly equipment to get into dog agility, but it doesn't have to be flimsy. Thus, the Cool Runners Tunnel is an excellent option to get started with quality gear.
Its length (10 ft) is perfect for introducing your dog to this fundamental agility obstacle. However, it's much more sturdy and durable than most other short tunnels because it's manufactured from rugged PVC.
I would highly recommend this product to anyone serious about starting agility training with his dog. It can also be an excellent piece of equipment for intermediates or experts looking for a high-quality 10 ft tunnel.
Best Agility Tunnel For:
Introducing Your Dog To Agility.
Serious Trainers.
Quality & Durability.
Pros:
Great Value For The Money.
Made From High-Quality & Durable PVC.
Beginner-Friendly & Convenient Design.
Suitable For Indoor & Outdoor Agility Training.
Fold Up Nicely For Storage.
Cons:
Relatively Short Compared To Other Tunnels.
Quite Expensive For Beginners.
Most Affordable Tunnel For Dog Agility → The Cossy Home Tube
Diameter: 20"
Length: 10 ft
Quality: ***
Material: Polyester Cloth
Weight: 2.4 lbs
Price Range: $
My Overall Rating: 4.3
If you're looking for the most affordable option, the Cossy Home Collapsible Tunnel might be worth considering. It's a good piece of equipment to introduce your small/young dog to agility training without breaking the bank.
Another advantage of this cheap product is the portable design. You can easily pack and unpack the tunnel to carry it wherever you want. It's the perfect alternative for hours of fun at a reasonable price.
My main concern is that the quality and durability isn't comparable to my other recommendations. Made from polyester cloth and steel wire, it's lightweight but definitely not built to last several years.
Another option that's not too expensive and better quality is the HDP Dog Agility Tunnel.
Best Agility Tunnel For:
An Inexpensive Alternative.
Plain Backyard Fun.
Small Dogs & Puppies.
Pros:
Affordable Piece Of Agility Equipment.
Very Portable Design. (Collapsible & Lightweight)
Can Be Secured On The Ground.
Good Value For The Price.
Carry Case Included.
Cons:
Relatively Small For Large or Adult Dogs.
Less Durable Tunnel Than Other Options.
Not Designed Specifically For Agility Training.
Diameter: 24"
Length: 3 ft (Tunnel) + 8 ft (Chute) = 11 ft (Total)
Quality: ****
Material: Polyester Fabric
Weight: Under 2 lbs
Price Range: $$$
My Overall Rating: 4.7/5
What Is Exactly A Dog Chute For Agility?
As you can see on the image up there, an agility chute has two parts. It starts with a short tunnel and finishes with a piece of fabric not sustained by steel wires. Thus, it consists of a barrel your dog has to go through without seeing the exit.
Nowadays, chutes are much less common in agility competitions than they used to be. But it's still a fun and challenging obstacle you might consider for home training. If you're looking for the best one available, you should check out the Dog-Chute-Set made by Pacific Play Tents.
It's not too expensive, good quality, and very portable. That's why it's the perfect option if you want to introduce your dog to the chute obstacle. Even if there are not many chances of finding one in official events, he might enjoy running through this "closed" tunnel.
Best Agility Equipment For:
Fun & Original Training.
Improve Confidence.
Diversify Your Obstacle Course.
Pros:
Great Value For The Price.
Made From Good Quality Polyester.
Fun & Unique Obstacle.
Suitable For Outdoor & Indoor Use.
Interior Padding For Your Dog's Comfort.
Cons:
Not As Safe As Normal Tunnels.
Not The Best Quality.
How To Select The Right Agility Tunnel For Your Dog?
Even after checking out my recommendations, you might still not be sure which one you should choose. With all the options in front of you, it's normal to have difficulty selecting the right agility tunnel for your needs. Thus, let me help you out.
Things To Consider In Dog Agility Tunnels!
I've already shared with you what makes good dog tunnels for agility tunnels. From the size to quality passing by weight, there are some technical aspects to take into account. But I've also slightly introduced you to other elements that are more specific to your personal needs.
Your Budget.
The amount of money you have to invest in a tunnel will influence the option you should choose. Your budget might not allow you to purchase the Agilipet Tunnel because it's quite expensive. However, keep in mind that you generally pay for what you get when it comes to dog sports gear.
That's why I highly recommend you to invest in the best tunnel that you can afford. Just going with the most affordable option might not be a smart move depending on your situation.
Why Do You Practice Agility Training? (Fun or Competition)
What has pushed you to start this canine sport is another essential factor to consider for choosing the right tunnel according to your needs. Some people are looking to improve their dog's agility skills for competition when others only want him to exercise and have fun. Thus, they won't need the same gear.
If you want to prepare your dog for official agility events, you have to invest in a tunnel that's compliant with the organization's standards. (Here's the AKC Rulebook, check page 35 for open tunnel specifications.) Practicing with high-quality and appropriate equipment is essential for him to perform well on the course.
On the other hand, you might buy a tunnel to play with your dog in the backyard. In this case, all the technical details are less important. But I would still recommend investing in quality gear to make agility as fun and safe as possible for him.
You & Your Dog's Experience.
Closely related to your why, how long you've trained your dog for agility is another thing to keep in mind. If you're both just getting started, investing in a beginner-friendly option is an excellent idea.
For professionals, it's generally recommended to do more research and invest more money in agility equipment. Cheap tunnels aren't appropriate for advanced and frequent training.
Best Options For Beginners:
The Ultimate Tunnel For Professionals → The Agilipet
Other Preferences.
Then, you also have many other elements you might want to consider for your (or your dog's) satisfaction. Some people have preferences concerning the tunnel color, weight, portability, material, brand, etc. Just make sure your final decision is based on you and your dog's needs.
An Alternative → Make Your Own Dog Tunnel For Agility!
If you're creative and resourceful, you might be able to make an agility tunnel with household items. Other obstacles such as hurdles and weave poles are probably more simple to create yourself. But it's still possible if you have some imagination and construction skills.
Here's an original way to make a tunnel for your backyard agility course!
Other Equipment For Your Dog Agility Parkour!
Apart from the tunnel, there's still other gear you should have in your course. For instance, jumps and weave poles are two essential pieces of equipment to introduce your dog to agility training. You might also need some accessories to make this activity more enjoyable for both of you.
Tunnel Bag Holders.
An excellent add-on to your agility tunnel is the bag holders. They can be fixed on both openings to make the obstacle as stable and safe as possible.
Thus, I highly recommend you have this type of accessory if you care about your dog's well-being. You can check out the Rise8 Agility Tunnel Bag Holder on Amazon.
Here's a video that explains why tunnel bags are so important!
Other Obstacles.
For the rest of the equipment, take a look at this dog agility set made by CHEERING PET. It includes all the essential obstacles: a hurdle, tire jump, pause box, and weave poles. Appropriate for indoor and outdoor training, it's the perfect kit to combine with your tunnel.
Otherwise, you can also buy every piece of equipment individually to find precisely what you need. But it will probably cost you more money than investing in a complete set. To find the perfect hurdle for your obstacle course, you can check out my article about the best jumps for agility.
FAQ About Dog Agility Tunnels!
Now you probably have many questions related to your new obstacle. It's normal; I used to have them too. Thus, here are my answers to common wonderings about dog agility tunnels.
Do Dogs Like Tunnels?
At first, your dog might not immediately be very enthusiastic about the idea of a long and unfamiliar tubular obstacle. But after some practice, he should love the tunnel because running fast through it can be fun and easy for him. That's why it's an essential piece of agility equipment.
Can All Dogs Do Agility Training?
Unfortunately, not every companion is suitable to run through an obstacle course. Young puppies and other fragile dogs can't start agility training safely. Thus, you must make sure your buddy can practice this sport before introducing him to tunnel work.
At What Age Should Dogs Start Agility Training?
Young puppies can injure or hurt themselves seriously by jumping hurdles or running through tunnels. They will be suitable to start agility training when their growth plates are closed, which generally occurs between 1 and 2 years of age. But please talk to a veterinarian before introducing your dog to this sport.
For most agility events, the minimum age to compete is 18 months old. On the other hand, you can start training your pup with what we call pre-agility. It's an activity to prepare him mentally and physically for more advanced obstacle courses.
Here's more information about when it's safe to start training your dog for agility!
How To Train Your Dog To Go Through An Agility Tunnel?
Finding the right equipment is only the first step. Once you have an appropriate tunnel for your needs, it's time to start training your dog with it.
Here's an excellent video to introduce him to this new agility obstacle!
Tips To Use Dog Tunnels Properly & Safely!
Before letting you go, I've still got some advice to share with you. Agility training can be difficult and time- consuming to start.
However, all the effort and energy you put in is worth the fun you will have with your dog. To make this sport as enjoyable and safe as possible, here are some tips!
Be Prepared.

Master Basic Commands.
Keep Your Dog Active & In Good Shape.
Work On Obedience Training.

Start Out Slow & Improve Gradually.
Invest In Good Quality Equipment.
Consider Signing Up In An Agility Training Class.
Respect Your Dog's Conditions & Limits.
Join An Agility Club For Free Help.
Have Fun!
Last Thoughts About The Best Dog Agility Tunnels!
Finally, you should know a lot of things to invest in the right equipment for your needs. The tunnel is one of the best obstacles to introduce your dog into agility training, and they are all over the place on competition courses. So it's an excellent idea to have one at home.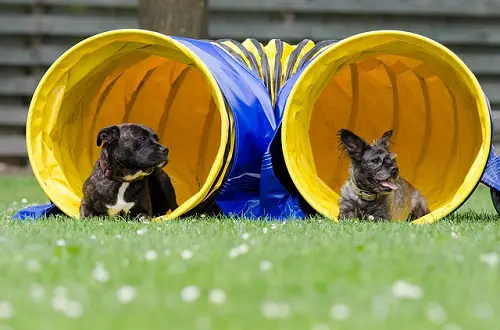 I hope my article has helped you to answer all of your questions about agility tunnels. Now it's time to go out and start training your dog. Whether it's to improve his skills or exercise him, I'm sure you will have a lot of fun with this sport.
Take Care & Good Training!